The Georgia Guidestones: Dark, Cult Presence or Wise Words For All?

Nov 10, 2014 10:00AM, Published by A Kitchen Drawer Writer , Categories: In Print, Community, Today
---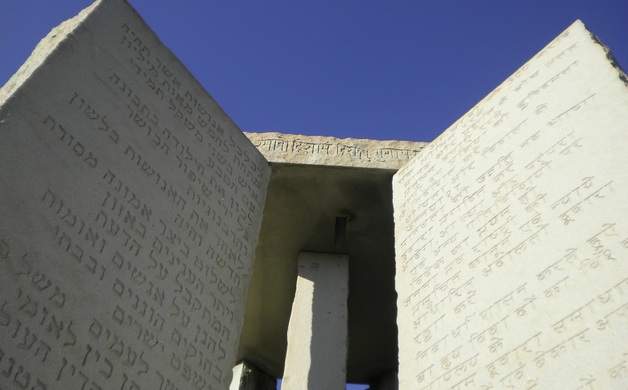 ---
---
By eva sylvestrePhotos by Katherine Tippins Originally published in Volume 4 Issue 2 of Kitchen Drawer Magazine 
THE MESSAGE OF THE GEORGIA GUIDESTONES
1. Maintain humanity under 500,000,000 in perpetual balance with nature.
2. Guide reproduction wisely - improving fitness and diversity.
3. Unite humanity with a living new language.
4. Rule passion - faith - tradition - and all things with tempered reason.
5. Protect people and nations with fair laws and just courts.
6. Let all nations rule internally resolving external disputes in a world court.
7. Avoid petty laws and useless officials.
8. Balance personal rights with social duties.
9. Prize truth - beauty - love - seeking harmony with the infinite.
10.Be not a cancer on the earth - Leave room for nature - Leave room for nature.


It's been called "The Stonehenge of America" and has drawn people from all over the globe with its amazing construction and far-reaching tales of myth and mystery. It beacons travelers through a scenic and serene road trip, photographs almost too easily, and makes for a heck of a story. Perhaps best of all: it's in Georgia. So why haven't we all heard about the Georgia Guidestones and what exactly are they?

In literal terms, the Guidestones is a hill-top megalithic structure in Elbert County, GA that consists of six precisely-placed granite slabs, each nearly 20 feet tall. The monument was constructed with the financial backing of a group of Cold War-era Christians who wanted to share a message about the conservation of mankind. Holes drilled at various points through the slabs with the assistance of astronomers and engineers point to specific celestial bodies at specific times, ensuring the monument's usefulness as both a timepiece and calendar. Gorgeously etched into the faces of the slabs are characters from eight different languages (among them are Mandarin Chinese, Arabic, Hebrew, and a nearly poetic modern-day English) that all bear the same message.

In metaphysical terms, the Guidestones are, to some, sage words about environmental health, the depletion of natural resources, foreign nuisances, homelessness, and more; to others, the stones are, in themselves, the foreign nuisance, with their mysterious symbols that may or may not be satanic, promote a "new world order," and/or be entirely pagan in nature.

Regardless of the viewer's take, and perhaps especially for the sometimes-controversy, the Guidestones are certainly marvelous to behold. They were built in 1980 by a group of mostly anonymous men who wished to be represented by the name "R.C. Christian" (a pseudonym.) The monument's most vocal theorists link it to the Rosicrucianists — a clandestine society of philosophers with Germanic roots — of the early 17th century. Some claim the stones hearken back to ancient Egyptian sun worship and others find clear evidence of the "Old Religion" in its symbolism. Even the skeptics have a dog in the fight, claiming the site to be nothing more than an elaborate hoax to draw attention to the town. (Bonus: Ted Turner's name gets thrown around in the hoax ring.)
Ever polarizing, the Georgia Guidestones show signs of vandalism from 2007, when epoxy and spray-paint marred its facades with messages such as "The elite want 80% of us dead see #1" and "Jesus will beat u, SATANISTS." Though the monument stood for nearly 30 years without harming or being harmed, its mysterious and dramatic presence began furrowing brows at its unveiling. Once the town had gathered, along with its mayor and a senator from Georgia, the large black plastic strips covering it were cut back to reveal the mystical giant — and no one clapped. According to The Georgia Guidestones by Raymond Wiley and KT Prime, sermons are still given about the "evil thing" and many of the town's residents (including Wayne Mullenix, from whom the land the Guidestones sits on was purchased) remain uneasy about the anonymous nature of the funding. Very few visitors from the town care to ride down the road and have a look. 

"I've lived here all my life and never even been there," confessed a gas station clerk working a few miles away from the monument. "People from around here don't really talk about it, so I don't know of anything weird about them. Why, what have you heard?" When I mentioned pagan rituals and Halloween sacrifices, she shook her head and took the next customer in line.

"Some people think it's the center of the planet," confided James Lawrence, a longtime resident of the community. "I'm not sure, though. It's just what I've heard." In rare form, the rumor mill did crank out a sound nugget: the Cherokee Indians claimed that Elbert County was the "center of the world," helping make the location a sound choice for the stones' founders.

When asked about the dark rumors surrounding the stones, a weekend volunteer at Elberton's granite museum offered a shrug and steered me toward yellowing pictures of the town taken decades ago. "I don't know anything about that. But this is our stadium," he said, circling the Coliseum-like structure with his finger as he spoke. "The bleachers are carved from granite. It can seat up to 20,000 people."

Conspiracy theorists, paranormal researchers, and lovers of all things history and mystery won't get too big a response from the denizens of Elberton if they're after a juicy story. In fact, bringing up the town's most famous and controversial landmark might get one steered in a completely different direction — like Elberton's high school football rivalries or the reason "Dutchy," the small granite statue of a Confederate soldier, was yanked down and buried for nearly a hundred years. As it turns out, nearly everyone I asked about the nearly 240,000 pound structure gave a collective "meh" in response. But just like any good mystery, half the fun is piecing clues together and attempting to make sense of it all. With the Guidestones being less than 40 miles outside of Athens, bring the family and your shapeliest tin-foil hat.
---
---
volume 4 issue 2 Georgia Guidestones eva sylvestre
---