What is RADICAL TRANSPARENCY?

Nov 19, 2014 02:00PM, Published by A Kitchen Drawer Writer , Categories: Lifestyle
---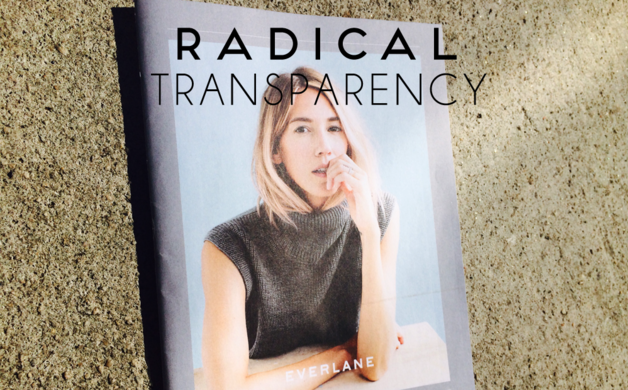 ---
---
With main offices in San Francisco and New York, Everlane is a quickly growing brand that offers quality basic clothing at a fraction of traditional retail costs. They believe that through Radical Transparency they can reveal where their products come from and what they cost to make. They have no physical stores, no middleman taking a cut, and no brand markups. All products are sold online at 
Everlane.com
. 
The clothes themselves are beautiful, everyday pieces and the line has recently expanded from tees to sweaters, shoes, and bags. Everlane's concept is to start with beautiful fabrics and create products that will last in quality and style.  
The company also believes strongly that there should be transparency in knowing where the clothing is made. One of the main links on the website let's you view photo tours of the 8 factories and of the workers employed there. Each factory has a story including the background of the factory owner, and the process for materials used. 
Starting back in 2011 Everlane set out to break down the cost of making a quality tee like the ones that retail for $50 or more in fancy New York boutiques. As an example, according to Everlane the true cost of making a quality tee is as follows:
Materials $3.84 + Labor $3.30 + Transport $0.11 = $7.25 True Cost
By cutting out the middleman Everlane would then sell this tee direct to consumer for $15 (this is just an example, prices vary depending on the item). 
If you're in the market for some luxury basics at a rate lower than traditional prices check out Everlane.com. 
---
---
Fashion Everlane Radical Transparency
---