My Car Is Eating My Pants

Nov 20, 2014 12:15PM, Published by A Kitchen Drawer Writer , Categories: Arts+Entertainment, Today
---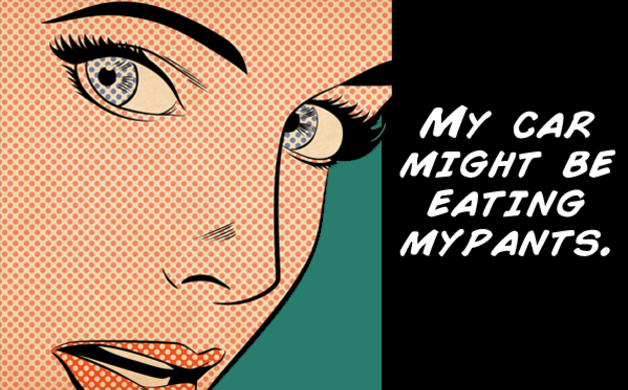 ---
---
By Elizabeth Palmieri
Let me start by saying that though cars are not necessarily designed to eat clothes, mine has had plenty of opportunity to do so.

I am a commuter extraordinaire.  The past several months of my schedule have consisted mostly of driving.  I drove an hour to school and an hour back two days a week.  The other three weekdays, I drove to work, which took forty-five minutes.  My church is twenty-five minutes away (thirteen if you are my Italian father and in a hurry).  You don't have to be a math whiz to know that this equals a lot of time in the driver seat.
I love my car.  How could I not, when we spend so much bonding time together?  She is my first car, a silver beauty of a compact.  I felt a real, deep connection to her and her college-budget-friendly gas mileage.
And then she betrayed me.
When the first pair of jeans showed signs of wear, I wasn't alarmed.  I do terrible things to jeans.  I have a history of accidentally destroying them.  Walking on the hems, getting the pockets caught on door frames, wearing out the knees by skidding and rolling dramatically while pretending to be a Jedi—you name a horrible fate for a faithful set of denim to come to, and I've managed it.  So a little fraying on one side wasn't even worth noticing.
Until it appeared on every single pair of pants I owned.
It was always the right hip, a little below the pocket.  I began to fret.  Other people began to notice.
"You just have big hips," suggested one friend.
"On only one side?" I demanded, near hysterical at the mental image of myself with a normal left hip and a right side fit for a Shakira backup dancer.
I worried and worried, and meanwhile my pants were only getting worse.  I took to staring at them as I pulled them out of the wash, as if I could perform some sort of laundry interrogation.  Tell me what you know, you punk Levis, or else it's the dryer for you.
My dad finally had to intervene.  "It's probably your seat belt buckle," he told me one day.  "It's on the right side, and you spend a lot of time driving."
I scrunched up my nose.  "Maybe," I allowed doubtfully.  That was the best answer I'd heard so far in my investigation, and more than that, my dad has a flawless record of being right about things.  I was almost certain that he was right this time, too.  But I feel it is my daughterly duty to make life a little difficult for him.
The next time I got in my car, I buckled up slowly—and watched the plastic end of the buckle land squarely on the frayed remains of the right hip of my jeans.
That was it, then.  My adorable, beloved compact car had been slowly devouring my pants and causing me months of confusion and worry.  It just goes to show you can't trust anyone these days.
And now, if you'll excuse me, I have some shopping to do.  I'm going to need a lot of new pants.
---
---