Something Borrowed: An Interview With Wendi McLendon-Covey

Nov 24, 2014 10:00AM, Published by A Kitchen Drawer Writer , Categories: Arts+Entertainment, In Print, Today
---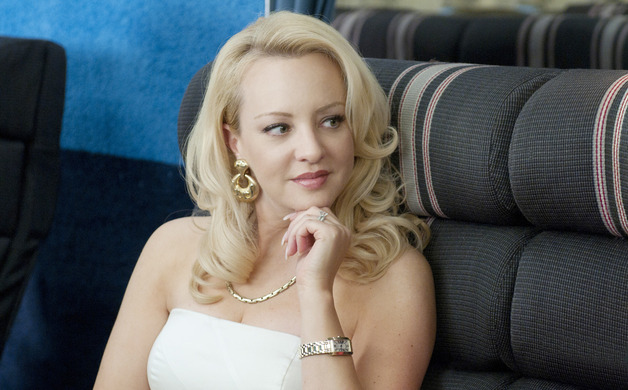 ---
---
Originally published in Volume 4 Issue 1
by eva berlin sylvestre 
Wendi McLendon-Covey, known as Deputy Sergeant Clementine Johnson, or perhaps better known as Rita, the unhappily married and unorthodox cousin of Kristen Wiig's Annie Walker in "Bridesmaids," greets fans and lowly journalists alike: She's warm with her words and more than happy to respond to off-the-wall questions. 

KD: Alright, let's get this party started. I was surprised to find out that ______ was actually a fan of mine.
Oh, easy: Billy Bob Thornton.

KD: How'd you find out?
He said it in print somewhere! He was a big fan of "Reno911!" Also, he ran into [some of the castmates from "Reno"] and he mentioned me to them.

KD: Is Billy Bob Thornton on your "hot" list?
*she imitates a purring cat* Yesssss. I'd love to work with him.
KD: You're a former Groundling, which is pretty much like being a graduate from the Julliard of comedy. Did you work alongside any other names we might know and if so, is improv more intimidating with established comedians or does it really matter that much?
It is at first, definitely. There's that name, that trademark that goes along with a person you find yourself on stage with. But really, you make it intimidating. They may not have improvised in a long time, so you never know.

While I was there, I was in company with Kristen Wiig and Melissa McCarthy. In alumni shows I worked with Phil LaMarr and Michael McDonald of "MADtv."

KD: So what's the most awkward scene you've ever had to shoot? One that really kept you up the night before filming?
I manage to get out of [sex scenes] usually, but the one time I agreed to one, it was only because I thought it would be funny. It ended up being really stupid. It was poorly shot, not funny at all and I just couldn't believe someone would waste film like that.

KD: So who's the sexiest actor on the planet?
I'd say Al Pacino. He still does it for me. Early Al, late Al — he's still got it.

KD: Any Pacino movies in mind? Hit me with some early-Al sexy.
OK, not "Scarface." That's just too easy. There's "Dog Day Afternoon," but that's so bizarre. I'm gonna go with "Serpico." Yeah. Yummy.

KD: So what's the funniest show on T.V. right now? What show really cracks you up?  
If we're talking primetime, for me that's "30 Rock." I love it. It's consistently funny.

KD: You can't go wrong with "30 Rock." Next phase: Let's try some true or false now, and you can elaborate if necessary. True or false: Pot should be legal.
*long pause followed by a few false starts* OK, most people expect me to say yes, but I do feel it's a gateway drug. Everyone thinks I'm a stoner, but I'm not. Now, I think it's a gateway drug but I also don't think it's any worse than alcohol, so if that's legal what's the big deal? But if anything should be illegal, it's alcohol. It's worse. But I know I shouldn't … hmm … Let's just say I'm for all things in moderation.

KD: True or false: Gay marriage should be legal.
Yes. Very true.

KD: True or false: Obama is a secret Muslim.
False.

KD: Thomas Lennon [Lt. Jim Dangle of "Reno911!"] is a secret Muslim.
I haven't talked to Thomas in four years, so he might be at this point.

KD: So it's Friday night in California. What's on the agenda?
Hubby and I are gonna have a nice dinner. I haven't seen him all week so it's date night. Woo hoo!

KD: Lucky guy. General consensus among my peers is "I love her! She's so hot!" Your fan-base of horny old goats is vast, it would appear, so what, if anything, would you like to say to the people who deem you one of comedy's modern sex symbols?
Oh my! Gosh, heavy is the head that wears the crown. OK, I would say: "How nice of you to think of me that way, but please quit sending me lurid messages on Facebook. I'm not a freak in real life, so it's not gonna happen." I can't believe some of the things people come up and say to me or post on my [Facebook] Wall! My mother and my little sister can read these things! I have to say, "Mom, please. I don't know this person."

KD: So you're a master of ab libbing. Would you mind trying your hand at a really quick Mad Lib? I'll read you the conclusion before we hang up.
Oh, fun. Yeah, no problem.

[Author's note: The conclusion is, as promised, at the end of the interview.]

KD: So what's new?
I have a movie called "Bridesmaids" out. You may have heard of it.
KD: Yeah, I think I read something about it somewhere. Didn't do so well, from what I can tell.
Yeah, terrible career move for me. Huge mistake.
KD: Sorry to hear that. Highest-grossing Judd Apatow movie of all time. Bummer.
Yeah, you should check it out, anyway. It's pretty obnoxious.

KD: Well, there's the headline for our interview right there: Obnoxious movie makes money.
*laughs* I've also got a nice little gig on "Rules of Engagement." We just wrapped the season finale. That's fun, working with David Spade, Patrick Warburton and Megyn Price — all those fun kids over there.

KD: So you ready for me to read you the Mad Lib?
Shoot, sister!

KD: "This interview has been absolutely (obtuse) because (groaning) on the phone to Eva is like (peeling) a (violet), only without all the (kittens)."
Well that makes perfect sense, see? I could've just said that. 
---
---
volume 4 issue 1 Bridesmaids Wendi McLendon-Covey eva berlin sylvestre
---