Where's The Joy?

Nov 26, 2014 02:30PM, Published by A Kitchen Drawer Writer , Categories: In Print
---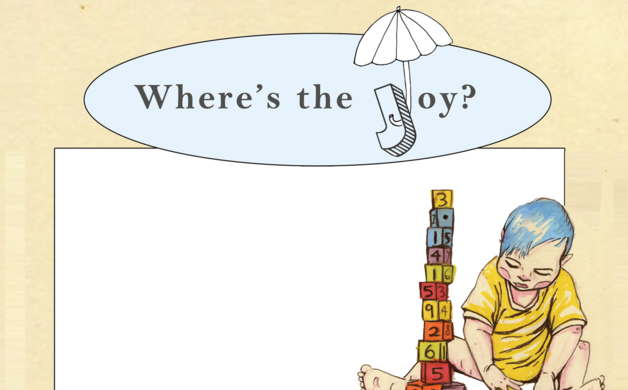 ---
---
Originally published in Volume 4 Issue 1 
By Allison Smyly
At a casual gathering at J. Henry's, an acquaintance of mine remarked, "I'm just not sure about having children. I mean, when they're about six months old, and their cheeks are all squishy, they're so cute...I get that. But other than that, where's the joy?" I looked back at my friend who is always attractively dressed and impeccably groomed. Her expression was light, but I detected a note of seriousness beneath her jocular tone. I imagined the subtle and not-so-subtle pressure she might be receiving from well-intentioned family members: hints about grandchildren at family reunions, innuendos about baby names. 
As a veteran mother of three school-aged girls, I opened my mouth to respond to this young lady's question. I did not know what I was about to say. "Having children is hard," I said. "It's more like a marathon than a sprint. They're expensive. But," I added, "it's worth it."
How could I explain that the joy is all around, although it comes at a price? The joy comes when you ride "It's a Small World" with your five-year-old, and you see in her eyes the sheer, unadulterated wonder they're always talking about in the Disney World commercials, the kind you think doesn't really exist anymore. The joy is there when your seven-year-old reaches out and unexpectedly takes your hand on the way to the mailbox and asks you what kind of animal you want to be. You, heedless of the neighbors and passing traffic, walk like an elephant to the mailbox, while she crawls on all fours like a cat. The joy is there when your fifth grader's eyes light up when you are able to explain how to solve her homework word problem algebraically, even though you are an English major and have not had any personal experience with algebra in 16 years.
Sure, the joy is usually there on Christmas morning, but everyone expects it to be there. Sometimes we work so hard cleaning the house, decorating the tree, and cooking the Christmas dinner that the joy doesn't show up. But the joy was there on the first day of the October break, with a whole week ahead of exploring the woods, crunching through the leaves in the warm autumn sunshine, the humidity of summer gone. The joy comes again on a January night, when you and your daughters are curled up on the couch sobbing when Beth dies in Little Women. The joy is there on a rainy November afternoon, when your 11-year-old beats you at chess. 
In the casual setting of the restaurant, I couldn't explain to my friend that sometimes the joy pushes through when we least expect it, like sunshine around the dark shades on a spring morning. How could I explain, over the spinach dip, the joy you feel when your child rallies and recovers from a major health threat? I wouldn't even attempt to address the joy that parents with seriously ill children experience when they take their children to Rock City, knowing that the bone marrow transplant is a few short weeks away. I know, though, from personal family experience, that the joy is still there, and that it may be even stronger than those of us with generally healthy children will ever experience.
Sure, the joy has a price. After the first few times of getting spit-up on her silk blouse, my friend might opt for wash-and-wear cotton. The Michael Kors shoes may have to go, sacrificed on the altar of "Buy One Get One" at Payless. I didn't tell her that for the first year or so, a trip to Walmart will require a checklist. Wipes – check. Formula – check. Spare outfit – check. Diapers – no? Oh yes, that's why we're going to Walmart in the first place. If you have to ask why a spare outfit is required, you have never had a newborn. You may still be wearing a silk blouse and Michael Kors shoes.
I didn't tell her that a simple evening out at a restaurant, or a romantic weekend getaway with her husband, will, for a while at least, require the tactical planning skills of a military commander organizing a major field campaign. I didn't tell her that refolding a device known as a "Pack 'n' Play" or properly installing an infant car seat would try the patience of Mr. Rogers. I didn't tell her these things because the sweet, soft weight of your baby falling asleep on your shoulder, even once, makes it all worthwhile.
When you choose to participate in that marathon known as raising children, the joy is there, and it is powerful. It is not without cost. The joy is worth the price, even when you're washing sheets at 2 a.m. and rifling through the medicine cabinet checking the expiration dates on the Phenergan. It's worth it even when your preteen stamps her foot and tells you she hates you, and you tell her that that's okay, because you love her. The joy is there, when, that night, before she goes to bed, she tells you that she loves you too. 
If my friend and her husband decide to become parents, some days, they'll feel tired and overwhelmed by the challenges. Sometimes they'll believe that they lack the wisdom to make the decisions they must make. But they'll find the strength to overcome the challenges and the wisdom to make the right decisions, at least most of the time. That's also when they'll find the joy.
Editor's note: When Allison sent us her essay on the joys of parenting above, she had no idea the stir it would cause in our ranks. Although Allison intended it as a simple narrative, her essay was read by several who reviewed it as a somewhat provocative persuasive essay that endorsed the having of children. It was brought to our attention that there seem to be "teams" – parents and childless couples who often misunderstand each other and make thoughtless, insensitive comments (at least they are often taken as such) about the other side's lifestyle choices. 
---
---
volume 4 issue 1 Allison Smyly
---