"La Isla" - A Love Story

Dec 01, 2014 12:30PM, Published by A Kitchen Drawer Writer , Categories: Arts+Entertainment, In Print
---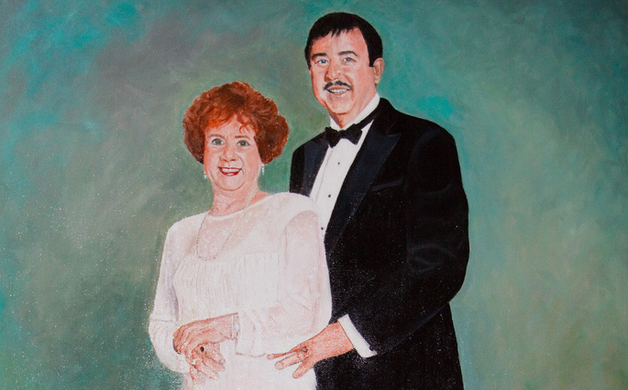 ---
---
Originally published in Volume 4 Issue 1 of Kitchen Drawer Magazine
By Allison Smyly  
The collection is quite diverse, including oils, watercolors, photographs, needlework, prints, and paintings on burlap and wood. This notable home also features a variety of artistic forms in addition to paintings: porcelain, crystal, and glass pieces; clocks; tea and liqueur sets; as well as bowls, vases and flower pots from the Orient. The La Isla collection includes more than 600 works of art and objets d'art. La Isla also has a library of more than 3,000 books.
La Isla includes works by internationally known artists such as Howard Behrens, Edmund Gwendt, Brent Heighton, Edna Hibel, and David Brynaert. Other artists featured there are achieving national acclaim: Glennray Tutor, Marc Chatov, William Entrekin, Andrew Bucci, and Bill Dunlap, among others. Some of the most prominently featured works in the home are by Mary Lou Carpenter, who is known internationally and whose works are found in the corporate offices of IBM, Nissan, Kajima International, and McDonald's, as well as in art galleries in Boston and Geneva, Switzerland. Formerly of Buckhead, Georgia, Mary Lou Carpenter is married to Griffin native Gerald Bilbro and now has a studio in Highlands, North Carolina. Works by other artists with ties to Griffin, such as local artists Carla Higgins and Joyce P. Smith, are featured at La Isla. In fact, an entire room of La Isla, the Griffin-Spalding Art Association Gallery, is exclusively dedicated to displaying the work of local artists.
 Behind the "La Isla" collection is an extraordinary love story that unfolded over the decades between a Spalding County farm boy who became a Ph.D. and a Caribbean "princess." Gayle Goodin grew up in western Spalding County at his family's homeplace, which was built by his grandfather in the late 1890s. Gayle's parents, Luke and Neitha Goodin, moved their young family to the farm when Gayle was six. The family was poor, but with hard work, they eked out a living. Gayle recalls, "I was country when country wasn't the fad." Gayle and his three brothers all graduated from Griffin High School.
Nora Goodin was born Isis Nora LaSalle y Fussa in Rio Piedras, Puerto Rico to Nestor and Maria LaSalle y Fussa. Nora's father had been a teacher and principal who married Maria, the daughter of a wealthy farmer and landowner. Together, the couple bought a large coffee plantation where they reared their family until a hurricane destroyed the coffee crop. The youngest of Nestor and Maria's seven children, Nora was adored by her siblings. She was passed from the first to the third grade at her private elementary school. During high school, Nora was nicknamed "La Princesa" (the princess) and drove the first Thunderbird in Rio Piedras.
After high school, Gayle went to Troy State College to become a teacher, although his secret desire was to become an actor. Gayle distinguished himself in college, becoming chief justice of the Student Government Association, president of the local chapter of the Student National Education Association, and editor of various publications. After graduating from Troy State, Gayle taught English and Spanish at Gordon High School, then spent a summer studying Spanish in Guadalajara, Mexico. He did not know then that his Spanish language skills would later endear him to the woman who was to become the love of his life. In 1962, Gayle went to Stone Mountain High School to teach Spanish and English, where he and his students started the first high school state poetry magazine, Between These Lines, aided by poet laureate Agnes Cochran Bramblett and artist Jackson Bailey. (One of the few remaining prints of Bailey's "The Man from Dixie" is now displayed at La Isla.) In Stone Mountain, Gayle was named STAR teacher and the students dedicated the yearbook to him.
Nora, the "princess," attended the University of Puerto Rico, determined to become a children's librarian. She dreamed of establishing a children's library in Rio Piedras. Since the university she attended had no school of library science, Nora, after two years there, convinced her reluctant mother to let her attend the school of library science at Simmons College in Boston. Though homesick for Rio Piedras and her family, Nora graduated from Simmons with a degree in library science and became a children's librarian at the New York Public Library. She later accepted a position as head librarian at a school on Higgins Air Force Base, where she met Lieutenant Andrew Sackett, whom she married. Andrew was stationed in Hawaii, where Nora joined him. After living in Hawaii for two years, Andrew and Nora left for Stone Mountain, Georgia, where Andrew had grown up, to help Andrew's brother and his wife with their business, Stone Mountain Builder's Supply. After teaching school for eight hours, Nora would go work at the builder's supply store until it closed, then go home to prepare the evening meal for herself, her husband, and her two children. 
One of Nora's favorite hobbies was riding bicycles around Stone Mountain with her husband's cousin, Mary Ruth Wilson. One day Mary Ruth briefly introduced Nora to a teacher to whom she had rented a room, a young man named Gayle Goodin. Looking back, Gayle laughs, "It was a meeting that Nora never remembered and I never forgot."
Gayle went on to graduate school at the University of Mississippi (Ole Miss), where he earned a master's degree in English and began teaching English at Dekalb Community College. It was here that Gayle taught world literature to a young artist, Marc Chatov, who gave him a charcoal drawing of a girl whose face changed according to the side of her face covered. ("Schizophrenia Girl" is now displayed at La Isla.) Marc would later become a highly celebrated portrait painter. After teaching at Dekalb College, Gayle went to earn his Ph.D. at Ole Miss. Gayle's dissertation director, Louis Dollarhide, introduced him to many notable southern poets, authors, and literary critics. Dr. Dollarhide helped Gayle increase his art collection by giving him several works of art and introducing him to many rising artists whose works are now on display at La Isla.
 Years went by, with Gayle and Nora separately achieving success in their chosen fields. Nora earned her master's degree in library science from Emory University and worked as a librarian at South Gwinnett High School, where she was selected STAR teacher. Now officially "Dr. Goodin," Gayle taught in the honors program at Union University in Tennessee. In 1981, Gayle changed his plans to pursue additional education and teaching opportunities at Harvard, when he returned to Griffin to care for his aging parents. He says, "What's more important, teaching at a larger university or taking care of the people who took care of you?"
In 1981, Gayle began teaching gifted classes and serving as an academic coach at Griffin High School; he was affectionately called "Doc" by his students. "Doc" introduced awkward junior high and high school students, including this writer, to Homer's Iliad and Odyssey, as well as to the plays of Aeschylus, Euripides, and Sophocles. "Doc" also taught these students about the elements of great art and exposed them to various artistic masterpieces. Gayle says, "My theory, then and now, is to give children things they've never had before...it opens up a whole new world for them." His advice to teachers: "Push your students – give them more than they think they can do." Gayle smiles as he recalls one student saying "Doc, Agamemnon almost got me."
After the death of Nora's first husband, Gayle's former landlord and friend Mary Ruth Wilson suggested that he might like to be reintroduced to Nora. After their first afternoon "date," chaperoned by Mary Ruth in accordance with Spanish custom, Gayle and Nora were very rarely apart. They were married December 7, 2001. "I was torpedoed," Gayle remarks.
When they married, Nora and Gayle combined their already extensive art collections and began adding works of art they chose together. For years, they discussed their plans for the future of their collection. One constant is that they both wanted their treasured art to benefit others. The culmination of these plans and dreams is La Isla in Griffin, so named because it is their very own "island" of beauty, and named also for Nora's beloved home island of Puerto Rico.
La Isla, itself, is a kind of love story. It is the story of two people who love art, literature, language, and all things beautiful, who eventually came to love each other. It is the story of a Georgia farm boy's journey to the heights of academia, and then back to his hometown.
Conversations with the couple, now both happily retired, reveal that both care greatly for the Griffin/Spalding community. Nora and Gayle wanted to establish a permanent collection of art to enhance what they view as an extraordinary array of cultural activities and talent in the Griffin/Spalding area. Some day, La Isla will become a memorial to these two exceptional individuals and will be open to the public during the tour of homes. The Griffin-Spalding Art Association Gallery at La Isla is testament to the Goodins' confidence in the talent found in this area. Says Gayle, "there is talent abounding in this town that you wouldn't believe." 
---
---
volume 4 issue 1 Allison Smyly Gayle Goodin
---