A Holiday Cozy Up By The Fire Book List

Dec 02, 2014 01:01PM, Published by A Kitchen Drawer Writer , Categories: Arts+Entertainment
---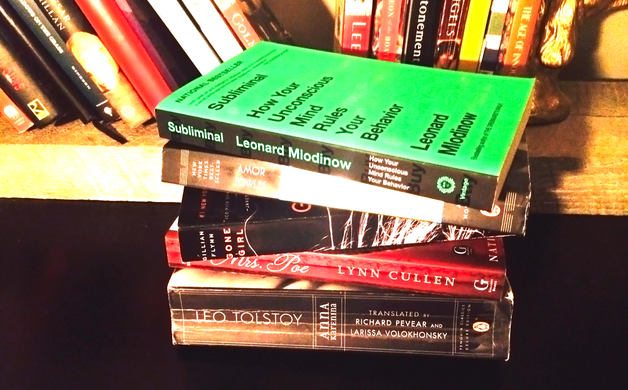 ---
---
Anna Karenina
If you've never read this classic trust us when we say be patient, and it's worth it. You have to get through the beginning but once you do you'll get lost in Anna's charm and decline, and you'll fall in love with Levin and Kitty. The chapter about a newlywed couple is surprisingly relatable and funny. This is absolutely the perfect book for winter, with hot chocolate and a blanket, just don't expect to finish it anytime soon. 
Mrs. Poe
The author of this book recently visited local bookstore, A Novel Experience. This book is essentially a love story but is based very closely on the actual life and history of Edgar Allen Poe and his young wife. It's pretty hard to put down, it's suspenseful and you could easily get lost in the imagery of 19th century New York City. 
Gone Girl
We're a little bit late with this one but if you haven't seen the movie grab a couple friends and start reading. You'll be texting each other late into the night as you analyze the complex characters that make up this amazing piece of fiction. More importantly this book makes you turn a critical eye on your own actions and relationships and those of the people around you. 
Rules of Civility 
Set in 1938 New York (are you sensing a pattern?) this is not a love story with a happy ending. At it's core this book is about a woman's independence and her quest to find her place in life. The characters are engaging and you get a peek into the life of wealthy Upper East Side New Yorkers. For this book pour yourself a cold martini and put on some vintage records and you'll be transported back in time. 
Subliminal 
Ok so this one is not exactly and easy read, but it's a fascinating read about how 
the way we experience the world--our perception, behavior, memory, and social judgment--is largely driven by the mind's subliminal processes and not the conscious ones. If you want to know more about memory, or reading people or how the mind works this book is for you. 

If you love reading, visit 
A Novel Experience
 to find out more about their No-Guilt Monthly Book Club. 
---
---
---