MUSIC REVIEW: US

Dec 03, 2014 10:30AM, Published by A Kitchen Drawer Writer , Categories: Arts+Entertainment, In Print, Community
---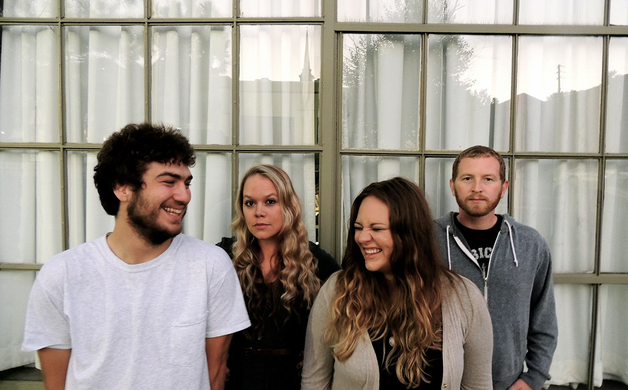 ---
---
Originally published in Volume 6 Issue 6 of Kitchen Drawer Magazine By Ben Davis 
A few days ago, I had the pleasure of checking out a local band called Us. They were playing at Monkey's Uncle, a new restaurant in Griffin's old Coca-Cola building. The atmosphere was lively and energetic, with televisions broadcasting the Georgia-South Carolina game as the band played.
This band is a new project of Melodie Gonzales, who was joined onstage by Anna Brower, Matthew Floyd, and Greg Neel. Since I was already familiar with Melodie's singing talent, I couldn't wait to hear how this would sound in comparison to her other work. I had high expectations for this band, and they did not disappoint. It was easy to pick up on the passion Matthew and Greg feel when they play, and Melodie and Anna display really tight harmonies that seem almost like studio magic instead of live voices blended together. 
 Even though I have heard them in person now, it is still hard to believe they were legit. During their set, the band played a mix of songs both familiar and unfamiliar to me. The spin that Us put on some of the songs seemed to give them a brand new sound. One example, and a very cool twist in their set, was Lady Gaga's 2011 hit "Born This Way." Their version had everyone in the restaurant dancing, which was quite a feat, considering the distraction of the ballgame playing on the television at the same time. Although it seemed the band was competing with the game on TV, we still had a good time. Even the waitresses were having fun, keeping time with the beat as they worked. Since I did not care for the original, this was a refreshing version of the song.
One of my favorite numbers was the Fleetwood Mac classic "Landslide." I have to admit that I was scared to death when I heard the first chord, because there's never been a version that even came close to the original, but they pulled it off and at the same time found a way to make the song their own.
A song that really showcased the band's harmonies and was pure joy to my ears was The Lone Bellow's "You Never Need Nobody." If you ever hear Us perform, you should definitely request it. As far as I'm concerned, they blew the original out of the water, yet stayed true to it musically, matching it note for note. Their incredible harmony put their own stamp on the song. I could have listened to this one and "Landslide" all night without tiring of either. These two numbers were the highlights of the whole show.
In an odd turn, the band made the Jackson 5's "I Want You Back" into a folk song. Their cover was far better than the original, and I found myself tapping my feet in time with the beat.
For the finale, they sang "I Feel a Sin Comin' On." This song really showcased the band instrumentally. You could tell they were having a blast while they played, and it was the perfect song to close out the night.
Overall, while some of the music was a little out of the norm for me, it was a fun night that helped expand my musical horizons. Even though I know that the band has some growing to do, they possess a lot of potential, and I expect that they will build a loyal fan base through Facebook and word of mouth. I recommend that everyone go and listen to Us. With the variety of songs they play, the experience is sure to be an enjoyable one.
---
---
---