ARTIST PROFILE: Samantha Tankersley Rafferty

Dec 09, 2014 10:25AM, Published by A Kitchen Drawer Writer , Categories: In Print
---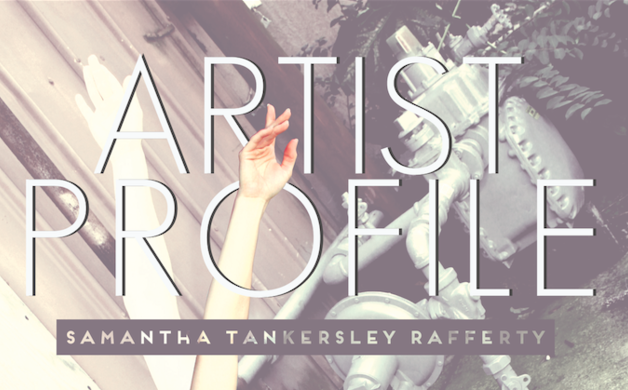 ---
---
Originally published in Volume 6 Issue 6 of Kitchen Drawer MagazineBy Betsy Harris with Elaine KrugmanPhotos by Ellen Tew
Sam grew up in Griffin, but she and her new husband, Patrick Rafferty, now reside in Atlanta, which has plenty to offer those who are passionate about dance and other arts.
This elfin, athletic 23-year-old was Spalding High's valedictorian in 2009. She kept the HOPE scholarship throughout her four years at the University of Georgia and maintained a stellar 3.9 grade point average. Sam chose to earn a Bachelor of Fine Arts with dance as her emphasis and minors in natural resources and videography. She says, "People don't give the arts enough credit. Among other things, one has to know about anatomy and physiology." 
With her undergraduate degree under her belt, Sam will now pursue a Master of Science degree in natural resources. "This seems like a departure, but it's in a more practical realm," she says. "I'm interested in environmental awareness through dance and movement. I want to create environmental educational curricula and marry them to dance and other arts. Eventually, I want to earn a Master of Fine Arts degree and a PhD in a field that fuses all my interests." One area she's considering is ecosomatics, an emerging field that encourages an ecological approach to the body-mind connection in movement. 
Since age five, Sam has been singing, with the influence of voice teachers Dotty Murray and the late Dan Strickland. She began to dance when she was 12 and then taught at Mitch and Lori Flanders' Studio D from ages 15 to 18. This self-described "uncoordinated" human being has come a long way! I can remember being in awe of her when she danced the difficult role of Peter Pan in a Griffin Ballet Theatre performance. Sam credits the long hours and intense training she received at Studio D, the Griffin Ballet Theatre, and Festival Dance Camp. She also speaks fondly of mentors who helped her develop as a dancer and of close friendships she made over those years.
For a recent endeavor, The Galatea Project, Sam didn't have to audition. She and her partner proposed this notion—one of thirty submitted—and it was accepted as a project to use as a performance. This avant-garde production is performed at the historic Atlanta Kirkwood neighborhood's Skwhirlhaus, an outdoor performance venue and artistic cooperative. In the ancient Greek story, the sculptor Pygmalion falls in love with his statue, Galatea, and begs Venus to bring the statue to life. She does indeed come to life, and the two marry. (George Bernard Shaw based his play Pygmalion on this tale.)
In Sam and her partner's vision, Galatea starts breaking apart. The audience watches Pygmalion and the goddess Venus as they realize that Galatea is becoming human. "Our retelling compares Galatea, the sculpture, to modern technology, using a biofeedback suit that controls the lighting and sound through muscle sensors, accelerometers, and radio transmission," Sam explains. "Since we use an outdoor venue, the viewers get a sense of the comparison and contrast between technology and nature, seeing the positive and negative aspects of both. My partner's work is based on where I am in space. He matches the music and sound to my movements. I choreographed. The show has taken many rehearsals for us to be ready to present it to an audience." In the future, Sam would like to continue working with similar ideas, focusing on outdoor performance.
Sam said that her audience is mostly younger people and artists supporting each other. "Atlanta has a very supportive arts community, and almost everyone I know is a part of several dance companies," she says. "Dancers in Atlanta are not rivals or competitors." Sam speaks very highly of her colleagues in Room to Move Dance.
"One thing that makes dance different from other media is the level of control the artist has over the final product," says Sam. "A choreographer can create movement and set it on dancers, but at that point, it is up to the performers to execute the movement. I think to be a choreographer, you have to trust your dancers, and, as a dancer, you have to believe in the choreographer's vision and try to execute it to the best of your ability. I don't know if it's ever perfect, and that keeps me from getting worked up about any tiny mishaps that might occur."
Sam also teaches about 15 hours a week in and around Atlanta. Incredibly, she says she needs to rehearse more. When asked if she abides by a strict diet, she replies, "No, not at all! But I do think it's important to eat a variety of foods to fuel our bodies for exercise. My husband, his family, and I did the Peachtree Road Race this past summer, so of course that required that we all be in top physical condition. Fitness and movement are integral parts of our lives."
She also emphasizes the importance of movement in children. She says that most children under the age of five aren't ready for formally structured dance lessons, but they should definitely be involved in creative movement. "Regardless of a child's size or age, movement reaps benefits. It promotes balance, fitness, coordination, and overall healthiness." To encourage creative movement in children, Sam suggests asking questions such as "How would a monkey move?" Dance therapy is also a viable field, with autistic children, for example.
Her advice to those considering a career in dance is wise. "Know that while you may spend a good deal of time performing, more than likely the majority of your time will be spent working other jobs to support your passion and conditioning your body to be ready for any opportunities that come along. Focus on dance, but encourage your outside interests, as they can inspire you creatively and possibly support you financially in a way that your artistic work cannot." This graceful, innovative, and groundbreaking young woman adds, "Dance has benefits beyond what one can do as a career."
---
---
---