Growing up Northern

Dec 29, 2014 10:39AM, Published by A Kitchen Drawer Writer , Categories: In Print
---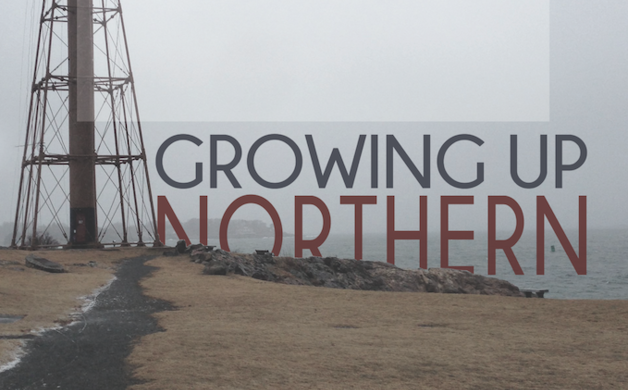 ---
---
Originally published in Volume 6 Issue 6 of Kitchen Drawer Magazine By Diane Smith 
And, yes, the cuisine below the Mason-Dixon line does have its place in culinary heaven. Who can say no to good barbecue and a large glass of sweet tea?
And yet Mr. Garrison's stereotypical view of the North, much of it faulty, got my Yankee dander up a bit. Now I technically grew up in the Midwest, in Ohio. But to most everyone I've met since I moved to Georgia in 1999, I'm considered a Northerner. The fact that I still drink "pop" instead of "Coke" (unless I'm actually drinking COKE) probably seals my fate. So I believe I can speak with authority with regards to things Northern.
Most of us—except those living in the FAR north regions—have never ice fished. Many winters, the ponds and lakes never get more than a lacy edge of ice around the edges. A solid, weight-bearing freeze is rare except perhaps in northern Michigan, Minnesota, Maine, New York, etc. The favorite fish from my neck of the woods was usually catfish or bluegill. The only time I ever caught a walleye was while on vacation in Canada or the Great Lakes. 
I never met many folks up North who ate crawfish (we call them crawdads), but I sure remember catching them out of the creek when I was a kid. As to eating wild critters, I don't think I've ever actually met a Southerner from my generation or younger who has eaten possum. 
While I'm not personally a fan of greens other than the ones noted by Mr. Garrison, I do know that folks in Ohio—at least the southern part, which is still North—do like to cook up a big pot of collards with fatback. And cornbread—oh my gosh, hot cornbread slathered in butter? That knows no state boundaries!
Perspire? PERSPIRE? Sorry, Mr. Garrison—we in the North can sweat with the best of our Southern counterparts. While we may not have the "fry-an-egg-on-the-sidewalk" heat that hits in Georgia, we truly can compete with the heat and humidity of July and August. When I call home in the summer months, my family often relates that they are running neck-in-neck with our temperatures here. And believe you me, we know humidity very well. My brothers called me Janis when I was young (after the late rock star Janis Joplin) because of my humidity-frizzed hair.
Another myth buster: we do have chiggers in the North. We all knew the remedy of dabbing a dot of clear nail polish on them by the time we were old enough to walk through the weeds. Chasing lightning bugs was also a favorite pastime. As to all those poor Northern kids playing in alleys, we still have plenty of farmland and open areas and woods and lakes up there for the kids to traipse through. Wading in a creek in the summer is a favorite memory for many of us. Not all of the North is big cities with concrete playgrounds. Some of the most beautiful farmland around rolls through the Midwest and beyond. Even big ol' New York has some beautifully wooded areas once you get outside of New York City. Minnesota—now that's NORTH—is known as the Land of 10,000 Lakes and has abundant, lush forests.
So, by all means, Mr. Garrison, stay proud of your Southern heritage. Y'all (I save my "you guys" for home visits) do indeed have a rich, inspiring history and a beautiful landscape that stays green most of the year. But just know, though we may be Yankees now and forevermore to y'all, we really aren't that different, and our growin' up memories are probably pretty much the same as yours: creeks and crawdads, lightning bugs and chiggers, eating cornbread and freshly snapped green beans.
I've lived North and I've lived South. Which is best? I can't really say. But if I were to take one moment to brag, I will tell you that an autumn in the North with its "Fruit Loop" kaleidoscope of colors in the leaves—now that can't be beat.
Diane Smith is the former managing editor of Southern Journal Magazine and currently works at the University of Georgia Griffin.
---
---
---