Product Review: HillTop Farm Goat Milk Soap

Jan 15, 2015 10:21AM, Published by Elly Zhilyak, Categories: Lifestyle, Today
---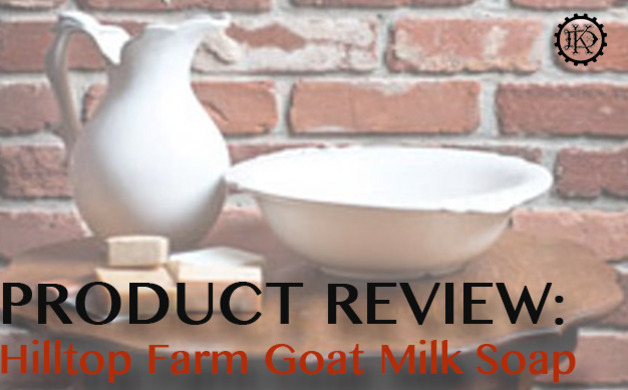 ---
---
I ran into Susan and Dale Myers at the Indian Springs Native American Festival this past summer, and I was instantly sold on trying some of their soaps thanks to their enthusiasm and love for their product, along with my personal obsession for finding natural, organic, and "good-for-you" things. After trying their soaps, I am completely sold on this wonderful product. 
Ingredients: It is made with cocoa/shea butter, fresh goat milk, and honey/beeswax, gathered fresh from local bees. The oatmeal used is directly from the hulled oats used to feed the goats. Vegetable/fruit base is used for coloring, and it contains no artificial dyes.
The benefits: Goat milk contains caprylic, capric and caproic acids, which help us maintain the perfect pH (acidity) for our skin and hair. Goat milk provides the "acid mantle", which is a slightly acidic layer on the skin that acts as a neutralizer when the body is attacked by microbials such as bacteria and viruses.
It rejuvenates the skin. Lactic and alpha hydroxyl acids in goat milk work to remove old skin cells. The moisturizing effect of goat's milk protects the skin against dryness from environmental rigors such as wind and snow. 
Since the soaps are made with cocoa or shea butter, pure goat milk, and honey, they are also good at treating skin conditions such as acne and eczema.
This handmade goodness is made right in Susan's farm kitchen with fresh goat milk, from her very own goat.
She takes requests for favorite combinations or scents and exfoliates. And she also makes a nice shave cream for men or women.
Verdict: I first used the soap in the summer, and I barely needed to use any lotion at all. The soap is great for all over the body and gentle enough for the face. But it must be used with caution as it can easily melt. I tried a few different scents and they were all delightful, but the rose soap has become my personal favorite. I have gifted these to several people, and I've even bought some shave cream jars for the men (they come with a brush).
Requests can be emailed to susanmyersmacon@yahoo.com or she can be reached at 478-538-0920. Her husband, Dale Myers, can be found at Internal Medicine, every Tuesday, where he brings the soaps for pick up in Griffin.
---
---
product review Goat Milk Soap Hilltop Farm
---