Dirty Joe Reads Kitchen Drawer

Jan 22, 2015 04:29PM, Published by A Kitchen Drawer Writer , Categories: In Print, Today
---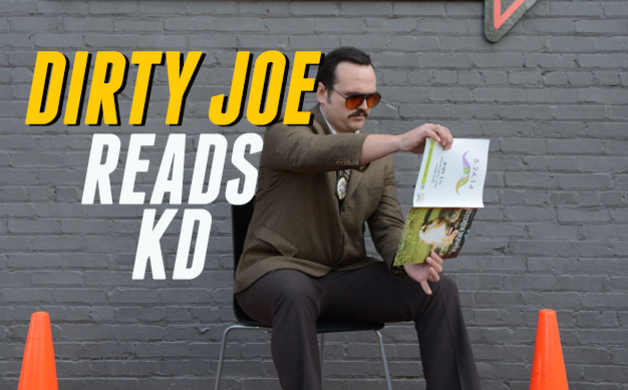 ---
Gallery: Dirty Joe [5 Images] Click any image to expand.
---
---
Originally published in Volume 7 Issue 1 of Kitchen Drawer Magazine
Have you ever been told you have a quirky sense of humor? Are you a lover of locally produced indie films? If you answered yes to either or both of those questions, then…well, you're welcome. We have found a gem of a website for you. 
50MilesSouthofAtlanta.com is the website of local independent filmmaker John Dinkins. Originally from Griffin, Dinkins now lives with his wife and two children in Barnesville. He films in his free time and posts the fruits of his labor on the website for the merriment of others. The site's name is a reference to Barnesville, which is—you guessed it—about 50 miles south of Atlanta
At 50MilesSouthofAtlanta.com you can click through dozens of videos that are sure to have you cracking up: from the web series Dirty Joe, which follows the exploits of a fictional rogue police officer in Griffin, to Beyond Suspicion, a mockumentary-style series about paranormal activity. 
Where did the inspiration for Dirty Joe come from? Would you say he's your alter ego?
I am a huge fan of Clint Eastwood. One night, I ran across one of his movies on Amazon that I had never seen before called The Gauntlet. That movie got to the point where it was so violent it was funny to me. I decided then to start my own cop series. I went down to the Goodwill and the CWC and pieced together a suit, bought a security guard's badge from the Bear Paw, picked up an airsoft pistol from Super Deal, grew a mustache, and started Dirty Joe. I am not at all like the maniac I portray on the Internet.
What kind of car does Dirty Joe drive? 
Dirty Joe walks right now. I thought about buying Dirty Joe a squad car, but my wife would kill me if I brought one home.
What do your wife and kids think about the work you do on Dirty Joe and Beyond Suspicion?
My wife thinks I'm crazy, but at the same time she has been very supportive. My kids watch a lot of YouTube, so they think that since I don't have a million subscribers, I'm not that good.
In the series Dirty Joe, the TKO is a criminal gang that Joe has made it his mission to defeat. We hear that the real-life inspiration for this group was a gang of "cool kids" at Griffin High School back in the '80s—but maybe this is just a rumor. How about a little background on the TKO?
Yes. The TKO did exist in the late '80s and early '90s, but it was more like a fraternity than a gang. As the legend goes, in the late '80s the TKO was a school-sponsored club that was dissolved by GHS officials for disciplinary reasons (keg parties, vandalism, etc.). A few guys tried to keep it going and did for a while, but by the time I got to Griffin High in 1993 it had faded out completely. As far as it being a club exclusively for cool kids...I'm not real sure. But if that was the case, can someone please explain to me how Jason Stowell got in?
The BOBOs commercials are big hits in the KD offices, and some of us even use the music as our ring tone. If BOBOs were a real company (we're assuming it's not), what would its company slogan be?
The original BOBOS slogan is "BOBOS: Yo' Shoes Don't Look Like Mine!" But it will soon be changing to "BOBOS: What Did Your Feet Do to Deserve This?"  
What's the backstory to the BOBOs brand and the jingle? 
BOBOS are a brand of "knock off" shoes that are available only where gasoline is sold. A friend of mine from T-Town introduced me to BOBOS and the BOBOS song. He was singing the original BOBOS shoe song one morning before work, and I just thought it was hilarious. The original song goes, "BOBOS... Yo' shoes don't looke like mine. BOBOS... only cost a $1.99." I later made my own version of the BOBOS song and turned that into a short 15 second video clip. When I was editing the first episode of Dirty Joe a few months later, I needed something to stretch the time to 5 minutes. So I took that clip and placed it right in the center of the video. It got a lot of laughs, so I made BOBOS the official fake sponsor of Dirty Joe. Thanks Pete!
Tell us who's involved and what goes into filming an episode of Dirty Joe?
I try to keep everything as simple as possible. I have included my wife and kids, plus eight other people I know, in the series so far. Usually, I'll contact a friend on Friday, write the script on Saturday, and go out and shoot it on Sunday. I shoot primarily in Griffin, because Griffin is such a ghost town on Sunday, but I have also filmed scenes in Pike and Lamar Counties. It's a lot of fun.
Since filming isn't your day job how do you find time to fit in filming? 
I film mostly on the weekends. A lot of people don't know this, but almost all of the Dirty Joe episodes were shot over a 2 to 3 week period. I can finish an episode of Beyond Suspicion in about 3 days depending on the eyewitness account. I spend more time on these videos than I probably should, but when someone comes up to me that I barely know and tells me they really enjoy what I'm doing... it's all worth it.
 Do you have any favorite movies or TV shows that inspire your own shows? 
I grew up watching cop dramas like Hunter with my Dad. My father also introduced me to cop comedies like Police Academy. I have been a fan of these two genres ever since. Add any Clint Eastwood movie to that equation and you get Dirty Joe. Beyond Suspicion is just something I started because I am fascinated by supernatural phenomena.
Explain to our readers the difference between Dirty Joe and Beyond Suspicion.
Dirty Joe is a purely fictional cop drama/action/comedy series and under NO circumstances should it be grouped with or even used in the same sentence with Beyond Suspicion. Beyond Suspicion is a separate "reality-based" web series I have created. It is simply a forum for people who have been witness to supernatural activity in the area to be heard. So far I have recorded a Loch Ness Monster-like-creature sighting, a UFO encounter, and two Bigfoot sightings. Once again...Dirty Joe is fiction and Beyond Suspicion is reality.
Where do you see 50MilesSouthofAtlanta and your web series in 5-10 years?
Video production is my hobby. I enjoy every aspect of it from beginning to end. I eventually would like to get into wedding videography, but for now I'm having way too much fun for that. I can definitely see Dirty Joe still fighting the TKO ten years from now.
There are some who may interpret the Dirty Joe web series as a humorous criticism of Spalding County police. Would you say that is your intention? 
Absolutely not. I knew there was a chance that some people might take Dirty Joe the wrong way, but so far I have received nothing but positive feedback.
---
---
Dirty Joe John Dinkins 50milessouthofatlanta.com
---