Layers of flavor: Stratified Cocktails are Drawing the Line.

Feb 04, 2015 05:30PM, Published by Jake Gentry, Categories: Food+Drink, Lifestyle, Today
---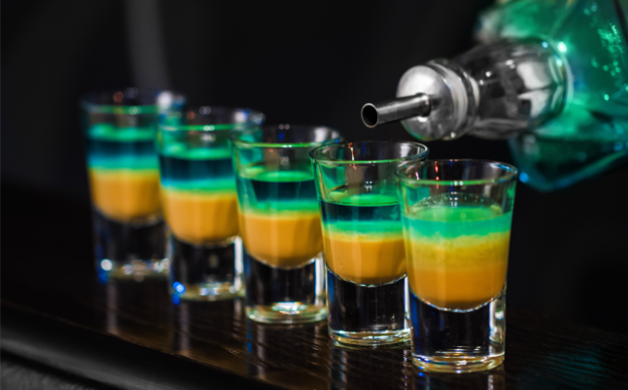 ---
---
By: Jake Gentry
            It doesn't really seem like something you might order but you figure "why not?" The bartender must be having a difficult time, because it's been about ten minutes since you ordered your drinks and you're the only one at the table still waiting. Just as you're about to order a pre-drink drink the waiter rounds the corner, very carefully watching the tiny shot glass to make sure it doesn't move too much; it's a B-52, a gorgeous layered drink made with Grand Marinier, Irish cream and coffee liqueur.  It's almost too beautiful to drink, but when you finally stop posting pictures of it to Instagram you realize why you ordered it, it's delicious!
            The layered drink is a special preparation that, when done right, looks like something out of a sci-fi film. The layers of liquid float on top of one another creating distinct strata of color. Generally the layered drink or "pousse-café" isn't put together for flavor, at least not flavor alone. Layered drinks are meant to be marveled at. The marvel comes from the physics of the whole thing; when liquids are laid on top of one another in such a way the assembly is transformed from a simple mixture into the careful, calculated execution of a formula based on the liquid attribute of "specific gravity".
            Specific gravity is determined primarily by a liquid's sugar and alcohol content. The more sugar there is in a liquid the more dense it becomes, however, when a liquid contains a high amount of alcohol it becomes much less dense. The way a layered drink is constructed depends mostly on those two factors, but each drink is unique, and so other considerations have to be made for mitigating factors like heat and pressure. Of course, nobody is bartending in a barometric chamber but heating or cooling the liquids actually does have quite an effect on the final product. A hotter liquid will be less dense, and that means it'll be more suitable as a floater. A colder liquid's molecules will cling together more tightly, making it denser and thus heavier. This means that a good bartender can manipulate the colors and flavors in a layered drink more easily with a little temperature control.
            The most fun part of making a layered drink comes in experimenting with different liquids. Sure enough you can find recipes for classic layered drinks like the Tequila Sunrise or the B-52, but those are mixes people have figured out before. If you want to try something really interesting break away from the norm, start trying to layer non-alcoholic drinks. It's a real show-stopper at Halloween to serve candy corn punch that actually looks like a giant candy corn, 4th of July is so much more patriotic with a red white and blue "cocktail" of cranberry (or any red fruit juice) blue Gatorade and white Kool-Aid, and every day can be a little brighter with a cranberry sunrise, no tequila required. The same rules apply to non-alcoholic liquids too, more sugar means it'll be heavier and thus should be poured first.
            One more thing: it takes a slow, steady pour to get the perfect layer. If you want to blow minds with a distinctly separated layered drink you'll want to practice. Use the back of a spoon to make sure the layers play nice and stay apart, that or mess it up, drink the result and try again!
To start you off here is a recipe for a classic layered drink, the ever-popular Tequila Sunrise:
1 shot Tequila
4oz. orange juice
½ shot Grenadine
Add your tequila to a glass about half-full of ice, then add the orange juice. Very carefully float the Grenadine on top of the mixture by putting an upside-down spoon against the side of the glass and slowly pouring it onto the orange juice and tequila, the Grenadine sinks to the bottom of the glass, but no worries! If you pour slowly enough the Grenadine will settle and you'll have a gorgeous and delicious sunrise to enjoy, any time of day.
            If you want to get a little more fancy then you'll want to try a B-52, this tasty little shooter is meant to be drank all at once but it's so pretty you may not even want to move it after taking the time to put it together! It's not an exact recipe (it's made in parts rather than with measurements), but it's recommended that you serve it in a smaller glass like a shot glass or a sherry glass.
1 part coffee liqueur
1 part Irish cream
1 part Orange Cognac
The B-52 is simple, but it's also more difficult than the Tequila Sunrise. Invert a spoon and put it against the side of your glass, first pour in the coffee liqueur of your choice. Then, very slowly, pour the Irish cream over the spoon. Finally your orange liqueur goes on top; again, use the back of the spoon to very carefully float the orange cognac on top of the Irish cream. Done correctly the B-52 is a beauty of a shooter, and it's as tasty as they come.
---
---
bar cocktails alcohol interesting science drinks
---