Fiction Contest Winner: Moving On by Cherry Mack Hill

Feb 05, 2015 08:50AM, Published by A Kitchen Drawer Writer , Categories: Arts+Entertainment, In Print
---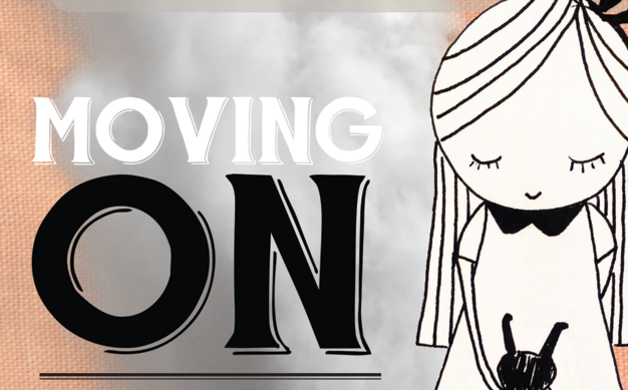 ---
---
First Place: "Moving On" by Cherry Mack Hill
Originally published in Volume 7 Issue 1 of Kitchen Drawer Magazine 
"I can't afford this." Mama squeezed her pocketbook into her stomach and looked up at the plastered ceilings. My little sister, Leonette, was twirling in the middle of the big empty room.
We were standing in the upstairs apartment of a converted mansion. Outside, the white paint was peeling, but the fluted columns looked sturdy enough. But I knew from the story of Samson and Delilah not to trust columns. An angry man and his chains could destroy the safest shelter. 
The apartment had high ceilings. Dark wood outlined the tall windows. But the kitchen was a closet. Two bedrooms. 
"Where's the washing machine?"
Mama shrugged, "We'd have to use the laundrymat."
I had been begging Mama to leave Daddy for a bad month now. She knew I usually gave her good advice. So we went to look at the apartment after Mama's shift at Massey's Supermarket. 
But I didn't have to look out the bedroom window to know that our town church was just across the street. The preacher would know why we had moved and feel sorry for me. I didn't want him praying my name. Probably he wouldn't. Daddy said this preacher had been to seminary and didn't believe that God interfered with our daily lives. At Bethlehem Baptist, where Aunt Rose went to church, they prayed for Brother Ledbetter and Sister Eloise and asked that God send the tornadoes somewhere else.
Our prayers and responses at First Christian were all about God's glory and forgiveness, straight from the Psalms or the Confessions of the Saints. I loved the way the choir always echoed layered rounds of Aaahmen, Aaahmen, Ahahahamen after the prayers. I tried to look at their mouths and puzzle out who was singing what when, and how it all worked, but Daddy brushed me on the back of the head every time I tried to look up.
"You and Leonette could walk to school," Mama said. 
And I knew that meant the town school and that I wouldn't be the smartest girl in my class at County Line anymore. That my friends would finally know. I would be like Keedie Shaw who lived in a house that was unsafe for children to visit because Keedie's mama and daddy were "sick" and might pass out with a pot boiling on the stove.
This apartment's living room had once been a bedroom, and there was a bare bulb hanging down on a long black cord. Mama pulled the little chain, but the yellow glow didn't make it to the rose-beige walls.
"When will we move?" I knew to skip the "can we" part.
Mama shook her head, said, "I don't think I can afford it," and started whispering the familiar refrain: 
I don't know what I'm doing here.
I can't leave him.
It's not right.
My mama would kill me.
I married him for better or for worse.
I knew there was occasionally a better part, but right now all I could see was the worse.
He can't help it.
I thought he could not help it away from us. I knew how to be quiet and stay out of his way during the actual binges and fights, but sometimes when he was hung over, or wanting a drink, my backtalk earned me a belt whipping.
I thought Mama should leave. I knew this happened. Or she could lock him out like Aunt Jonnie Lou did Uncle Rob sometimes.       
We had a picture of a teenaged Mama and Daddy sitting in a booth with another couple, dark bottles of beer in front of each of them, even my mother. Daddy and the other boy are wearing Coast Guard uniforms. There is a checkered tablecloth. Daddy is handsome with the one-sided smile that I recognize. Mama is relaxed and pretty with the long, thick hair that she finally hacked off because of work and time and tiredness. It seemed a strange picture.
Mama was still worrying out loud. If I squinted my ears a little, and hummed in the back of my throat, she sounded like our living room box fan, a kind of moaning whine.
If he had been there—and I was very glad he wasn't—if he had seen her broken down with her face in her hands, he would have yelled at her with what Aunt Rose calls ugliness. He would kick at her legs and tell her to "shut up and stop sniveling." There was nothing in this place to throw.
And she would stop crying, but he would keep ranting for a while until she cried again or he stumbled off to bed.
He's my husband…
Her sobs and hiccups were overriding my head fan rotations, but I didn't have to listen to the rest of it. I took her purse and gave her a tissue. I wondered whether or not I could use the bathroom in this apartment that we hadn't paid for. 
I crossed my legs and tried to think about something nice. I thought about the Tybee beach where Aunt Rose had taken us last summer. Some nights I went to sleep riding the waves, but tonight the ocean made me want to pee more.
So I pictured the new dress that Aunt Rose was sewing for me. It was the first pink dress I had ever owned with my red hair and all. It was pink-and-white-striped seersucker with a white sailor collar trimmed with more pink rickrack, a pink poplin tie, and matching sash. I thought about how my friends at County Line wouldn't get to see it, and I hoped that town girls appreciated fine-quality homemade. Would the pink clash with my red hair and all?
We were all three just standing and watching, stiff and apart, so it was okay for me to leave the room. I handed Leonette Mama's pocketbook and said, "I'm going to use the bathroom."
It was darker in the bathroom, I couldn't reach the light, and there was nothing to dry my hands on, so I didn't wash them.
When I got back to the living room Mama was reciting the "Poor Little Leon" story. Leonette was leaning toward Mama's thigh. She hadn't heard it as many times as me, since she was two years younger, but in another year she would be acting it out, with me playing all the parts where Daddy's relatives argued over his dead mama's casket about who was going to take him, a six-week baby, to raise. They all cried and moaned and sweated till he ended up with his feeble old grandmother. When she died he was shifted month to month, relative to relative. At last he went to stay with his Uncle Rob and Aunt Jonnie Lou and slept on the couch with their son Delford, feet to feet. Delford had lost his bed to his own grandmother the year before and said he was scared on the back porch by himself.
At 14, Poor Little Leon moved to Brunswick to live with Aunt Rose and Uncle Troy and tried to get a job at the shipyard like them to earn his keep. But he was too young. So they soon took in a boarder, renting out his bed, making him a pallet under the kitchen table. He said it was warm and cozy, but his suitcase was in everybody's way. And so, at 15, he lied about his age and joined the Merchant Marines. And he always added that he learned to drink and throw up in a crow's nest on the way to France, "from the crow's nest to the deck."
I said the last line with Mama under my breath.
She sucked in a powerful sniff and said, "He needs me. He always thought nobody wanted him and I can't do that to him again. And maybe he'll quit drinking this time."
It was the repeating chorus, the echoing amen.
I sniffed too, but gritted my teeth and begged, "Please, Mama." But Leonette ran on down to put the key on the hall table like the lady had said to do.
I stomped down the stairs behind Mama till she frowned up at me to walk right.
Then I was staring right at her skinny back. My little left hand would fit right between her bony shoulder blades. One push and she would be lying all broken at the foot of the stairs. And I could go live with Aunt Rose. Or be shifted around like Daddy. And what about Leonette?
My church across the street was looming through the front door sidelights. The columns stood menacing. I ran out in front of Mama hoping the columns would hold long enough for me to get on out into the yard.
Like Mama, I had no choice but to pretend everything would be all right.
Even the pink seersucker dress. Even with my red hair and all.
---
---
---