The little robot on your wrist; what if your fitness tracker isn't so smart?

Feb 16, 2015 08:45AM, Published by Jake Gentry, Categories: Lifestyle, Today
---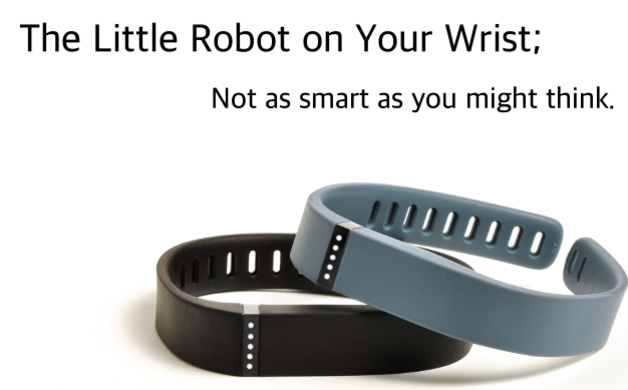 ---
---
Living in the future is amazing. Touch screens, voice commands, smart everything, it all surrounds us to the point where we don't really pay attention to how cool something is if it came out more than 6 months ago. One interesting phenomenon crops up when something new does come out though; if the concept is easy enough to swallow we go gaga over the new bauble with very little further criticism. Now I'm not talking about Google Glass or Soylent (although I could go for some of that flavorless nutrient slurry right now) I mean something that's a lot more ubiquitous and a lot easier to approach, something like a Fitbit or a Jawbone UP. Fitness trackers are equal parts useful and cool, but a recent study from the University of Pennsylvania has concluded that fitness trackers may not be such "smart" wearables as we give them credit for.
The researchers at the University of Pennsylvania were looking into the accuracy of fitness tracking peripherals because, as Mitesh S. Patel, assistant professor of Medicine and Health Care at Penn puts it "since step counts are such an important part of how these devices and apps measure physical activity, including calculating distance or calories burned, their accuracy is key." Lead study author Meredith A. Case also said that if people are to begin changing their habits with devices like fitness trackers "individuals have to be able to trust the data."
Here's how they conducted the study; the study tested 10 of the top selling smartphone fitness tracking apps and wearable fitness tracking devices in the US. 14 participants, all adults described as healthy, were recruited on Penn's campus. Each of the participants were fitted with a number of different fitness trackers, they each wore:
·      Three wristband trackers
·      Three devices attached to their waistbands; one pedometer and two accelerometers
·      Two smartphones in their pants pockets, one running a single tracking app and the other running three
Each participant walked on a treadmill for 500 and 1,500 steps twice (totaling 56 trials), then they recorded step counts from all of the devices.
Here's the interesting thing: the smartphones recorded step counts more accurately than the dedicated fitness trackers. Now don't think that means the smartphones were perfect, they still differed from the actual observed number of steps by about 6.7 percent, but the wearable trackers fell between 22.7 and 1.5 percent inaccuracy. Some wearable fitness trackers will be much closer to the actual step count than your smartphone, but as this study from Penn shows it's much cheaper and likely more accurate to just use an app on your smartphone! Of course, that would mean carrying your smartphone with you on runs or walks, and that may not always be possible. Not to worry, the study wasn't out to disprove fitness trackers. A fitness tracker can still be a great way to keep tabs on your step count and other fitness metrics. Just remember to take the thing off sleep mode in the morning!
---
---
---