It's Dead Cold Out, Warm up with a Good Mystery

Feb 25, 2015 05:00PM, Published by Jake Gentry, Categories: Arts+Entertainment, Lifestyle, Today
---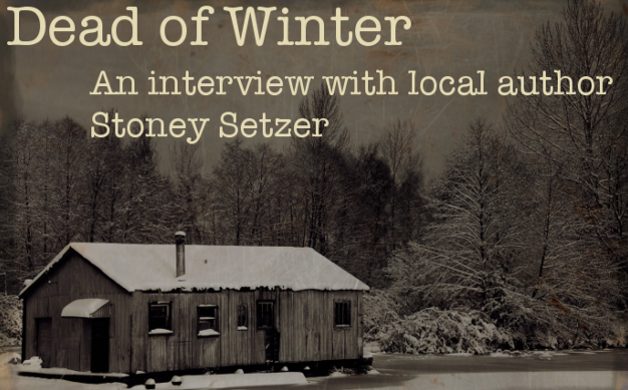 ---
---
It's not every day that we hear about a hometown author getting published, so when Stoney Setzer contacted us about his newly published mystery/suspense novel Dead of Winter we had to get the details. Stoney's novel follows Wesley Winter, keeper of his grandparents' old motel: the Dew Drop Inn, during the Blizzard of '93. Wesley tries to keep the motel going by renting extended-stay rooms, but when he and his guests get snowed in they find among their numbers a figure named "The Outcast", a dangerous maniac, self-appointed as the executioner of sinners on God's behalf. Interestingly, Stoney published the novel himself through Amazon and we just had to know what he thought about the process of publishing on his own. It's a very interesting situation and Stoney's process was very unique, so without further delay here's our chat with Mr. Setzer.
So Mr. Setzer, what prompted you to pursue writing? What are some of your influences?
I've always had a good imagination, and creating stories has been something that has always been of interest to me. When I was a kid, if someone asked me what I wanted to be when I grew up, I would have said either a comic book artist, an author, or a movie director.
As for my influences, in no particular order: Alfred Hitchcock, Frank Peretti, Ted Dekker, Dean Koontz, Ray Bradbury, and pretty much every "Twilight Zone" rerun I've ever seen.
How did the idea for Dead of Winter form? Was there a specific time or place that started the idea off for you?
The idea for Dead of Winter came to me when my family and I were driving to Musella, GA, to get some peaches from Dickey Farms. On the other side of Barnesville, there is this old motel that bears a strong resemblance to the Bates Motel from "Psycho"...it even has a big house behind it. Since "Psycho" is one of my favorite movies, that caught my attention right away, but what really caught my eye was that there were two cars and a motorcycle parked in front of it. Immediately, I'm thinking, "So people actually stay in that place? Why?" The only explanation I could think of was if it was an extended-stay type motel, and maybe the people were using it for apartments. The Dew Drop Inn in Dead of Winter grew out of that.
From there, I got the idea of wanting to do "Psycho" in reverse...have a story set in a motel so that, instead of the guy running the motel being the killer, he would actually be the hero and someone in his motel would be the killer. I tried writing it as a short story, but it didn't take too long for me to see that it needed to be novel-length in order to work.
Finally, I wanted to have everyone "trapped" in the motel. A snowstorm seemed to be the easiest way to do that, but in order to have them totally cut off from the outside world, I had to take wireless devices out of the picture. The easiest way to do that was to set the story before cell phones became so commonplace, and that led me to having my story take place in the Blizzard of 1993. 
How was the publishing process through Amazon, was it difficult? Would you recommend it to other local authors?
Self-publishing my book through Amazon wasn't terribly difficult, but it did take a lot of attention to detail. Their websites (www.createspace.com for paperbacks, www.kdp.amazon.com for Kindle) take you through the process one step at a time. You just have to be very careful in formatting your documents so that they "look right" after you have uploaded them. It's not hard, but it can be slow and painstaking. Fortunately, you can preview what you're doing so you can fix it if necessary before you finalize it. Plus, it is free, whereas some other self-publishing services that I researched put a fairly hefty price tag on their services. I didn't have to pay Amazon anything (although I did pay $25 to www.bookcovermachine.com for a professional book cover). I figured that way, if the book doesn't make much money, I haven't really gone into the hole.
So yes, I would recommend publishing through Amazon to other local authors. You are responsible for your own proofreading and editing, so I would recommend having at least one of two other people read over your manuscript before you try to publish it.
 Dead of Winter is listed as book 1 in a Wesley Winter series, are you planning direct sequels or standalone novels that can be read independently of each other?
Dead of Winter is Book 1 of the Wesley Winter series, and I am planning direct sequels. Book 2 is going to pick up shortly after the end of Book 1, and it's going to deal with how Wesley is suddenly considered a hero, but it doesn't make all of his problems go away. Then there's going to be an overarching theme throughout the series of why this unlikely hero, this small town guy, keeps getting tangled up in mysteries like in Book 1.
I'm also planning some stand-alone novels and already have one, Dead Man Running, available on Amazon. I also have two short story collections, Zero Hour and Zero Hour 2, available on Amazon.
You can find Stoney's newest novel Dead of Winter on Amazon, as well as his other works; Dead Man Running, Zero Hour and Zero Hour 2. 
---
---
books author literature publishing
---