Restaurant Review: Lucky's Italian

Feb 26, 2015 04:40PM, Published by Jake Gentry, Categories: Food+Drink, In Print, Today
---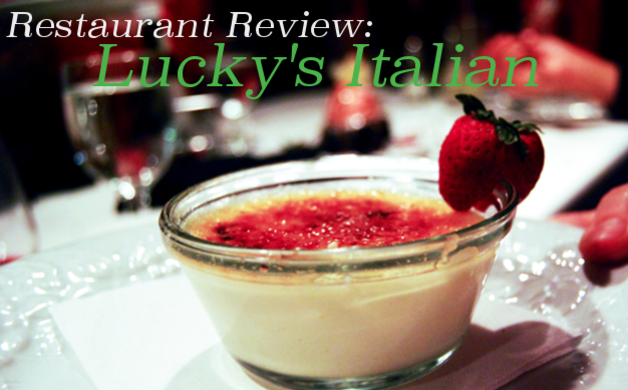 ---
Gallery: Lucky's Italian [8 Images] Click any image to expand.
---
---
Originally published in Volume 7 Issue 1 of Kitchen Drawer Magazine

First of all, we should mention that KD friend Eddie Grogan doesn't want you to visit Lucky's restaurant in Jackson. He likes to think of it as his own personal hideout. However, he recently let the Kitchen Drawer staff in on his secret and invited us on an adventure. If you decide to go to Lucky's anyway, you didn't hear it from us!
Our adventure began in the Spalding High parking lot where we rendezvoused with Lucky's 24-seat courtesy bus, wrapped with photos of the menu items. Our driver, Scott, sporting pinstriped pants and vest and ponytail, settled us into our seats as Elton John and Billy Squier played over the speakers. 
The bus cruised into the dark, still streets of a Wednesday night in Jackson and let us out at the storefront entrance to Lucky's. The restaurant is intimate, dimly lit, with cozy booths for a quiet supper. A small bar with eight stools and three flat screens is tucked into the corner. Latticework laced in string lights and silk grapevines lowers the ceiling over the booths. The décor encompasses Elvis memorabilia, family photos, gold mirrors, collectibles, and reproductions of oil paintings—much like little family-owned Italian restaurants in New York state. It was refreshing to have an Italian dinner in a "non-chain" atmosphere.
Two friendly servers took our drink orders and filled the table with appetizers. The Lobster Bisque (served in a hot fudge sundae glass) was a favorite for Allison and me, and Allison also gives high marks to the Spinach-Artichoke Dip. If you're a fan of Olive Garden's garlic breadsticks, then you're in luck at Lucky's. They come out with the drinks, are served with melted cheese and marinara as Lucky's Cheese Bread, and are served toasted with the Spinach-Artichoke Dip. The Stuffed Mushrooms with crabmeat were tasty and piping hot. And if you're in the mood for Escargots or Oysters Rockefeller, Lucky's is the nearest place!
Among the entrée items, a favorite for all was the Lasagna. Allison commented, "It was just the right combination of pasta, sauce, and cheeses." Ashley P. said of the Eggplant Parmigiana, "Wow! This passed my test. You can really go wrong with the way you cut the eggplant, but this is spot-on. I like everything about it." The Stuffed Shells were also very good. Along with the "traditional" Italian dishes, Lucky's offers a collection of six creative ravioli: Lobster, Butternut Squash, Blue Crab, Wild Mushroom, Chicken & Spinach, and Steak & Portabella. I particularly enjoyed the Butternut Squash Ravioli – a sweet and savory delight with roasted squash, aged Parmesan, amaretti cookies and brown sugar, with a sage-brown butter sauce.
The most popular dessert for the KD crew was the New York Cheesecake. Allison observed, "Some cheesecakes are too thick and rich for my taste, but this one was light and tasty." Also on the menu are Tiramisu, Spumoni, and Italian Bundt Cake.
Owner Glenn Howell, a Kentucky native, came into the restaurant business by way of a barge company and a video rental company. As a young man, Glenn worked a summer job for Hines Barge, based in his hometown and running freight and fuel up and down the Mississippi River. He soon discovered that he could be out there pulling ropes and riding barges, or he could work in the tugboat kitchen with the Cajun chef. It was from this chef that Glenn learned a thing or two about the Cajun cuisine that influences the seafood choices on Lucky's menu.
Glenn later landed in south Georgia and was in the video rental business. He says, "One day I was riding with a friend up north of Atlanta. We passed this place that said 'Pizza and a Movie,' and I said, 'Turn around!'" The place delivered pizza with a VHS movie. Glenn loved the idea. The problem was…he had no idea how to make a pizza. Glenn figured that the best place to learn how to make pizza was New York City, so he went to NY for five days and started observing. Then he started exploring pizzerias in the Atlanta area. The best pizza he found was in Little Five Points. So when the boss of the place stepped out, Glenn asked the cook in the back, "How'd you like to make $100? Show me how you make that pizza."
Glenn started delivering his own pizzas with videos in his three stores. Meanwhile, on frequent visits to Olive Garden, he observed that there was always a crowd waiting to be seated there. That's when he decided to branch out and start delivering other Italian foods, as well as pizza. The concept was a big hit. Glenn recalls, "I couldn't believe that people were ordering Oysters Rockefeller for delivery!" Always a trend-spotter, Glenn claims to have had the first U.S. restaurant to offer online ordering. Now, with Lucky's, he has turned that model around and brings his customers to the food: "Now I send the bus to come get you!"
 Glenn and his brother and business partner, Sydney, have been in Jackson for 32 years, running the pawn shop next to Lucky's and, for the past 10 years, the restaurant. Glenn says that the Lucky's Filet (the one pictured on the billboard that you can't miss while traveling east into Jackson) is his biggest seller, followed closely by his Lasagna and Eggplant Parmigiana. He's most proud of Lucky's Salmon Salad, which he says is a beautiful plate. 
So whether you're heading through Jackson on your way home from the lake, or need a quiet dinner that doesn't include waiting for one of those plastic buzzer things to tell you when your table is ready, or just need to get your escargot on, head over to Lucky's. And if you spot Eddie Grogan, shhhh.
---
---
restaurant review Lucky's Italian
---