Searching, simplified: sharpen your Google-Fu and make searching easier.

Mar 04, 2015 04:45PM, Published by Jake Gentry, Categories: Lifestyle, Today
---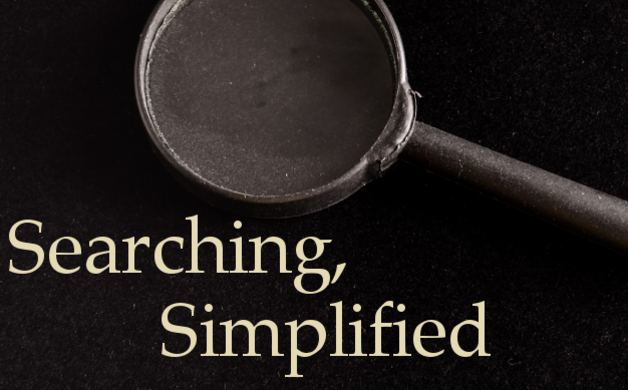 ---
---
The engine that powers our lives no longer requires combustion of any kind. It needs no chemical reaction, it doesn't need light or wind or the currents of a river. All that this miracle engine needs is a search term, and off you go down the highway that connects all of the data mankind has ever collected. One word and you've got scholarly articles, books, news, reviews, opinions, facts, videos, pictures, any kind of information you want about any topic you choose. Of course, the mystical device I'm talking about is the search engine. In the advent of the search engine everyone with a computer has the keys to the largest library in recorded history, but that means your search engine of choice has to go through all of that information itself if you want something but are unsure of where exactly to find it. Now, this isn't hard work for the engines themselves. Oftentimes you'll see statistics on how fast the search was generated, 0.35 seconds isn't that long a time to wait for approximately 114,000,000 results for the search "cookie challenge".  But how are you supposed to find a cookie challenge video (or any other piece of vaguely specific information) that's right for you in all of that other clutter? You must learn the ancient and secret art of Google-Fu.
Google-Fu is a technique that has developed alongside the evolution of the search engine, and those with a mastery of it cannot be matched in the speed with which they navigate results and wield the search engines we regular users approach like information slot machines. It may seem out of reach of your regular user, this talent for simple searching, but it doesn't require some decades-long training in computer science or a "Matrix"-style awakening. The basics of Google-Fu are simple, easy to grasp and impossibly effective.
Google recognizes a set of special symbols and words that dramatically modify the results of any search. Listed here is a small selection that will be indispensible to the novice Googler.
Too often Google takes your search terms and runs wild with them. For example, you love snowy owls but hate the one that played in Harry Potter (it shot your friend who works in film a dirty look when she brought it tap water instead of room temperature Fiji water). To search for snowy owls without the threat of seeing that pompous puffball all you would need to add to your search is a dash, (specifically –Hedwig). Adding a dash directly to the beginning of a word in a search removes results that have that word in them, and keeps them from diluting what would otherwise be an effective search. Additionally, dashes can be combined so that several words are omitted,  searching "snowy owls –hedwig –harry –potter –rowling" will make your results even less likely to include the information you're trying to avoid.
Let's say you want to search for a specific phrase, and don't want the words switched around or removed. To make Google display only the results containing your exact phrase wrap the phrase in quotation marks. Even a two-word phrase such as "cookie challenge" can go from 110,000,000 results to a mere 139,000 with the addition of a set of quotation marks.
To finish this introduction into Google-Fu comes the operator term "site:". Using the operator "site:" in direct conjunction with the name of the site you are looking for will restrict your search within that website. For example, searching: "site:kitchendrawer.net festival" (without the quotes) will list only results from kitchendrawer.net that have the word "festival" in them.
These are merely a few of the tools that will help make your Google searches more fruitful, Google has a whole collection of modifiers that can whittle down the pages of search results you may find yourself swimming through. With practice, searching with pinpoint accuracy will be a breeze and the use of modifiers in your searches will be second nature. 
---
---
---