Street Art

Mar 05, 2015 03:56PM, Published by A Kitchen Drawer Writer , Categories: Arts+Entertainment, In Print, Today
---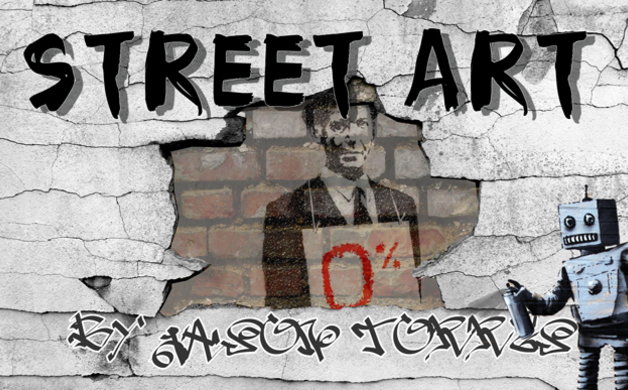 ---
---
By Jason TorresOriginally published in Volume 7 Issue 2 

My career as an artist spans most of my life, and it is rooted deeply in the urban art form many are familiar with called graffiti. Now, I know what you may be thinking: art form—graffiti?
Yes, I have heard people express their disdain and disagree with the hows and whys of graffiti, but there is tremendous beauty to be found if one is willing to take a closer look at the art form and how it is expressed. Graffiti is set in a mentality of pushing the boundaries of traditional lettering and letter styles. It's twisting the typical Helvetica-style font, if you will, and creating an almost hieroglyphic stylistic language. This piece is not about "graff," however, and I may write one later to explore it further, but for now, let's look at the art form known as street art.
Wikipedia defines street art as "visual art created in public locations, usually unsanctioned artwork executed outside of the context of traditional art venues" (usually meaning literally outside). You can easily replace the words "street art" with "graffiti" in the same definition, but while graffiti is, in essence, a form of street art, it is not the same.
In a Q&A session with The Huffington Post, blog Melrose & Fairfax offered the following distinction: "Both graffiti and street art use the reappropriation of public space. But with graffiti, you are limited to what you can do with a spray can on the spot. Street art might employ some of the application techniques, but most often, it is a finished product that is brought ready-made to the location, so the artist's message is much more developed. Street art is not so much about making a name and leaving a mark as it is getting people to interact and view something in a new way, and that is a big difference." In addition, graffiti mainly focuses on the styling of letters. Most often the piece represents the name of the artist who painted it.
While opinions vary greatly, many traditional artists have borrowed from the roots of graffiti to achieve amazing street art and modern art. I have transitioned into, and may I say fallen in love with, street art. For starters, I am drawn to the rebellious nature that courses through the veins of both graff and street art. The forward thinking that there is a message in almost EVERY street art piece grabs me. Also, the intricacy of technique required to produce street art pieces—whether wheat pasting, stenciling, stickers (which both forms employ), or installations—is interesting in and of itself.
Street art, at its core, wants to make a statement to the masses. It often has a message that demands to be heard. It is thought-provoking, edgy, and risqué at times, and like graffiti, it does not want your forgiveness for what it represents or what it takes to be heard. It battles the confines of society and often dictates how, when, and where art should be. The message often represents the plight of those struggling every day who feel they are not normally seen or heard. It is easier to stomach then graffiti—I get that—because it is based on imagery and looks to convey its message quickly by appealing to the very basics in all of us. Most times, the artist uses it to raise awareness about a social issue most of us would not have been exposed to otherwise.
For instance, in 1980, artist John Fekner painted on an abandoned building project in the South Bronx and simply titled it "Broken Promises." This is a prime example of a street artist trying to make people aware of what is going on around us. John Fekner also did an art installation on a New York dumpster filled with TVs and titled that piece "No TV," which I think speaks for itself. A search for "street art" on Wikipedia shows photos of these pieces along with other examples of street artists and their work. These individuals may or may not have the notoriety of well-known street artists like Banksy or Shepard Fairey, but their impact on society and art as a whole is no less important.
College courses in both graffiti and street art are now available, which proves the impact that the art forms have had on society and the importance of what they represent to not only the blue-collar worker but to the white-collar art collector as well. Pieces done by UK-based street artist Banksy are being stolen right off the street and auctioned for tens of thousands of dollars in auction houses around the world. Artists like Banksy, Obey (Shepard Fairey), and many others are now making a living on what started as art to make a statement.
Street art is big now—so big, in fact, that when Banksy did a month-long residency in New York last year it turned the city into one big scavenger hunt. It put people in such a frenzy that they were stealing the pieces right off the street with the goal of simply selling them later. All the while, Banksy never pocketed a dime from the works.
With the popularity of street art, even the individual artist who simply wishes to raise awareness of social injustices can get caught up in the financial rewards modern art can fetch. How then does an artist whose sole wish is to raise awareness stay true to that goal? As an artist, it can be difficult, because now you have an avenue to make money doing something you love in your medium, but it changes the intent and, in most cases, the power of the work you create as perceived by the people who have come to know and love your work.
I have often dreamed of being employed full-time as an artist but have struggled with the fact that if that becomes the case, art now becomes my job, not necessarily a "love" any longer. So does it change the power and intent of my work if I am employed for my skill, and does an artist lose anything by doing so? I think the answers to those questions lie within the hearts of artists themselves. After all, as artists, we are very often our own toughest critics.
---
---
Volume 7 Issue 1 Jason Torres Street Art
---