UGA's Griffin Campus Presents: Psych Day

Mar 09, 2015 04:00PM, Published by Jake Gentry, Categories: Lifestyle, Community
---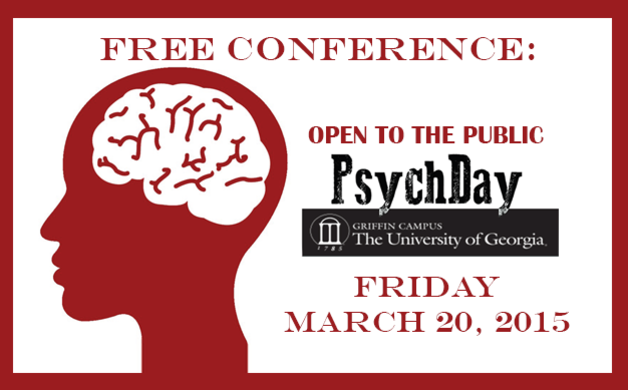 ---
---
The University of Georgia's Griffin Campus will be hosting its annual "Psych Day at UGA" event on March 20, and it's going to be a mind-opening meet-up of speakers from across Georgia that's not to be missed.
The event begins at 8 AM in UGA Griffin's Student Learning Center, and continues until 4:30 PM, with a one-hour lunch break in between. The theme of the event is "Everyday Psychology: Food, Money, Politics—and Drugs in the Afternoon," and the line up includes seminars and speeches ranging from "The Psychology of Food Safety: Making Bad Habits Good," to "Gambling: Decision Making, Personality and Their Roles in Problem Gambling," along with many other provocative presentations.
The best part? Members of the general public will get into the event absolutely FREE. You can choose to attend the morning session, the afternoon session, or the full day of talks. Georgia Psychological Association continuing education credit is also being offered for $99.00 to students and psychology professionals who attend the full day. To join in on what's sure to be a stimulating event packed with incredible speakers all you need to do is register to attend and you're set for a day spent learning about the hottest topics in psychology. 
Contact Faye Chatman, Program Coordinator at UGA Griffin at fchatman@uga.edu or 770-229-3016 for more information about Psych Day or visit UGA Griffin's website to read all about the lineup. It's a phenomenal opportunity for both professionals in psychology and prospective students interested in visiting the UGA campus in Griffin.
8:00-8:15              Welcome & Introduction of Day's Master of Ceremonies
Doris Christopher, Ph.D., Assistant Vice President for Academic Affairs, UGA Griffin W. Keith Campbell, Ph.D., Head, Department of Psychology, UGA
8:15-9:15              The Psychology of Food Safety: Making Bad Habits Good
Cyndie Story, Ph.D., President, Culinary Solutions Centers, LLC
9:15-9:45              Today's Modern Psychology: A More Than Helpful Profession
Jennifer Smith, Psy.D., President, Georgia Psychological Association
9:45-10:00           Break
10:00-11:00        The Psychology of Successful Political Campaigns
Bill Crane, Principal, CSI Crane, LLC, and WSB‐TV Political Commentator
11:00-11:30        You Can't Make This Stuff Up: There's a Story in Every Life
Dink NeSmith, President, Community Newspapers, Inc.; Former Chairman,       University System of Georgia Board of Regents
11:30-12:30
        Gambling: Decision Making, Personality & Their Roles in Problem Gambling
Adam S. Goodie, Ph.D., Professor, and Director, Center for Gambling Research, Department of Psychology, University of Georgia
12:30                       Wrap‐Up
12:30-1:30           LUNCH ON THE QUAD – G‐DAWG DAY AT UGA
FOOD FOR PURCHASE; FREE FOR PRESENTERS and UGA STUDENTS
1:30-4:30              The Top Ten Psychopharmacologic Emergencies: Identification & Response
Perry W. Buffington, Ph.D., M.S., Department of Psychology, University of Georgia
---
---
---