On Zac Brown's Southern Ground

Mar 23, 2015 02:30PM, Published by A Kitchen Drawer Writer , Categories: In Print, Community
---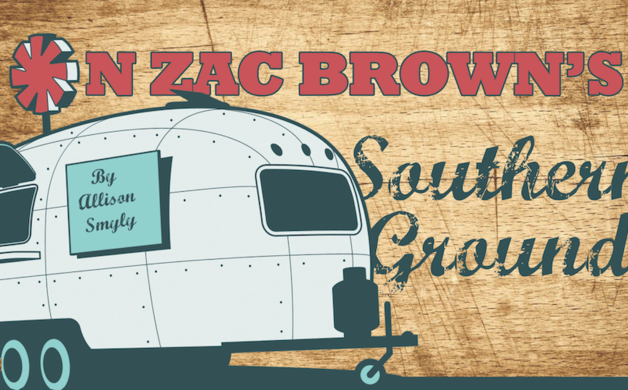 ---
Gallery: Zac Brown's Southern Ground [10 Images] Click any image to expand.
---
---
Originally published in Volume 7 Issue 2 of Kitchen Drawer Magazine By Allison 
There's a whole lot of creating going on at the headquarters of Zac Brown's Southern Ground in Peachtree City. The driving force behind it all is the considerable talent of the namesake of the Grammy Award-winning Zac Brown Band, whose hits include "Chicken Fried," "Sweet Annie," "Colder Weather," and "Homegrown." The many activities in the 150,000-square-foot headquarters building represent Zac Brown's varied interests, which include hunting, knives, and outdoorsmanship.
These ambitious endeavors include Southern Grind, a full-production metal shop; Southern Hide, a leatherworking shop; Southern Ground Print and Design; and ZB Customs. Southern Reel, which produces tour videography, photography, music videos, commercials, documentaries, and animation, is also at the SG headquarters.
Together, these shops and offices design and create just about any project the folks at Southern Ground can dream up, from leather handbags to t-shirts, knives, and a human catapult. (Yes, you read that right—the metal shop produced a human catapult, which was used in the music video for "Jump Right In.") Also at the Peachtree City headquarters are the corporate offices for Southern Ground and the main office for a project that is very special to Zac, Camp Southern Ground.
According to Rob Parker, CEO of Southern Ground, Zac is "an amazing collector of talented people." He refers to the members of the Zac Brown Band, of course, but also to the many artists, craftsmen, and artisans who work with Southern Ground. One example is the multitalented Kristian Baena in ZB Customs, who uses his skills in painting, welding, fabricating, woodworking, and airbrushing to complete a variety of custom projects for Southern Ground. Rob says that Zac is very involved with all of SG's design and production processes, stating, "it is crucial to Zac the products and quality represent our brand."
Southern Ground's distinctive, rustic style is evident throughout the headquarters. The exterior of the building, faux finished by SG team members, is reminiscent of a giant guitar case with a skull key, a signature Zac Brown touch. Inside, the décor evokes a cozy mountain lodge, from the low lighting in most office spaces to the furniture, which includes wooden desks and conference tables that were handcrafted and finished in SG's wood shop. Memorabilia from the Zac Brown Band's tours, including concert backdrops, and colorful renderings of the plans for Camp Southern Ground adorn the walls.
Although the décor is in the primitive style, the equipment used at Southern Ground is state-of-the-art. The leather shop, which started out producing novelty items to sell on tour, now uses a leather-cutting machine with Computer Aided Design technology to produce prototypes for premier leather goods such as handbags, bags, and even motorcycle seats, all of which SG plans to market one day. The metal shop uses a water jet machine that can cut through six inches of steel to make their "GranDaddy" knives out of repurposed saw blades.
Sally Martin, Executive Project Manager, says it is important to Zac that all products are of the utmost quality and that every detail is taken into account. "He is extremely knowledgeable about a lot of different topics and industries," she says. Zac's wife, Shelly, is also quite involved in the creative processes at Southern Ground. Shelly was working in the building on the day that Kitchen Drawer visited the headquarters.
Southern Ground chooses to do work in-house that could easily be outsourced. SG Print and Design, also known as Lucy Justice Goods, designs and screenprints at the Peachtree City headquarters the thousands of t-shirts that are sold on Zac Brown Band's tour.
Southern Ground also does their creative work in-house with its own media production company, Southern Reel. The creative department manages a variety of projects for Southern Ground, including photography, videography, designing tour posters, web design, and various print projects, such as menus for the restaurants and manuals to go with the knives. Southern Reel is currently working on a book of tour posters. "It's always a home run whenever our creative team produces something," says Sally.
Other enterprises associated with Zac Brown's Southern Ground include the Southern Ground Studio in Nashville, TN and the Southern Ground Amphitheater in Fayetteville, which hosts summer concert series. There are also two restaurants in Senoia, Southern Ground Social Club, a Southern-style restaurant which showcases live acts nightly and hosts a weekly open mic night, and La Mesa del Sur, which serves a fusion of southern, Latin, and Tex-Mex cuisines.
This dedication to quality and localism has resulted in over 100 jobs in our area. Learn more about Southern Ground at www.southernground.net.
Camp Southern Ground
As a former camp counselor, an undertaking that is especially close to Zac Brown's heart is Camp Southern Ground, a 400-plus acre camp near Fayetteville that will serve children ages 7 to 17. Only one-third of the acreage will be developed for camp activities; the remainder of the land will be preserved in its natural state as part of the Southern Conservation Trust. Zac's vision is to create a state-of-the-art facility that will serve children with both typical and special needs such as autism, Asperger's syndrome, Tourette's syndrome, ADD/ADHD, and dyslexia.
According to Camp Southern Ground's CFO/COO, Drake Bivins, the camp is scheduled to open for day use this summer and for residential use in the summer of 2016. The ultimate goal is to have more than 20 buildings to serve 250 campers. Campers will enjoy mountain biking, hiking, archery, swimming and other water activities, music, sports, and arts and crafts. Also in the works are science, nature, and environmental programming, as well as an adventure course with high and low ropes courses and a climbing tower. The plan is to use the facilities for camping during the summer months and for family and corporate retreats in the off-season.
Though Camp Southern Ground is mostly in the planning and design stage, progress is already being made in establishing the camp's infrastructure. At the camp's 15-acre certified organic farm, a cover crop and 150 blueberry bushes have been planted. Drake Bivins said that the vision is that campers will participate in harvesting the farm's vegetables and fruits, which they will then eat at mealtimes.
On Southern Ground's blog, Rob Parker tells about why he became involved with Camp Southern Ground:
Lots of celebrities have causes they like to support, but what Zac was talking about doing was WAY bigger…As a grandfather of a special needs child, I am well aware that not every child gets to go to camp. My eight-year-old grandson Nicolas was diagnosed with autism before his second birthday, and we quickly learned that the journey for a child with his unique abilities is not the same as for a typically developing child. Not every adult will understand what a special gift he is, and not every child will embrace the different way he sees the world.
While Zac will be the first to tell you that Camp Southern Ground is much bigger than Zac Brown Band or his family and friends, it is important for you to know that he is "all in." Zac is giving his time, talent, and treasure to make CSG a reality, but that is not what made me want to be a part of this amazing adventure. One of the reasons I joined CSG is because Zac believes that children like Nicolas add great value to all of us, and he wants to do something special to prove it.
Camp Southern Ground is seeking partnerships and funding to bring this vision to fruition. Visit CampSouthernGround.org to learn more about the camp and how to get involved.
---
---
Southern Ground Zac Brown Volume 7 Issue 2
---