Sick of Dealing With the Power Company? Find Out What We Did!

Mar 25, 2015 05:30PM, Published by Jake Gentry, Categories: Lifestyle, Today
---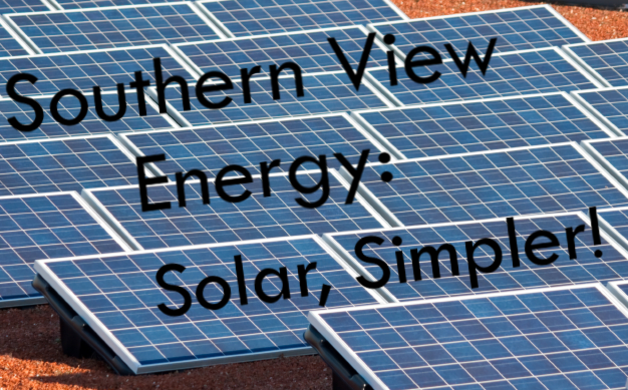 ---
---
So, recently our building went solar, and it's been really great. We're working with a totally clean energy source that's got no moving parts, low maintenance needs and absolutely zero emissions.
Now I know what you're thinking: "That's awesome for you guys, but I don't have any reason to get solar panels. They're probably too expensive, too fragile or too complicated to have installed!"
Well that's where you might be wrong.
 See, we got help from our friends, the solar energy experts at Southern View Energy. They're knowledgeable, professional, and above all responsible when it comes to setting you up with a solar energy installation. Southern View Energy's team of specialists are highly-trained, state licensed, bonded and insured, and not only do they perform installation; they design a solar energy system from the ground up that's specially suited to your home, location, and needs.
SVE knows how the business is.
Usually you contract someone out to design an installation, then they contract someone out to buy the parts, then they contract someone out to install your system. That's a lot of money changing hands, and a lot of trouble to go through for something that's meant to simplify your life. When you turn to Southern View Energy they take every step of the process themselves, no kidding! They perform a survey of the installation site, plan and engineer the installation, pick the best materials for the job, then they manage the installation and install your panels, taking care of the entire process without handing the work off to who knows where.
But they didn't just install our system, they've completed amazing projects all over Georgia; they've helped homeowners cut their utility bills in half, they've helped cut energy bills and protect from outages, and they've even installed systems that makemoney for their owners while they're away!
So Southern View Energy is how you can be sure your installation is the best it can be, but what about the cost? Well for starters, solar energy can pay itself off by saving you thousands (you'll have plenty of time for those savings too, because most manufacturers warranty their panels for 20-35 years). Secondly, federal tax incentives can cover 30% of expenditures on a solar energy installation, and there's no cap on that credit either. Finally, Southern View Energy will work to get you exactly what you need, they aren't going to throw any curveballs to try and get you to pay more than necessary.
So what are you waiting for? Head over to Southern View Energy's site and find out how they can help you start saving on all of your energy needs with the power of the sun! 
---
---
solar panels energy southern view energy
---