The First

Apr 08, 2015 05:30PM, Published by Jake Gentry, Categories: Lifestyle, In Print, Today
---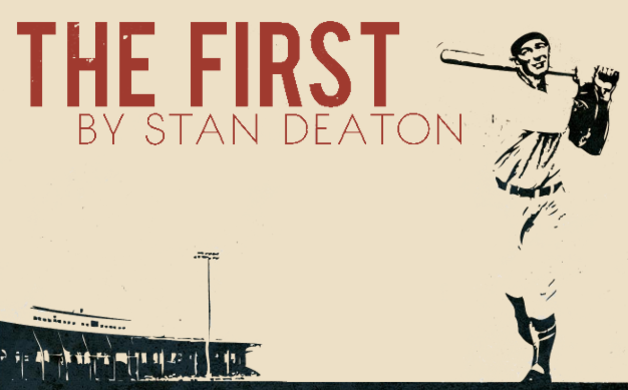 ---
---
By Stan Deaton
Being first is something most of us long for. Americans like being first in everything. But what if being first means having people hate your guts? What about volunteering to be the first at something you know is going to be the hardest road you've ever walked down in your life? We are reminded of William Shakespeare's great lines: Some are born great, some achieve greatness, and some have greatness thrust upon them.
After World War II, Brooklyn Dodgers president and general manager Branch Rickey wanted to increase attendance and make his team better. Every team president wanted to do that. But the other thing Rickey had in mind seemed downright radical and, some thought, un-American. He wanted to break baseball's color barrier and put a black baseball player on the Brooklyn Dodgers—a dangerous piece of social engineering, to be sure. That same year, 1947, the Memphis Censorship Board banned the movie Curley because it showed black and white children playing together.
It would take a rare individual; it had to be someone with a relentless personality and a determined drive to succeed. Someone who could take the most vile abuse imaginable and turn the other cheek. Someone who could psychologically endure loneliness and extreme public persecution while simultaneously being a very good baseball player. History had summoned Jack Roosevelt Robinson.
Jackie Robinson was born in Cairo, Georgia, on January 31, 1919. Abandoned by her husband, his mother moved the family to Pasadena, California, in 1920, and Robinson was eventually an outstanding athlete at UCLA. Robinson showed early that he was not afraid to stand up to bigotry. Drafted into the Army in 1942, Robinson got on a bus late one evening at Fort Hood, Texas, and sat down next to a fellow officer's light-skinned wife, who could easily be mistaken for white. The bus driver ordered Jackie to the back of the bus. Robinson refused and faced a court martial. The order was ruled a violation of Army regulations, and he was exonerated. Shortly after leaving the Army in 1944, Robinson joined the Kansas City Monarchs of the Negro Leagues.
When Branch Rickey signed Robinson and brought him up to the big leagues in the spring of 1947, baseball's "Great Experiment" electrified America. Robinson trailed only Bing Crosby in a year-end national popularity poll. At season's end Robinson was named the league's Rookie of the Year (an award that now bears his name). A few years later he won the batting title, was named Most Valuable Player, and led the Dodgers to the World Series. Over a ten-year career he hit .311 and played in six All-Star games and six World Series. He was voted into the Baseball Hall of Fame in 1962. It sounds like he won American Idol. But this is to sum up a year and a career, and we don't live our lives like that. We live out each minute and each hour, sometimes in excruciating pain. For Jackie Robinson, 1947 was an entirely different experience, a hell on earth.
In a now-legendary meeting, Rickey confronted Robinson with the wide range of abuse he knew Robinson would face. Robinson listened and grew visibly angry. "Do you want a player who's afraid to fight back?" he shouted. No, Rickey replied, he wanted someone even tougher than that, someone, he said, "with the guts not to fight back." Restraint would be the measure of his courage. Rickey told him, "You cannot fight back. I need someone who can carry this load." Robinson agreed that for three years, he wouldn't fight back. He would simply take it, and all the while he would try to perform at the highest level.
It began with members of his own team. In spring training, Dodgers manager Leo Durocher squelched plans for a players' petition against Robinson in a midnight meeting. When the team went on the road, Robinson had to stay in different hotels and eat in separate dining rooms. After the start of the season, vile insults and even black cats were thrown at him from the stands in St. Louis. Some of the worst abuse came from players on opposing teams.
Phillies manager Ben Chapman from Alabama told his players to open up with both barrels, to taunt and bait Robinson with all they had, "to see if he can take it." There were references to thick lips, thick skulls, and syphilis sores. From the stands rained down tomatoes, rocks, watermelon slices, Sambo dolls, and the vilest things you could ever say to another human.
It did something even to his own teammates. Dodger Eddie Stanky—also from Alabama—had enough. He stood up on the dugout steps and called Chapman a coward and told him to pick on someone who could fight back. In Cincinnati, Dodger shortstop Pee Wee Reese, a Kentucky native, put his arm around Robinson's shoulder to show his support for his teammate, a hugely symbolic moment. In Pittsburgh, Jackie and the great Hank Greenberg, who was Jewish and had been called vile names himself, collided on a violent play at first and Jackie was called safe. It was a tense moment. They each got up, dusted themselves off, and as Jackie took his lead off first base, he heard Greenberg say behind him, "Stick in there. You're doing fine. Keep your chin up." Rickey later remembered that racists like Chapman actually brought the Dodgers together as nothing else could. "He solidified and unified thirty men, not one of whom was willing to sit by and see someone kick a man who had his hands tied behind his back."
Jackie Robinson bore it all with grace and dignity and thrived in spite of it. He did it, he said later, for his mother who had kept his family together after being abandoned by his father, for his brothers who never got this kind of chance, for Branch Rickey who displayed enormous courage himself, and for all the ones who would come after him. This was a man whose life provided a foundation upon which so many others would build.
Robinson died in 1972 at age 53. It is his name we remember today, not those of the small men who taunted him. Robinson never cured a disease or conquered an army. He was just a baseball player, albeit a great one; but he was so much more than that. Jackie Robinson was a brave and courageous man, one of those rare souls who, when the great question is asked, "Who wants to go first?" didn't avert his eyes, put his head down, or walk away. He stepped forward and said, "I will." He was a man willing to expose himself to a disease so that the disease could be eradicated. When he took the field on April 15, 1947, and kept taking it, he didn't just make the Dodgers better. He made the human race better. "I'm not concerned with your liking or disliking me," he said. "All I ask is that you respect me as a human being." The rock in the water that was Jackie Robinson's life will continue to ripple for generations to come.
---
---
Stan Deaton Jackie Robinson Baseball
---