The Write Stuff: 5 Reasons to Ditch the Clunky Apps and get a Pocket Notebook

May 06, 2015 06:00PM, Published by Jake Gentry, Categories: Lifestyle, Today
---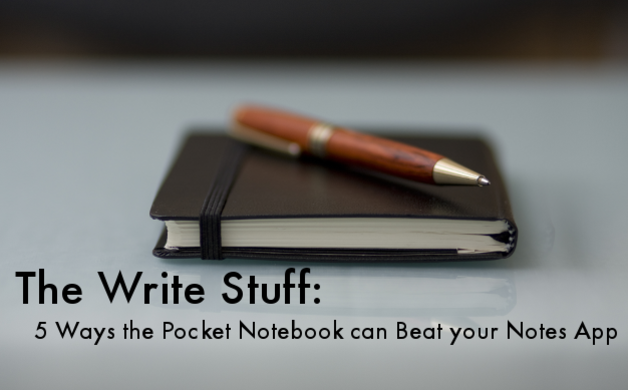 ---
---
We love taking notes. We humans have always loved recording tiny little snippets of information; whether they be to-dos, reminders, little poems, observations, thoughts, grocery lists, calculations, or the countless other possibilities, pretty much anything that can be expressed with words or symbols, we've written it down. Nowadays you can whip out your phone and drop a few lines into your "notes" app (or any of your favorite equivalents) and there you have a memo. Sometimes what you write is pushed into the cloud, sometimes it's just stored on your phone's memory, but it's always ready to access right at your fingertips… right?
Well, having lived with smartphones for a while now we know that's not always the case. Your notes app is likely relegated to some far-off screen that requires a few swipes to find or nestled in a folder beneath a ton of other system apps that came with the phone and can't be uninstalled for some reason. Even if your note-taking app is near at hand it takes a bit to boot up, or it hasn't got the features you want, or it's really bloated and it takes a few taps to start a new note. 
Well today we're looking at an interesting analogue option that might just be the replacement you need for those flimsy note-taking apps on your phone. Recently the pocket notebook has found its way back into popular use, and it's no big surprise. Lots of people go on and on about how much better paper feels than digital, but it's still true; putting pen to paper feels a lot more permanent than tapping away at our little touchscreen devices. Here are a few more reasons you might want to turn to a pocket notebook for all those little thoughts that might otherwise get left behind.
1. They're not (necessarily) expensive
One of the best features of the pocket notebook is that it can be made of pretty much anything. Even a handful of notecards and a paperclip can constitute a memo book.
2. The expensive ones are GREAT
If you're willing to spend just a smidgen of cash you can get something that looks great, stands up to wear, and that might have some nifty features like tear-resistance or even waterproofing!
3. They're refined
People judge each other for staring at their smartphones. I still don't quite understand why that is, but I do understand why it's cool to take out some pen and paper and jot stuff down. It looks like you're getting some real business done, even when you're just scribbling nonsense.
4. They are totally free-form
This is something you seriously can't get out of a phone. Now, there are some apps that allow for handwriting and small drawings, but they almost never get the experience quite right. With different ruling styles available (graph-ruled, line-ruled, dot-graph, etc) you've got whatever level of creative freedom you would want in your pocket notebook, whether you're a doodler, scribbler, or somewhere in between.
5. Paper is versatile.
This one is my personal favorite. With a phone app you might be able to send someone a text or email to convey some small bit of information, but really only if they're in your contacts. With a pocket notebook you always have some amount of paper that can be torn off and handed straight to whoever you're talking with. Heck, just the paper itself can be useful at times (gum disposal, paper airplanes, tiny origami).
So pick up a cheap pocket-size notebook and give it a try. You might find it more useful, interesting, and fun than what's available on your phone. And let us know your thoughts in the comments section, whether you really do prefer your phone or you've been carrying your own memos on paper for years.  
---
---
technology notebooks smartphones
---