Honor Our KIA on May 24

May 18, 2015 06:32PM, Published by Jake Gentry, Categories: Community, Today
---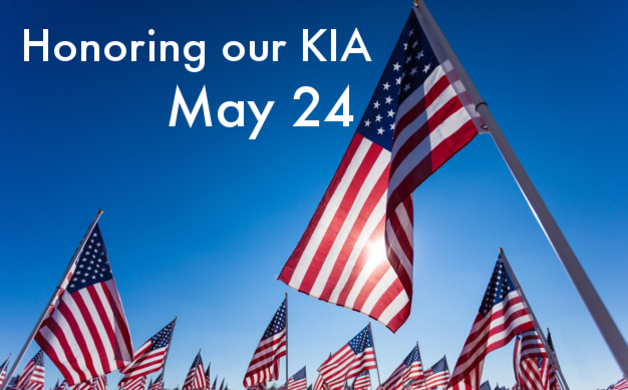 ---
---
Honor Our KIA is a community project instituted by some of Griffin's civic and political leaders with a singular purpose: honoring men and women who died while serving in the armed forces during times of war, from WWI to the present. The Honor Our KIA Committee is taking up many projects to this end, and each one is a powerful gesture of remembrance.
Bronze Plaque Project
Honor Our Kia is planning the installation of individual bronze plaques on prominent public and private buildings to increase the visibility of memorials for Griffin's killed in action.
Oral History Project
Honor Our KIA is working with Southern Crescent Tech and Gordon State College to create oral accounts of Griffin's KIA. They will permanently archive their interviews with the families and Friends of KIAs. The interviews will be full of personal stories about how our KIAs lived as children, teenagers, and young adults.
Memorial Weekend Observances
Sunday before Memorial Day, in the Griffin Auditorium on 234 East Taylor Street, Honor Our KIA along with the Griffin Spalding County School System will host a Memorial Day ceremony, as well as the debut of the Griffin-Spalding Elementary Honor Chorus. The chorus will sing a medley of patriotic songs, the bronze plaques will be dedicated, and a documentary about Griffin's KIA will be debuted.
The projects taken up by Honor Our KIA will certainly have a lasting effect on Griffin's awareness of our own KIA. For more information about Honor Our KIA and their current projects please visit http://www.honorourkia.org, or watch the short video below. 
---
Honor our KIA from Kitchen Sink Marketing on Vimeo.
---
---