RESTAURANT REVIEW: Southern Ground Social Club

May 26, 2015 02:05PM, Published by A Kitchen Drawer Writer , Categories: Food+Drink, In Print, Today
---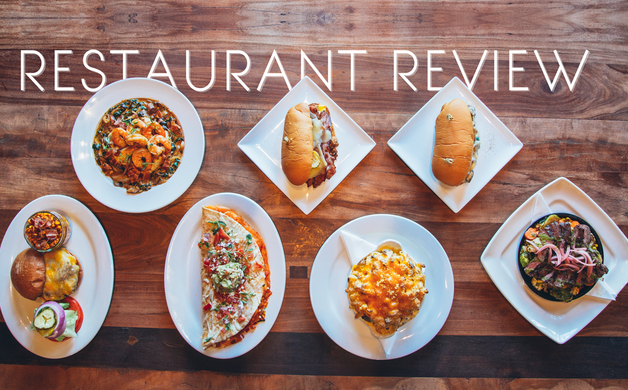 ---
Gallery: Southern Ground Social Club Restaurant Review [7 Images] Click any image to expand.
---
---
Southern Ground Social Club is located at
18 Main St, Senoia, GA 30276
(770) 727-9072
This article was originally published in Volume 7 Issue 3 of Kitchen Drawer Magazine 
By Laurie Cochrane 
As soon as we stepped through the bright red door and glanced around the Southern Ground Social Club, I thought, "This is gonna be fun." New General Manager Ronny Clark welcomed the KD staff with a special invitation to visit the restaurant outside of operating hours, to sample some of their brand-new menu offerings, as well as some old favorites.
The space is a blast – everywhere you look. It's like Day of the Dead in the salvage yard – from the sledge hammer railing around the balcony and sawblade border under the crown molding to Kristian Baena's tattoo-like art with skull motifs and the hammered copper bar with the shots menu stamped on a huge hide on the wall. There's a table that's actually a large scale, a lamp made from a fire hydrant, a circular saw blade and a bucket, and a host of other unique and quirky touches.
The restaurant, owned by Zac Brown of the Zac Brown Band, benefits Zac's Camp Southern Ground, a 501(c)(3) project to provide an exceptional summer camp experience to kids – particularly those with learning challenges. And just about everything that isn't nailed down (and most of what is) is available for purchase, with the proceeds going to benefit Camp Southern Ground.
Chef Josh Butler started us off with a beautifully presented trio of Salsa Rojo, Pico de Gallo, and Guacamole, topped with cilantro sprouts and served with warm, seasoned chips. The salsa had wonderful flavor and body – Allison (not a salsa lover) pronounced it one of the best salsas she's ever had! The guacamole was roughly chopped, as it should be, and let the perfectly ripe avocado shine.
Much of the main menu is what you might expect if Meemaw and Abuelita got together in the kitchen. The perfectly authentic Mexican Street Corn, for example, is finished with the traditional cotija cheese and lime, but accented with the South's favorite mayo – Duke's – and dusted with smoked paprika. And the delicious Georgia Cuban pairs slow-roasted mojo pork with pecan-smoked bacon – along with Gruyere and dill pickles on locally made toasted Cuban bread.
We shared a monster of a Shrimp Quesadilla, stuffed with sautéed shrimp, perfectly tender-crisp poblano peppers and Vidalia onion, fried corn and melted cheeses. The crisp tortilla was drizzled with crema and topped with pico. Also starring shrimp is the Signature Shrimp & Grits, which was particularly impressive. It's hard to get me excited about shrimp and grits because it's often so ordinary. This, however, was the best I've had. It was a surprise favorite of mine and Allison's.
Another standout for us was the Brisket Cheese Steak with sautéed poblanos, Vidalia onion, and cremini mushrooms and topped with queso on the toasted Cuban bread. The sandwich is packed with brisket and savory chunked vegetables covered with cheese. As Josh put it: "That Brisket Cheese Steak was incredible. So cheesy and melty and just plain delicious."
Finally, if a great burger is your idea of a perfect lunch, then you absolutely must try the OMG Burger – one of SGSC's classic offerings. Ground beef, pork, AND lamb is infused with their top-secret ingredients and topped with melted white cheddar and chipotle aioli, then served on toasted brioche. Well named. 
The KD staff was completely stuffed before we could scratch the surface of what SGSC has to offer. But there is a theme that runs through the décor, menu, and even the philosophy behind SGSC's beneficiary, Camp Southern Ground – a unifying theme of transforming potential into something great. Like, hey, that old radiator would make a cool lamp. Or, we could take that smoked chicken and put guava bbq sauce and pimento cheese on it. Or, that little boy with Asperger syndrome sure can hit a baseball.
SGSC is open Tues–Thurs, 11am–12am; Fri–Sat, 11am–2am. Tuesday is Trivia Nite, and there live bands play Wed–Sat. Check out the Southern Ground Social Club Facebook page for the full new menu and updates on events.
Meet Chef Joshua Butler
Southern Ground Social Club's Chef Josh Butler is the charming and enthusiastic talent behind the menu. Self-taught, Chef Josh was Zac Brown's touring chef before he came off the road to share his playful, yet sophisticated, flavor profiles with a larger audience. His is a "Cinderella story" that started with him working as a dish washer and then as a delivery driver for a Chinese takeout place in Florida called "Wok n' Roll." Chef Josh began to realize that he had more to offer the restaurant business and, on a tip, ended up in the Florida governor's mansion as chef to four successive governors. From there, he worked briefly for Tyler Perry, and then went on tour with Zac. He truly enjoys delighting people with delicious food, beautifully presented. And it shows.
---
---
restaurant review Zac Brown Volume 7 Issue 3 Southern Ground Social Club
---