Turn Off Your Radio: The New Art of Podcasting

May 28, 2015 02:21PM, Published by A Kitchen Drawer Writer , Categories: Arts+Entertainment, In Print, Community, Today
---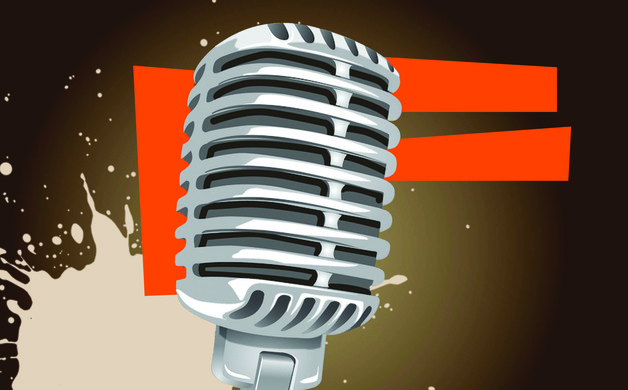 ---
---
By Frank Santiago, host of Battle Geekz Podcast
Photos by Colin Murphy
Battle Geekz logo by Sylvia Smith
Originally published in Volume 7 Issue 3 of Kitchen Drawer Magazine 
Have you ever dreamed of being a radio show host? In years past, you had to be employed by a broadcasting corporation to make that dream a reality. These days, all you need to have your voice heard is a microphone, a computer, the Internet, and interested listeners. Podcasting, sometimes referred to as Internet radio, was born from the popularity of portable listening devices. Just as the rise of blogging gave writers a chance to reach the masses via the Internet, podcasting has done the same for aspiring talk show hosts and DJs.
Podcasting has evolved in the last several years from simple audio mp3s on a website to highly marketed popular radio shows that can be downloaded straight to your portable device. Most of the first big podcasts were centered around technology and its advancements. As they caught on, comedians and talk show hosts began creating podcasts as another outlet for their content. News shows, entertainment websites, and even the world's biggest corporations have taken to the Internet to share audio with their fans. Whatever your interests are, from knitting to relationship advice to sports, there's a podcast out there for you. Podcasts offer infinite amounts of subject matter on a limitless number of topics.
 Despite their growing popularity, many people still don't know how to access or "get into" podcasts. It starts with an RSS feed (Really Simple Syndication), which allows you to choose the shows you want to listen to and have them automatically download to your mobile device. The first step is to download a podcast application from your app store (iTunes, Google Play, etc.). From there, the world is at your fingertips. We suggest searching for podcasts on a few topics that interest you and giving them a test run. Listen to a few shows to see what grabs you. Once you've found a show you want to follow, it will automatically pop up in your apps for you to play whenever you'd like. Many commuters have replaced radio altogether, and their favorite podcasts have made long drives much more enjoyable 
Want to do more than just listen? If you have a passion for something and you think you could create a great show around your idea, you'll need to do a few things to get started. Research the equipment you'll need. Beginners can start with just a computer and a microphone, but once you really get going you'll want to upgrade to include things like a mixer and a professional audio microphone for better sound quality. There are dozens of resources online for getting your podcast up and running with relative ease; I also highly recommend the book Podcasting for Dummies.
With its podcast store, Apple was a key player in the rise of podcasting. When the first iPhone was released, most people had never heard of podcasts. Thanks to the inclusion of the podcast section on iTunes, people were able to find shows and subscribe to them using apps they were already using, making accessing podcasts even simpler.
 A few of our favorite podcasts: For story lovers, check out Welcome to Night Vale, a twice-monthly podcast that showcases the eerie goings-on in a fictional town. History buffs will enjoy Dan Carlin's Hardcore History, an outside-the-box take on history and how it applies to modern-day events. Pop media lovers and those who embrace the geek culture should download The Morning Stream, a daily variety show hosted by popular podcaster Scott Johnson. If you're a fan of the column Dear Abby, listen to Dear Sugar, an advice show hosted by Wild author Cheryl Strayed. Howard Stern fans will enjoy the edgy Red Bar Radio Show (not for kids' ears or work hours!). Video games, comic books, and movies battle it out on Battle Geekz, a review show hosted by Frank Santiago and Matt Smith.
Podcasting began as an underground outlet that "real" broadcasters scoffed at in the beginning. As hosts kept putting great content out there and gaining fans and momentum, their tune quickly changed. The corporate world eventually joined the movement, and these days, you can download podcasts produced by celebrity chefs, famous comedians, or NPR. There are interview shows, morning radio talk shows, how-to shows. You can learn woodworking or get tips on training your dog. You can hear stories from real people who have lived through incredible events. You can listen to someone describe what it's like to climb Mt. Everest or home-school a four-year-old. Wherever your passion or curiosity lies, there's a podcast for that.
---
---
---