More Sauerkraut, Less Stress; Fermented Foods Linked to Decrease in Social Anxiety

Jun 29, 2015 04:20PM, Published by Jake Gentry, Categories: Food+Drink, Lifestyle, Today
---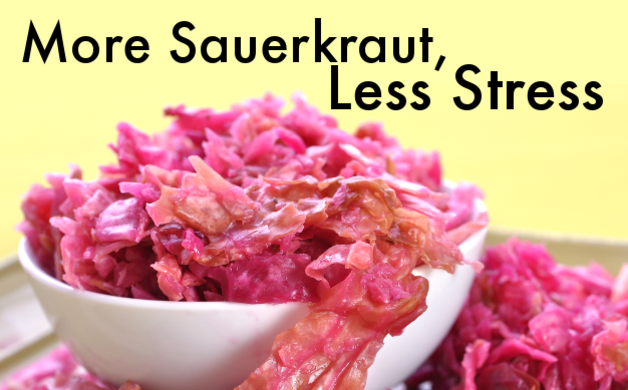 ---
---
We've all heard of those diets that would have you "return to your primal roots" and "eat the way your hunter-gatherer ancestors did." I won't name any, but you know what I'm talking about. They stress the importance of as little processing as possible in any speck of food that enters the body. Well in going all the way back to the Paleolithic era and choking down raw asparagus spears, dieters may be skipping over one of the most important and beneficial breakthroughs that humans have made in food processing in the past 10,000 years. This process isn't how we turn beef shoulder into hamburgers. It's a process that predates humankind; it has been going on for as long as there has been organic material and bacteria to break it down.
Fermentation
Fermentation has been the go-to food preservation method for humans since we settled into agriculture as the main means of food production, started making clay pots, and started accidentally leaving the things we harvested in those clay pots for too long. 
Naturally curious, we humans started eating some of the food that had been sitting around for too long. Some of this food was actually pretty good, and it has managed to remain part of the human diet up to today. Some fermented foods you're probably familiar with are sauerkraut, yogurt and pickles. Well, recent research has found a link between mental health and the beneficial bacteria that thrive in fermented foods.
The Study
710 college students were asked by researchers about their eating habits, personality traits, exercise, and any social anxiety symptoms, and the results showed that the more fermented foods a person ate the less likely they were to experience social anxiety. The effect of fermented food consumption was most pronounced for people who were rated as highly neurotic, so the people most likely to be affected by a big swig of kombucha or kefir are also the ones who would garner the greatest benefit.
Researchers said that it's likely the probiotics are positively changing the environment within the gut, and that those changes can influence our mental state. Most interestingly, in previous animal studies, scientists saw an increase in the anti-anxiety neurotransmitter GABA when the animals' intakes of probiotics were increased. More research is needed to confirm the link between increased consumption of fermented foods and decreased symptoms of social anxiety in humans, but in the mean time why not enjoy a sandwich with kimchi on it or a big slice of tempeh? It can't hurt, and more often than not fermented foods have health benefits beyond their probiotic qualities (not to mention they're tasty). Just know that you might owe your good mood this morning to that cup of yogurt you had for breakfast.
---
---
---