Spalding Library's Summer Reading Program in Full Swing

Jul 06, 2015 04:00PM, Published by Jake Gentry, Categories: Lifestyle, Community, Today
---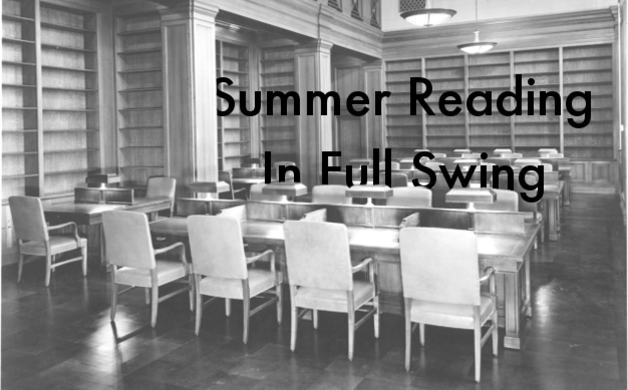 ---
---
The summer reading program is well underway at the Griffin-Spalding County Library. 752 children and 146 teens are currently enrolled, and enrollments will continue to be accepted through the finale on August 8. Five shows have already been presented to near capacity audiences. For children four to twelve, these included "Heroes of Juggling" by Brian Bruggeman, "Winged Ambassadors" by Dale Arrowood, "Drumming Up a Story" by Dave Holland, a puppet show with Peter Hart and "I'm a Celebrity" performed by A Company of Friends. Teens enjoyed a juggling workshop with Bruggeman, playing drums with Holland and crafts (tie dyed T-shirt and paracord bracelet) with Natalie Marshall and her volunteer assistant.  
The fun continues in July following the theme of the summer reading program; "Every Hero Has a Story." For children four to twelve, the programs are Thursday at 2:30 pm: July 9, "Big Hero Magic Show" by David Floyd; July 16, "Super Whacky Heroes" by Cliff Patton; July 23, an "International Puppet Presentation" by Center for Puppetry Arts; July 30, "So You Want to Be a Super Hero," an activity where children can don a cape and perform a "super hero" activity (parents bring your cameras); and on Saturday, July 11 Lego Mania, where the children build their own creations with Legos. Thursdays at 6:00 pm, teens will enjoy learning to read minds with David Floyd on July 9; On Saturday, July 18, at 2:30 pm, there will be an activity program on canning, "Can you Can?" for teens and adults, a Lego Build July 23, and at 3:00 pm on Saturday, July 25 Brien Engel will present a glass harp performance.  After the performance, members of the audience will have an opportunity to try their hand at making music. This performance is open to all. 
The big finale will be a foam party on Saturday, August 8, at 2:30 pm for children and teens. Those who came to last year's party had a fabulous time. Be sure to mark your calendars and plan to attend these great programs.
---
---