What you Really Need in a Fishing Boat

Jul 08, 2015 04:34PM, Published by Jake Gentry, Categories: Lifestyle, In Print, Today
---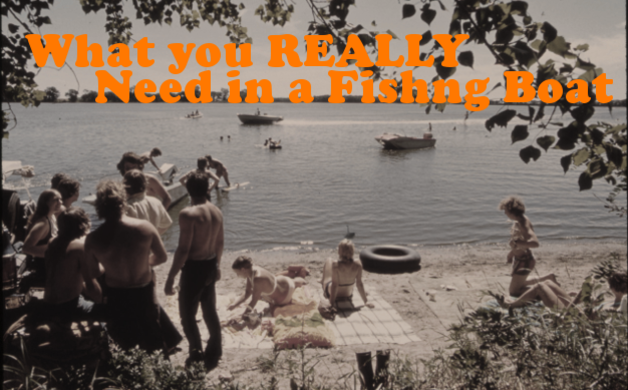 ---
---
By Ronnie Garrison
The modern bass boat is an amazing development for those of us who remember sculling a heavy wooden boat with one hand while trying to fish with the other when fishing alone or having to paddle half the time, then swapping places, when fishing with someone else.
Now we sit in comfort, maneuvering the boat easily with a foot-controlled electric motor that leaves our hands free to fish, and there is little noise. We can also glance at our fishfinder and find fish holding cover and structure and even see the fish under the water.
When we want to move to another place, the turn of a key, rather than yanking on a rope for what often seemed like hours, gets the gas motor cranked. We zip quickly around the lake and don't waste fishing time going from one hot spot to another.
The boats are stable, allowing us to stand and fish, even right on the edge of the boat. Livewells keep our catch alive and fresh either to release after a little showing off at the ramp or to take home and clean. An electric bilge pump automatically gets water out of the boat when it rains. No more bailing with tin cans!
But what do you really need for fishing? What you want and what you need may be very different things. Right now there is a fully rigged out Triton bass boat with a 300 HP Mercury motor that lists for $102,000. Yes, a fishing boat sells for over one hundred thousand dollars!
The only reason I can see for spending that kind of money on a boat is the same reason you want the penthouse condo—to show off. But there is no need for a boat that is not even legal in tournaments because of the size of the motor. For less than half that amount you can get a top-of-the-line bass boat that will meet any fishing need. But $50,000 for a fishing boat is still a ridiculous amount. If you fish a lot of tournaments on big waters it is probably worth it, but what does the typical bass fisherman need?
 To me, the most important developments in my fishing lifetime are strong, reliable, electric motors. If I put my boat in for a tournament and it won't crank, or the electronics won't work, I can still fish as long as the boat doesn't sink and my trolling motor works.
I have a 24-volt, 82-pound-thrust MotorGuide trolling motor. With the two batteries, I can easily fish ten hours on Saturday, charge them up overnight, and fish eight more hours on Sunday. The motor is strong enough to hold the boat and even move it against any wind I have ever fished in, as long as the waves are not so high they raise the front of the boat and the trolling motor out of the water.
I have a 20-foot-long Skeeter bass boat with a 225 horsepower Yamaha motor. It will go over 70 miles per hour, but I never run that fast unless trying to get in when a thunderstorm hits. It is nice to have the reserve power when needed, and with a motor that big I can cruise at 50 mph at a fairly low RPM and save gas. But unless you have a big boat, you don't need a motor that big.
 How big should your boat be? If you fish on normal days and don't want to run for many miles, a 16-foot boat with a 90 HP motor will get you around quickly and be comfortable even on big lakes. A 14- or 15-foot boat is ok most of the time, but bigger lakes can get rough, and these are not as stable as bigger boats. Aluminum boats are lighter and require a smaller motor, and many do a great job.
I have top-of-the-line Lowrance depthfinders on my boat. With them, I can ride over a brush top in 20 feet of water and see every fish in it. I can find rocks, brush, and other cover and structure up to 100 feet on either side of the boat as I idle along. But these units cost thousands of dollars, and I think I caught just as many fish on a simple unit that cost less than $200!
Livewells are required in tournaments and are nice at all times, but you can get by without fancy ones if you keep your catch or if you let fish go as soon as you catch them. Onboard battery chargers are fantastic—I just plug one thing in and it charges all three batteries in my boat. For many years I used regular chargers, and they cost a lot less. 
I would not be without a good bilge pump with a float switch that turns it on when water gets a few inches deep in the bilge. A bilge pump can save your boat from sinking when it's tied to a dock if you are staying inside out of a heavy rain.
Brand-new boats are fantastic, but you can get a used boat that is in really good shape for less than half the cost if you are careful. Just spend the money to take the motor to a good mechanic to be checked—it will save you money in the long run.
The bottom line: get what you need unless you want to spend the money for what you want. Make two lists—one of what you want and one of what you need; then set a budget, stick with it, and start your search! 
Read more from Ronnie at http://fishing-about.com.
---
---
---