FICTION CONTEST WINNER [4th Place]

Jul 14, 2015 11:05AM, Published by A Kitchen Drawer Writer , Categories: Arts+Entertainment, Today
---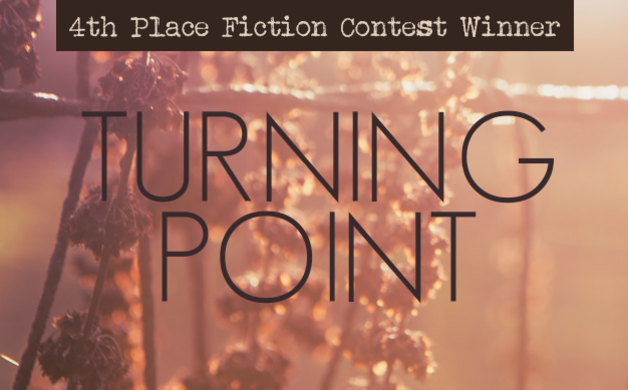 ---
---
Originally published in Volume 7 Issue 4 of Kitchen Drawer MagazineBy Margaret Landham


He bent to kiss her deeply one last time.
"I don't want to leave you, but I guess I should go home," he said. "I'll change, talk to Peg, then see you at the office." He was holding her close to him. It never ceased to amaze him how holding her close, even after spending all night with her, could make his 46-year-old body react like that of an 18-year-old.
"When are you going to tell Roger?" He grazed her hair with his lips. Her smile exposed perfect teeth and no sign of regret.
"He left me two nights ago. I think he must have suspected. See you in a couple of hours." In a whisper she added, "Hurry!"
Small, puffy clouds looked blue against the pink eastern sky as he turned onto the expressway. I'll get this confrontation over as quickly as possible, he told himself. He was experienced at handling with tact and poise unpleasantness with clients, or friction among the office executives. He could handle Peg. She would agree that they just did not have much in common anymore. Amelia, on the other hand, shared his dreams of travel, of basking in the sun on some remote beach, her beautiful body covered with only the tiniest bikini. Her desires were simple: to be with him. He and Peg had shared some good years, it was true, but now she was always busy with something. She enjoyed friends and church activities, and the children seemed to require almost all her time. She would survive. He would provide for the children.
The lights were on upstairs and in the kitchen when he turned onto the driveway of 452 Oak Lane. They would be having breakfast. The school bus comes at 7:45. Steve's bike was not in the garage. He wondered why. Patsy's skates were once again on the steps. He must have told her a hundred times not to leave skates on the steps. Suddenly, that tired feeling, the tremendous weight on his shoulders that he had felt so many times recently, descended again.
Peg's blue, loose-fitting housecoat did not compare very favorably with Amelia's red satin and lace nightgown that clung to her perfect size-eight body.
"Hi, Dad." "Daddy!" came calls from the children. With surprise in her voice, Peg smiled and said, "Hello—you're home early. Was it a good trip?"
"Uh-huh, okay." He kissed her lightly on the cheek and asked, "Where's Steve?"
"Don't you remember, there was a baseball game last night. He spent the night with Mark. You want some breakfast, coffee?"
"No thanks, I'll just take a cup with me upstairs and go shave."
He heard Patsy and Dave fussing over toothpaste in the other bathroom, then they called, "Bye, Dad," "See you later, Daddy," and bounded down the stairs and out the door.
Peg was loading the dishwasher when he came back into the kitchen. "Were you able to get the contract signed?"
"Peg, sit down. I want to talk to you. I did not go to Hartford. I spent the night with Amelia. She and I love each other." He paused, took a long breath, and without looking at her, continued. "I've never felt like this before. I feel like I'm 18 and life is exciting. It's fun. It's wonderful! I want to spend the rest of my life with her."
Peg had not sat down. She was clutching the counter and trying to assimilate the staccato sounds that were flying into her face. He talked on and on—something about taking care of the children. "Amelia loves children, she would be good to them," then something about "renting a big house at the beach and all vacationing together." He did love her too, and they had known some good times, but he had never felt like this. Amelia is so very understanding.
"Stop it, Tom, stop it!" Peg's voice did not sound normal, and it hurt her chest to take a deep breath. Her mouth was dry. Her palms were sweaty, and the room seemed to be moving. She glanced at the wall clock—8:25. At 9:30, she needed to be at Patsy's school to preside over the Executive Board meeting of the PTO.
"Tom, tell me in simple English what you are saying." Her contorted face revealed at one time shock, pain, fear, disbelief, disgust, and something very close to hate.
"Peg, I'm telling you that I love Amelia and she loves me. Roger found out about us and has moved out. I want to do the right thing and marry her. She has given up everything for me."
"In other words, you want a divorce?"
"Well, it's not really what I want, but it seems to be the only way, and…"
"Tom, I have to go to Patsy's school. Could we talk about this later?" The phone rang. Why, oh why, she wondered, does a crisis never happen in a vacuum? She decided to let it ring.
Tom's eyes flashed. He put his coffee mug down too hard. This was not going as well as he had expected. "You see. It's always this way. You always put the children and their needs first. We can't even have a decent conversation. Why do you have to run the schools, the Cub Scouts, the church, and all the civic clubs?"
"Tom, I don't try to 'run' all those things, but you know as well as I do that for the last five years there have been copresidents of the PTO—Mr. and Mrs. Somebody, but when we were nominated, would you do your part? Oh no, you said, 'You can handle it.' You were 'too busy.' I wonder now, busy with what, or should I ask with whom?"
She turned and left the room. As she climbed the stairs, hot tears blinded her. When she reached their bedroom she heard the back door slam and his car start.
"I must not, cannot, allow myself to think right now. This meeting is important. I must not think about Tom yet."
As she dressed, she noticed Tom's briefcase on the bed. It was the one he had taken to "Hartford" last night. She felt no guilt in opening it. It was empty. What had he carried in it, she wondered—toothbrush, pajamas, perhaps a gift for Amelia? Oh, the lies! The deception—what an utter fool I have been! How long has this been going on?
During the drive to the school, fear and panic engulfed her. What am I going to do? What CAN I do, she asked herself. After Dave was born she and Tom had made the decision that she would stay at home and be a full-time mom. Now, 14 years later, she had no skills to compete in the modern, fast-paced workplace.
The meeting went rather well, she thought. Each board member had been given a chance to express his or her opinions, there was amicable and open discussion, and the vote was six to three in favor of the new stage curtain and playground equipment. She caught herself thinking, Tom will be pleased, then realized—he won't give a damn. On the way home Peg stopped at a nearby grocery store for milk, cereal, and bananas. Life and its responsibilities must go on.
Back home, she fixed herself a cup of coffee and walked through the downstairs picking up a sweater here, a book there, last night's newspaper. Was it a bad dream? It was not until she reached their bedroom that the flood hit her. Seeing their wedding picture in the silver frame, the pink lamps Tom's mother had given them, the bed and dresser they had selected and sacrificially paid for over five years made her want to vomit, or kill someone.
A decorator had told her several years earlier that the lamps were very nice—probably their most valuable items. At that moment they represented to her 18 years of a life utterly wasted.
She picked up the lamp on her side of the bed and threw it with all her strength against the opposite wall. Then she fell across the bed as deep sobs wracked her body.
_____________________________________________________________________________________
From the fire, sparks flickered and floated upward in the darkness. The flames warmed and illumined a circle of six retired couples dressed in jeans, sweatshirts, and heavy jackets. Disparate in backgrounds, experiences, age, and places of origin, but alike in their love of adventure, they were traveling in their RVs as a loosely formed group to Alaska and the Northwest Territories.
Tonight's entertainment would be the sharing of experiences that had greatly influenced their lives. Marcel, the 6ʹ4" French Canadian, told of his hilarious but potentially life-threatening encounter with a grizzly while he was hunting in the North Woods. The former airline pilot and his very young wife were eager to relate the story of their exciting trip down the Amazon. Alfred, a Jewish merchant from Miami, held the group spellbound as he explained the intrigue necessary for his family's escape from Nazi Germany.
A tiny new moon hung by an invisible thread in the cloudless sky, and a coyote howled somewhere in the woods. Home and responsibilities seemed a million miles away. They were off on a high adventure.
Peg glanced at Tom sitting next to her. He was excited and smiling. She knew in her heart that there were at least 150 ways their painful experience could have ended. She also knew that there are some life-changing experiences that are best left untold.
---
---
---