RESTAURANT REVIEW: Fish Tales

Jul 27, 2015 12:16PM, Published by A Kitchen Drawer Writer , Categories: Food+Drink, In Print, Today
---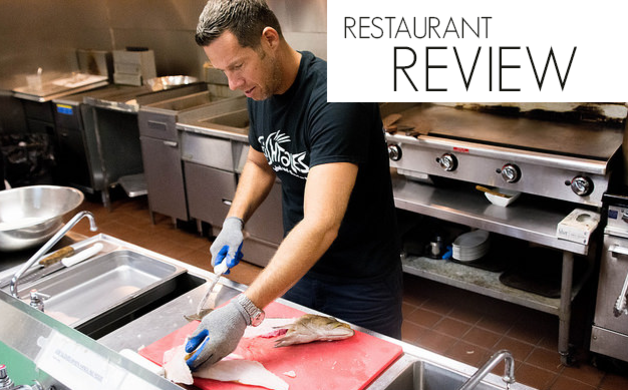 ---
---
Originally published in Volume 7 Issue 4 of Kitchen Drawer Magazine
By Laurie Cochrane 
FishTales is the sixth restaurant run by well-known local restaurateurs, the Anderson family. Starting with a seafood restaurant in Panacea, Florida, the family has been in the restaurant business for 43 years. With FishTales, Chris Medley, along with parents Dean and Dana, continue their family tradition of delivering simple, delicious food in the friendly, casual, come-as-you-are atmosphere that they've taken with them wherever they go.
 Don't expect anything fancy. You don't have to get your hair done before you come. Chris, who manages FishTales, tells us that when they bought the building that used to house Spicy Thai, friends chipped in to supply the nautical decor. We imagine it gave some grateful wives the chance to unload their husbands' old fishing trophies that now adorn the walls. (It's tough to work interior design around a five-foot stuffed barracuda.) The investment is in the food. The plates are melamine, the tissue is one-ply; if you've got a problem with that, feel free to bring your own. 
People come to FishTales to eat good seafood. And, over the two years the restaurant has been in operation, the Andersons have refined the menu to offer only the best. Fresh fish comes in every Tuesday from the Gulf. "If they don't catch it, we don't get it," said Dean.
The service, like the food, was straightforward and satisfying. Our server, Pam, was everything I like best in a server – pleasant, professional, funny, honest, and attentive without being intrusive. Plus, she called me "Honey" (bonus points!).
We'll get to the seafood in a minute, but right off the bat, there are at least three things, BESIDES the seafood, that a seafood restaurant needs to do right in order to be successful: good hush puppies, good cole slaw, and good tartar sauce. FishTales checks all three boxes.
 The first thing you'll see are the Hush Puppies – crisp and flavorful, with lots of black pepper. Taylor claimed that they "redefine the genre." Pro tip from Nicole: "Put a little tartar sauce on top of the hush puppy, then take a bite. That leaves a crevasse, and you put more tartar sauce in that. Repeat."
The Tartar Sauce is Dana's recipe. Pam boasted, as she began piling our table with food, "Dean makes everything but the ketchup, and if making the ketchup weren't so aggravating, he'd make that too!"
The Cole Slaw is finely chopped, fresh and slightly sweet – not too much mayo. Just a refreshing accompaniment to any dish you choose. I loved it and ate far more than my share.
Allison adds a fourth requirement for a good seafood restaurant – good Sweet Tea. FishTales is four for four! The restaurant also serves beer and wine; no harder stuff.
 After the hush puppies, our group started out with Apalachicola Oysters three ways: Raw In-Shell, Baked Three-Cheese Jalapeño, and Baked Parmesan. For Allison, this was a new adventure: "Okay," she admitted," I've never eaten an oyster. Somebody tell me how." She took Wes's solid recommendation for someone new to oysters and downed a lightly baked beauty of an oyster with melted cheese and a jalapeño slice. Way to go,
Allison! It was tough to choose between those and the baked oysters with garlic butter and Parmesan cheese – wonderful, bold flavor! The veterans in the group were also mightily impressed with the Raw In-Shell oysters and ended up ordering an extra round. Josh exclaimed, "It's like I'm back in Brunswick!"
For Allison, though, the Seafood Chowder was a starter more to her taste. She remarked: "The seafood was tender, the potatoes not overcooked, and there's just the right amount of spice."
For your main course, you can get just about anything grilled, blackened, or fried. You can stick with one type of fish – Flounder, Tilapia, Snapper, Grouper, Whitefish, or Catfish – or choose a grilled, blackened, or fried Seafood Platter that combines fish, shrimp, oysters, scallops, and Captain Joe's Stuffed Crab, which is served in the shell – tasty and oniony.
Again, the oysters were standout items on the fried menu. Like the hush puppies, they were encased in a crispy, tasty breading and were tender and mild inside. And the fried whitefish had a perfect, crispy cornmeal crust. The homemade Potato Crisps are another delightful side from the fry basket.
 Grilled Boston Scallops were another highlight – tasty, fresh, and firm. Scallops are just one of the items where the Andersons refuse to compromise. They'll pay top dollar for the best the market has to offer. 
If you prefer shrimp, the Peel & Eat Shrimp are generous, meaty, and gently seasoned. Homemade Cocktail Sauce sits on the table for dunking. The Shrimp Alfredo was also delicious with creamy sauce on angel hair pasta.
But the star of the evening was a beautiful Blackened Flounder – cut checkerboard style to slide off the bone – flaky and delicious with Dana's tartar sauce. Brittany never had flounder before and loved it.
 Save room for dessert? Dana makes them from scratch. Mario developed an instant obsession with the Strawberry Cake. He asked Pam: "Do you always have that Strawberry Cake?"
 "Today's the first day she's made it."
"Is she gonna make more? She needs to make more. WHEN is she going to make more? Tomorrow? What time?"
All told, the KD crew left FishTales with full bellies and in good spirits. Michelle commented: "I like that what they care about most isn't the plates or the decor; it's the quality of the food. And it's about the community coming together over good food." Well said, Michelle.
1587 W. McIntosh Rd
Griffin, Georgia
678-688-8527
Tues-Sat 11-9
---
---
Volume 7 Issue 4 Fish Tales Laurie Cochrane
---