RECIPE: Asian Street Kabobs

Jul 29, 2015 12:22PM, Published by A Kitchen Drawer Writer , Categories: Food+Drink, In Print
---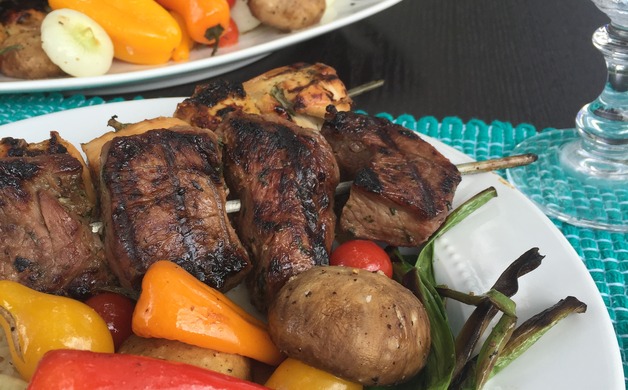 ---
---
Originally published in Volume 7 Issue 4 of Kitchen Drawer Magazine
By Mac Wren
Savoring and enjoying good food can shape our lives. Growing up in a family that appreciated good food gave me some truly amazing memories and built in me a love of food and cooking: family trips to the beach with mounds of fresh-caught shrimp and blue crab piled on the dinner table, preparing fresh summer vegetables from my grandparents' garden to provide the perfect complement to the Sunday fried chicken, oyster roasts in the fall, shrimp and grits on Christmas mornings, and long summer barbecues on the patio.
I have been surrounded by good cooks my whole life. I watched and learned from my grandmothers, aunts and uncles, friends and coworkers, and, of course, my parents. My family always makes the most of our meals together, from weekday dinners to larger gatherings. Watching my mother and father over the years allowed me to develop much of the knowledge and experience that I use in my own cooking today. I still call them to discuss some new dish I am trying or what ingredients go into my traditional favorites. Even as I have developed my own recipes and ideas, they are still the primary reason that I love making new and creative dishes.
Asian Street Kabobs
Marinade
½ cup lime juice

5 Tbsp soy sauce

2 Tbsp fish sauce

2 Tbsp honey

2 Tbsp rice wine vinegar

3 Tbsp sesame oil

2 tsp chili oil

2 Tbsp white sugar

¼ cup fresh basil

¼ cup fresh cilantro

2 Tbsp fresh mint

2 Tbsp grated fresh ginger

1½ Tbsp chopped garlic

1 jalapeño or serrano pepper, chopped (with seeds)

 

2 pounds top sirloin, cut into 1 to 1½" cubes

2 pounds boneless, skinless chicken breasts, cut into 1 to 1½" cubes
Combine all Marinade ingredients in a blender or food processor and pulse until herbs and pepper are well chopped and mixture is thoroughly blended. Divide in half and add the sirloin to one half and the chicken to the other half, using resealable bags to ensure maximum coverage over the meat. Refrigerate and marinate from four to 24 hours, turning at least once.
After marinating for the desired time, remove sirloin and chicken and let sit at room temperature for 20-30 minutes. Skewer the meat, keeping the sirloin and chicken separate. Grill kabobs over direct medium to medium-high heat for eight to 10 minutes. Turn skewers once during grilling, after four to five minutes. Let the kabobs rest for five to 10 minutes before serving. Serve with rice and grilled or roasted fresh vegetables or your favorite stir-fry.
---
---
kitchen table Volume 7 Issue 4 Mac Wren
---