Laws of Life

Aug 04, 2015 03:30PM, Published by Jake Gentry, Categories: Lifestyle, In Print, Community, Today
---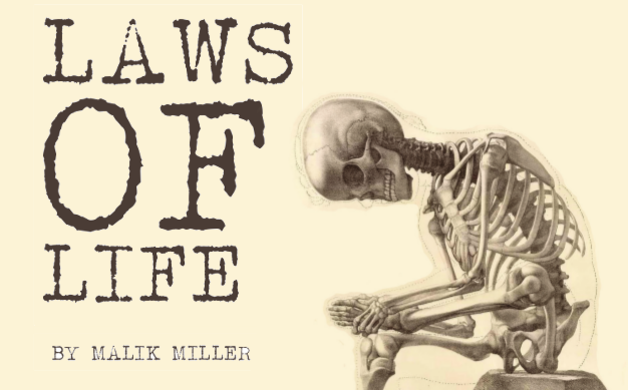 ---
---
By Malik Miller
The Georgia Laws of Life Essay Contest is a program of the Georgia Rotary Districts Character Education Program. The contest invites students to select a Law of Life—a saying that summarizes an ideal, a character value, or a principle about life—and use it as a prompt to write about a core character value such as honesty, generosity, courage, compassion, or perseverance.
In the 2014-2015 school year, more than 45,000 students from 59 high schools across Georgia wrote an essay for the contest, which awarded a total of $20,000 to students and teachers. Here, Kitchen Drawer shares Malik Miller's Laws of Life essay, the winning entry from Griffin High School. Malik used as his Law of Life "When life gives you lemons, make lemonade."
The crowd is cheering, the band is playing loud—down, set, hut! I get the ball, go to jump over the pile, and then CRACK! I fracture my knee. Throughout my life I have gone through a plethora of events that have impacted me for the better, but the one I reflect on the most is my junior football season where I suffered a traumatizing season-ending injury, fracturing my knee. This injury came totally unexpectedly and ended my dream season, and my team went on the win the state championship without me. While yes, this would be something most people would be depressed about, I am truly thankful for the lesson that the injury taught me.
The injury itself symbolized how life can't be planned and how no matter how hard you try to avoid disaster and mishaps, life is a beast that can't be tamed. While most would have given up after such a traumatizing event, it brought out the resilience in me and taught me how to bounce back from tough situations. While yes, it was tough going to rehab early in the morning, fighting through the pain, and having to endure being left out while my team was playing, it gave me the confidence to realize that no matter what happens to me in college, or life, for that matter, I will have the ability to fight through it and overcome the obstacle, no matter how big the challenge.
Football is the biggest teacher of life; it presents challenges that are unexpected and forces you to overcome them in the heat of battle. And I have been one of the biggest students of the game. The game itself hasn't been the nicest to me, but it has taught me life lessons that couldn't be learned anywhere else.
---
---
---