Magical Places

Sep 07, 2015 02:00PM, Published by Jake Gentry, Categories: Lifestyle, In Print, Today
---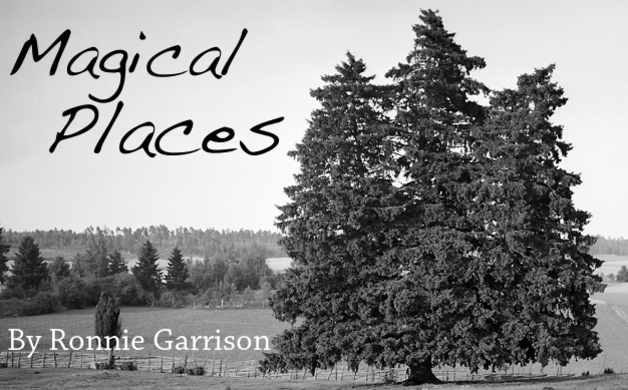 ---
---
By Ronnie Garrison
Way back when I was in the second grade, I read Two Boys and A Tree. The book is about two boys growing up in a northern state. An apple tree is on a nearby hillside, and it is a magical place for them.
The story follows their many adventures around the tree, season by season, as they grow up and the tree matures. At the end of the book, they come back and bring their children to share the magic of the tree, even though as adults, the magic is mostly gone for them.
That loss of enchantment and innocence was sad to me back then and is even more so now that I am much older. It is a shame we can't retain more of the excitement of youth as we grow old.
Over my years growing up, I found some of those enchanted places. Not long after reading that book, I ventured out from our farm to explore nearby woods. I grew up on a 15-acre farm where we had chickens, cows, hogs, and a couple of ponies. Most of the farm was a big field with Dearing Branch running along one side of it in a small strip of woods. I had gone over every inch of it before I was 10 years old. 
One day in the late summer, I crossed the fence at the back of our field and went into the woods on a neighbor's property. Back then, kids were welcome to play and explore pretty much anywhere since everyone in the area knew us and our parents and knew we would do no damage. 
The woods behind the fence, unexplored territory for me, sloped gently down to the branch then rose steeply on the other side. On the steep hillside were some fairly big rocks and one huge white oak tree. The tree's shade kept other plants from growing near it and provided a fairly big clear area.
There was something magical about being under that tree. I could sit on a rock and listen to the quiet. The only sounds were the gurgling of the branch or wind in the tree limbs. I spent many hours just sitting there, enjoying the feeling of freedom and being alone at that age.
Friends did go with me at times. We hunted squirrels around the tree in the fall, "skated" and fell through thin sheets of ice on the branch in the winter, and built huts under the tree in the spring and summer.
To get across the branch and to have fun, we cut a big vine on an overhanging tree so we could swing across it like Tarzan. That vine lasted several years until it got weak and one of us broke it trying to swing across.
We read about log cabins, so three of us boys decided to build one. We had no idea about notching logs to stack them for walls, and our little hatchets would not cut down big trees anyway. So we found four small sweetgum trees in something of a square about ten feet on each side at the edge of the clearing under the big oak and cleaned up around the area.
With our hatchets we cut dozens of sweetgum saplings about two inches thick. I got a bucket of old, bent nails from the farm. We never threw anything away on the farm and I got good at straightening out nails with my hatchet and a flat rock.
We started nailing the saplings to the standing trees and got the walls about two feet high all the way around before thinking about a door. We managed to adapt and leave a gap for a door as we finished the walls, then laid more saplings, these with limbs and leaves attached, across the top.
We had read in school about thatched roofs and thought this was how it was done. The first rain proved it took more than just laying limbs with leaves on top to make a good thatched roof. We never did get a roof that would keep the interior of our log cabin dry. 
The last time I saw that tree was when I was about 21 years old. The landowner had built a house back there, put a pond dam on the branch, and cleared out all the trees but that one big oak. It was still majestic standing on the hillside beside the pond, but for me, the magic was gone.
I wish all kids could have the experience of exploring unknown woods and finding magical places. Unfortunately, the world has changed. In many places it is dangerous for kids to go far from home by themselves, and lawsuits have made landowners afraid to let kids play on their property in way too many cases.
If you can, help a kid find a magical place and let them learn about it all on their own.
---
---
in print outdoors ronnie garrison childhood
---