6 Tricks for Serving "Tastier" Meals

Sep 10, 2015 01:30PM, Published by Jake Gentry, Categories: Food+Drink, Lifestyle, Today
---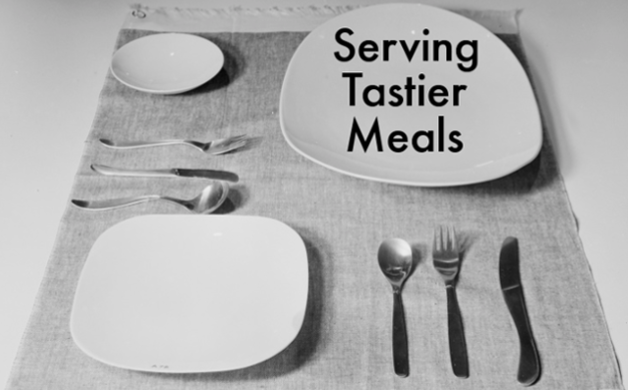 ---
---
Fall is gathering season, it's just cool enough to start entertaining early and just warm enough for a party to last into the evening. Dinner at a fall get-together doesn't have to be extraordinary. Sweet potatoes, kale salad, green beans, or whatever else you serve (even if it's just deli potato salad) can taste just as good as a high-end restaurant meal. That is, your guests can be tricked into thinking it's four-star, as long as you pay attention to these little details:
Plating

Food is a medium, and presentation is key. Solid-color plates make for a simple canvas, and fancy garnishes are still around for a reason.

Ambience

Light, decor, temperature, and even background music all have a profound effect on the dining experience. Try low light, warm colors, and a slightly chilly temperature to create an effective atmosphere.

Silverware

Heavier silverware is perceived as more valuable, so even if those tiny silver-plated salad forks really were more expensive, your diners will be more likely to enjoy a meal eaten with your set of gigantic Wal-Mart utensils.

Morality

People feel good about doing good. Grass-fed beef may be more of an investment than the standard steak, but a lighter conscience means diners won't have any problems fully enjoying their meal (as long as you let them know it's "ethical" meat).

Nostalgia

Is a secret family recipe really that much better? Whether or not grandad's gumbo recipe was really all that wholesome, diners are more apt to believe they're eating something rich in history if it's a "family recipe" (even if the family the recipe came from was the "Kroger deli counter" family).

Diner expectations

Sometimes suggestion is all it takes to make your meal taste better. Be vocal about opening a "good" bottle of wine to go with your "nice home-cooked meal" in front of your guests. As long as none of them know that bottle of Rex Goliath cost $5.00, they'll happily overestimate its value, and they'll expect it to taste better too.
For more on these tips, and why they work, check out Lifehacker's article on the five mind tricks that will make your food "taste" better.
---
---
---