Restaurant Review: South Side Diner

Sep 17, 2015 04:56PM, Published by Jake Gentry, Categories: Food+Drink, In Print, Today
---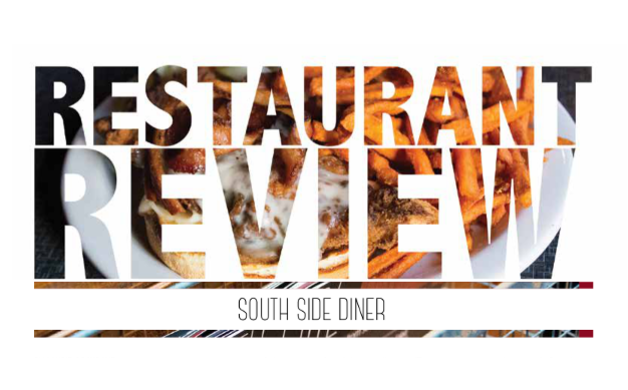 ---
---
By Allison Smyly
Located right off I-75 on 20/81 in McDonough, South Side Diner offers both reimagined and traditional Southern cuisine in a casual, comfortable atmosphere; with beautifully presented, generous portions; and an attentive, knowledgeable staff.
South Side is the concept of three partners, George Hawxhurst, Chad Martin, and Chris Murphy. Cindy Hawxhurst and Loren Martin have daughters born just four days apart, and the mothers met at a Gymboree class where they became fast friends. The families began vacationing together, and it was on one of these trips that the idea for South Side Diner was born. Chad owned West Cobb Diner in Marietta, and he and George wanted to bring some of that great food (as well as 40-45 jobs!) to the south side. Chad's wife, Loren, took charge of the front end of West Cobb Diner, while her brother Chris, who works in logistics, became the third partner. George is actively involved in the day-to-day operations of the restaurant. He is an attentive manager and host – very appreciative and responsive to feedback from customers, whether positive or negative. 
West Cobb Diner regular menu items, along with some of its most popular specials supplied the menu for South Side. Chef Kyle Newland came to South Side Diner from Ted's in Peachtree City. In the five months since the restaurant has been open, Chef Newland has been concentrating on building consistency with the core menu. Now he's looking forward to getting creative with the specials. To Chef Newland, popular buzzwords like "local" and "seasonal" aren't anything new and trendy. He grew up with fresh, seasonal foods from local growers so, to him, that's simply the way it's done. "I like to go back to the basics that I grew up with," he commented, "like Brunswick stews and succotash. That kind of food just makes a lot of sense, and I see how people react to it."
To get you into the rural Southern vibe right quick, South Side has a full bar and is one of the only places in the area that serves moonshine (at least out in the open) and offers a menu of specialty drinks featuring original and flavored varieties. Elly enjoyed a Moonshine Margarita with peach-flavored Ole Smoky Tennessee Moonshine, while Michelle sipped on the spiked South Side Lemonade. Both found their drinks smooth and tasty, without coming on too strong.
For starters, try the nicely seasoned Fried Green Tomatoes, with a crispy panko/cornmeal breading and house remoulade for dipping. South Side also offers crowd pleasers like Artichoke Spinach Dip and Fried Pickles with house-made honey-mustard and ranch. Or you can opt for the sophisticated Baked Brie with pepper jelly and crostini.
 The Jumbo Shrimp & Cheese Grits entrée is outstanding. The shrimp are fried (although you can order them blackened or grilled if you prefer), and they are so satisfying dipped in the cheddar cheese grits with bacon-cracked pepper gravy and roasted corn salsa. Drew and I both recommend this dish. 
The Thyme-Black Pepper Fried Boneless Chicken with green tomato chutney was Allison's favorite. "So tender," was all she could manage to comment with her mouth full. Available as both an entrée and a sandwich, the chutney is a lovely complement to a delicious dish that is likely to prove one of the most popular dishes on the menu.
The smoky Mesquite Skillet Pork Chop with sweet and tangy Granny Smith apple chutney, likewise, was excellent. Drew remarked, "I actually wanted to eat more pork chop. I don't think I've ever said that!"
We also tried the insanely large Country Fried Steak topped with Vidalia onion gravy. Just…be really hungry.
One of the standout sandwiches on the menu is The Pim, a towering burger spread with pimento cheese, fried green tomatoes, honey bacon slaw, and caramelized onions on a toasted, buttered bun." It has an entire KNIFE in it!" exclaimed Sylvia. There's lots of flavor happening here. The Pim won the hearts of both Joshes.
South Side serves up a well-proportioned Reuben with your choice of corned beef, pastrami or turkey on marble rye with Swiss, and sauerkraut, with Thousand Island standing in for the traditional Russian dressing. "They did a good job with the proportions," Drew observed. "There's enough cheese and sauerkraut to make it a real Reuben." Ashley agreed and gave this sandwich her seal of approval.
 The Southern Fried Grouper sandwich was perfectly cooked with a crisp, crunchy breading, lettuce, tomato, and remoulade, on a toasted bun. This was Sylvia's favorite thing on the menu. 
And if that weren't enough, the menu has 19 sides to choose from! "The Blue Cheese Slaw was my favorite," said Josh M., "and I don't even like blue cheese!" He also weighed in favorably on the Broccoli Casserole, as did several others of our group. I was partial to the smoky, slightly sweet Collard Greens and the Sweet Potato Fries. Ashley preferred the Green Beans and Mashed Potatoes. Several enjoyed the Macaroni & Cheese. With so much to choose from, there's something here for everyone.
Cara, our server, was knowledgeable and friendly. Besides loading us up with food and keeping our glasses filled, she also kept us supplied with piles of clean plates and napkins and patiently answered our many questions.
With a concept firmly grounded in the tradition of Southern comfort food and generous hospitality, spiced up with the eclectic vibrancy that has become an Atlanta hallmark, this team of friends at South Side Diner believes they've found a recipe for success. 
1120 Hwy. 20/81
McDonough, Ga. 30253
Facebook: /southsidedinerrestaurant
678.759.2690
---
---
in print restaurant review southside diner
---