At the 2015 Griffin Book and Art Fair

Oct 29, 2015 02:30PM, Published by Jake Gentry, Categories: Arts+Entertainment, Community, Today
---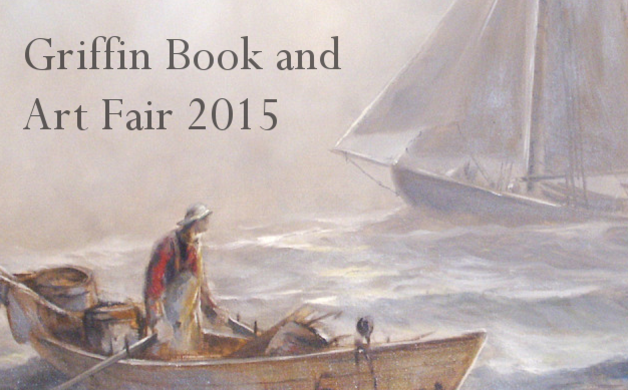 ---
Gallery: Griffin Book and Art Fair 2015 [7 Images] Click any image to expand.
---
---
Submitted by Anne Hendricks Childress
From October 16-18, the Griffin Book and Art Fair celebrated local authors and artists at the Griffin Armory for its second year. The community turned out to celebrate, support, and buy from local writing talent, as well as to browse art and jewelry exhibits. The Griffin Book and Art Fair, organized by local author Kenneth Cochran with help from retired educator Billie S. Hooper, was a huge success. On Friday morning, Griffin Mayor Doug Hollberg and County Commissioner Rita Johnson opened the event with great admiration for the local writers and artists present for the event.
"I absolutely loved discovering two local children's picture book authors and I am so glad I attended!" commented Fayetteville resident and aspiring illustrator Sarah Padgett Greenlight. She visited Virginia Goodman's table, author of "The Night the Stars Fell from the Sky," and the table of Russell Whitehead. Russell not only writes children's books, he's also a puppeteer. Retiree Bill Mitchell and his wife Sandy visited B.T. Browning's table to learn about Browning's "Twilantia" fantasy series, and eventually ended up at the table of a digital writer. "Everyone is unique and different – every table is an adventure to a new story!" said Mitchell, "There seems to be every genre represented here. I hope this happens every year! Griffin needs to encourage local authors!"
Attending writers included both independent and traditionally published authors. Fiction books at the show represented genres from American war stories to family stories reimagined as fiction, as well as digital short stories and inspirational Christian romances. Non-fiction offerings included many volumes on Griffin's history like photography books, anthologies of local history, and even a local paranormal collection. Local authors also held presentations to educate current or aspiring authors. One presentation included information about National Novel Writing Month (a program held each November to write a manuscript in 30 days with a 50,000-word minimum) as well as a presentation on tips on how to navigate the world of publishing.
Local son Kyl T. Cobb, Jr presented what may have been the best entertainment of the entire weekend. Kyl discussed the in-depth history of Griffin, documentation of local hauntings, and presented "The Love God;" a historical account of a late 19th century con man and his connection to Griffin. "I am speechless," said E.D. Childress, Jr, shaking his head, "the detail of research Mr. Cobb put into his books and presentations is nothing short of stupendous!"
Several out-of-town authors also participated, including Rona Simmons, Julia McDermott, Deron Hicks, and many others. James "Jim" Varnadoe, a first year attendant and author smiled often while autographing books sold to fans; "It has been an exciting venture in my life to participate," he said, "I have never participated in a book signing and I can truly say it has been an eye-opener!"
Kindergarten teacher Carol Cobb, accompanied by her baby and husband, displayed great excitement. "I was thrilled to meet an author of children's literature who is willing to come share his stories with my Kindergarten students!" she exclaimed, "the art was all amazing as well - I would love to join the Art Association and take up watercolor painting." For the artists, the focus of the show was on a Griffin home named Walker Hill, owned by Mr. and Mrs. Ronald and Anita Hoffman. Beautifully captured in watercolors and acrylics, each painting was a different artist's interpretation of the subject of Walker Hill's history. local artists Joyce Perdue Smith, Jo Yancey, Bill Stephens, and Richard Turner captured the timeless and frozen beauty of a historical Griffin home and the home's outdoor surroundings.  "It is breathtaking to see the varied styles of interpretation of a subject," Mathew Charlesworth observed. Local artists also sold their original works; Joyce Perdue Smith brought along her famed depictions of Griffin in the 1940s, 1950s, and 1960s, for example. Mrs. Smith praised visitors that came by the Walker Hill exhibits for showing interest in Griffin's history and local art culture. Jeweler Kaitlin Brown displayed her beautiful custom-made earrings, necklaces, and bracelets, and many women enjoyed her wares. "I never have seen such beautiful things," Stay-at-home mother Monica Lofton exclaimed, "This entire experience of art, jewelry making, and authors has been the absolute best day I have gifted myself in months!"
As the 2015 Griffin Book and Art Fair concluded, local artist Jo Yancey wrapped up Sunday afternoon with an observation. "What I loved the most was seeing the community come out to support us and networking with other individuals in the local writing and artistic community." With a 2016 Book and Art Show being planned by organizers Kenneth Cochran and Billie S. Hooper, Griffin will surely be excited to see a third year happen!
---
---
---