Get Ready for National Pumpkin Destruction Day!

Nov 03, 2015 03:00PM, Published by Jake Gentry, Categories: Community
---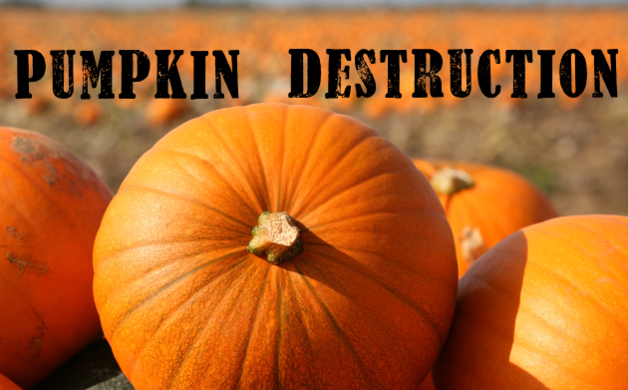 ---
---
Halloween is over, and it's time to take the decorations down. Usually one of three things happens to leftover pumpkins: they "over-ripen" and develop a complex smell profile until they're scraped off the porch, they get thrown into the yard debris bin at the dump (or go straight into the regular trash), or they get set up on a fencepost or a lawn table for a round of pumpkin teeball. 
Option 3 is pretty fun, and the folks at 
The Rock Ranch
 go all out when it comes to pumpkin destruction. Saturday, November 14 The Rock Ranch is hosting National Pumpkin Destruction Day, and it's pumpkin disposal like you've never seen it before.
The event features pumpkin-bombing airplanes, monster trucks crushing cars covered in pumpkins, pumpkin archery, reverse pumpkin darts, pumpkin cannons and even more. Bring your own leftover pumpkins for recycling or grab a few of the ranch's leftovers. The Rock Ranch keeps thousands of pumpkins out of landfills by composting the resulting chunks or feeding them to The Rock Ranch cows.  
---
Have a peek at what you'll see at National Pumpkin Destruction Day at The Rock Ranch!
---
---