Biography: Bruce Reid

Nov 05, 2015 02:00PM, Published by Jake Gentry, Categories: Lifestyle, In Print, Community, Today
---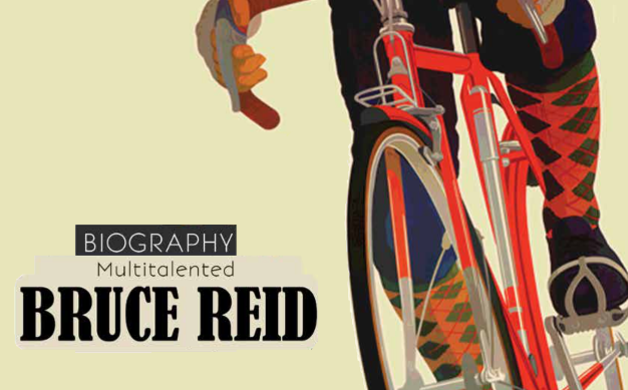 ---
---
By Elaine Krugman with Betsy Harris
You won't find Dr. Bruce Reid quietly passing the time in a rocking chair when he retires. This is a man always on the move, and that's the way he likes it.
Although most people in Griffin who are familiar with the name Dr. Bruce Reid know him as an orthopedic surgeon with OrthoGeorgia, I kept hearing his name pop up in other circles: choir member at Griffin First United Methodist Church, bagpipe player, cyclist. As if that weren't enough, I soon learned these are only a few of the hats Bruce Reid has worn throughout the years.
Born 59 years ago and raised in Manitoba, Canada, he is a fourth-generation doctor. He and his wife, Liz, have a son who is studying to become next in a long line of Dr. Reids. Coincidentally, not only was Bruce born the day his father graduated from medical school, but Bruce and Liz's son Brody was born the day Bruce graduated from medical school.
In addition to a family tradition of becoming doctors, three generations of Reids were champion waterskiers. Bruce's father was president of the Canadian National Waterskiing Association. Bruce made the Canadian National Waterskiing Team when he was only 14 years old and at the age of 16 was competing internationally. He reached his pinnacle on the world circuit at age 23 and retired from waterskiing at 26.
After she retired from the USA National Waterskiing Team, Liz was Bruce's coach during his later years on the national team. Ultimately, their coach-athlete relationship became a romantic one, and they got married after he retired from competitive waterskiing. Carrying on the family tradition, Brody was a member of the USA National Waterskiing Team.
Playing the bagpipes, which Bruce began in the fifth grade, is another tradition in the Reid family. "When I got into medical school, I realized I needed something else besides medicine, because it's so all-consuming. It can take over your whole life, so I got back into the pipe band in medical school and played bagpipes as a diversion to keep me grounded and away from all the academia of medicine. That's what keeps me rounded and grounded."
After Bruce graduated from medical school in 1991, the Reids relocated to Illinois, where he practiced medicine as an orthopedic surgeon. In 2005, however, the Reids decided to move to a warmer climate and settled in Griffin, where the opportunities were also better for Bruce to practice medicine. Three years ago, Bruce became a US citizen.
Soon after moving to Griffin, Bruce joined the Middle Georgia Cycling Club which meets at Griffin First United Methodist Church for group bike rides. As he became a more experienced cyclist, Bruce's competitive spirit kicked in. "You want to ride with the best," Bruce said. "You want to be up with the 'A' group and hammer down and ride hard. They put up with me and my crashes, and I think I have slowly earned my place up there in the A group. After that, I wanted to try some age-group competition with Georgia cycling, so I competed in the Masters Series a couple of years ago and placed both in time trials and road races." He also competed in a couple of triathlons and achieved a challenging goal on his bike. "One year ago, I completed a 'cycle around the world'—25,000 miles. It took me seven years," Bruce said.
Bruce has been training with Sun City Peachtree resident Gary Kaping. "I told Gary three years ago that I would train and ride with him in the 2013 Golden Olympics. I had trained for eight or nine months and was in top shape. Then, a week before the competition, I crashed and broke my collarbone. I was off my bike for about four months."
After recovering from the crash, Bruce transitioned to a recumbent bike which he has been riding for two years. "It's not allowed in competition, but I love it so much I haven't often gone back to riding my road bike. It's a little different, so I'm not part of the group as much. I'm a bit of a black sheep," Bruce laughed.
Always needing a challenge, Dr. Reid did return to his road bike to compete at the 2014 Georgia Golden Olympics, the state senior games in Warner Robins last September, where he qualified for the 2015 National Senior Games in Minnesota. The National Games, which took place this past July, proved to be a challenge for Bruce. Although he rode well in the 40-kilometer road race and placed 12th of 28 riders in the men's 55-59 age group, he crashed and broke a rib during the 20-kilometer road race. The crash left him battered and bruised for his 10-kilometer and 5-kilometer time trials the following two days. "It's been a long six months, probably the hardest thing I've ever done," Bruce said about the experience.
Although cycling has been a big part of Bruce's life, club rides and competition aren't the only things about the sport that keep him motivated and interested. Bicycle safety—especially for children—became his passion during medical school, when he conducted a research project on bicycling-related head injuries in children. Using his research findings, he teamed up with lawmakers in Manitoba to draft legislation making bike helmets mandatory.
Bruce continues to passionately promote safe riding locally with the Griffin Bicycle Coalition. Created four years ago by Michelle Cannon, the coalition of eight bike enthusiasts was formed in an effort to make Griffin a more cycling- and pedestrian-friendly community. "We want to improve our children's health and get them more active, and one way to do that is getting children riding their bikes to school," he said, adding that Griffin needs to create safe bike routes and have bike racks at the schools.
Members of the Griffin Bicycle Coalition also serve on the Bike and Pedestrian Subcommittee of the Griffin-Spalding County Area Transportation Committee. They have been encouraging the city of Griffin and Spalding County to create bicycle routes and lanes, provide bike racks downtown, and reinvent Griffin as a safe bike-friendly community. They have worked with the city and encouraged them to use SPLOST money for this purpose. "The idea is to go 'old school' and bring people back out of their cars and into a healthier lifestyle," Bruce explained. "Our goal is to increase awareness. We would like to have more people commuting to work on bicycles and get employers encouraging that. We realized the importance of cycling not only for health but also as an alternative transportation."
Bruce recently added one more item to the long list of activities that keep him on the go. He and Liz set up a free mini-library in the front garden of their home at 806 Maple Drive, Griffin. "I wanted to do something to honor Terri Huddleston after working with her so many years on adult literacy in the Griffin community. Terri and I are both members of Daybreak Rotary Club of Griffin, and literacy is a primary focus of Rotary International. I got the idea from Rotary Magazine. We have a very active community with lots of people walking with their children, jogging, and walking their dogs. I love to read and I wanted to share my books with my neighborhood," Bruce said.
"We are thrilled with the traffic in the first two weeks," he continued. "I've restocked it twice and added children's and young reader's books. Other people in the neighborhood have placed books in the library, and I'm getting all kinds of friends donating books for it." The Reids are hoping more of these libraries will pop up in other areas of Spalding County as part of the national program. Learn more about free mini-libraries at www.littlefreelibrary.org.
"Rotary got me invested in literacy, and Terri Huddleston lit the fire," Bruce said. "Terri's work with the Bull Dawg Hunt, and others like Louisa Melton and the Ferst Foundation have done so much for literacy in Griffin. I thought this could be a small addition." It may be small, but it's one more thing keeping Bruce Reid on the move in Griffin.
---
---
in print biography bruce reid bicycling
---