Restaurant Review: Saki Japanese Sushi & Steakhouse

Jan 05, 2016 01:00PM, Published by Jake Gentry, Categories: Food+Drink, Lifestyle, Today
---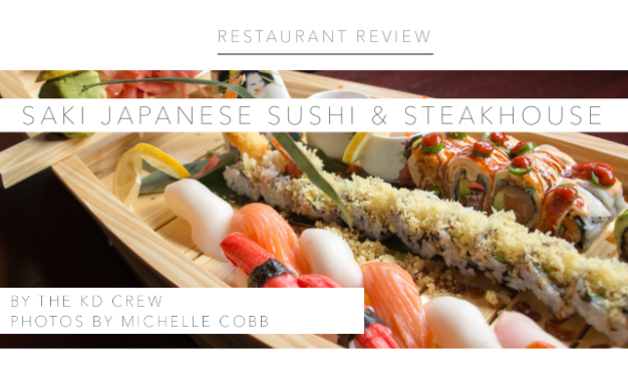 ---
---
By Allison Smyly and the KD crew
Photos by Michelle Cobb
Just off Jackson's town square, Saki Japanese Sushi & Steakhouse offers a wide variety of Japanese dishes prepared in various ways, including an impressive array of raw and cooked sushi, a sushi bar, hibachi, and tempura. Kitchen Drawer spent an enjoyable evening sampling some of these tasty creations, from the Saki Sampler starter to several desserts—fried ice cream, fried Oreos, and green tea ice cream. A highlight was the Love Boat, supersized for the KD crew and attractively laden with various kinds of sushi and sashimi. Another favorite was the Udon Noodles, which are not on the menu but can be ordered with any kind of meat or vegetables. Here, our team members share their impressions.
Nicole

As our jolly (and hungry) group made its way to Saki Japanese Sushi & Steakhouse, the excitement was palpable as most of us hold a deep appreciation for different and exotic food. I, personally, am always down for sushi. I knew it was going to be good as the owner handed me my tiny vase of Hot Sake and a cold Sapporo Beer—this, my friends, is the first step to enjoying sushi. The appetizer round was a definite win: classic, salted Edamame pods, light and crisp shrimp tempura, and Gyoza, pork dumplings to rival the ones I had in New York's Chinatown. The next round of dishes included my favorite of the night, udon noodles with hibachi chicken and vegetables. I truly couldn't get enough and felt sorry when I had to pass the bowl for others to try. They were the perfect combination of thick and creamy, sweet and savory, plus I can't think of another place within a 30-mile radius to get a dish like this.
Next up was the sushi round, served on a giant wooden boat-plate. Now I want to eat everything off a boat like that. (It could be a smaller boat, like a kayak.) For those not down with the raw fish thing there were plenty of delicious pieces with cooked seafood. On the other hand, my piece of Salmon Nigiri was perfectly melt-in-your-mouth good. The Super Hot Roll was, as promised, spicy-spicy, but also packed with flavor. I enjoyed several even though I normally avoid the heat. At this point, most of us were sufficiently full; however, this did not stop us from partaking in the fried ice cream, fried Oreos, and green tea (matcha) ice cream, also an extremely unique dish for the area. Even as I write this, I wouldn't mind heading to the square in Jackson again to eat the exact same meal.
Josh 

As a sushi lover, I'm always looking for a new local sushi place to try. Saki did not disappoint in that department, and the dinner items from the kitchen were also great. The first thing I tried was the Rock Shrimp Appetizer, which is breaded in a tempura-style batter. It was delicious, and the mildly spicy sauce drizzled on it was just the right amount of spicy and sweet. And the Harumaki Spring Rolls were so delicious that I could have eaten my fill of that appetizer alone—but I didn't. I tried everything that came to the table.
The big boat full of sushi was my favorite of the evening, of course. The Super Hot Roll, which has spicy salmon, avocado and "crunchy" on the inside and is topped with spicy white tuna, a slice of jalapeño, and a chef's special hot sauce, really brought the heat—it was probably my favorite roll of the night and is definitely worth trying if you like it hot. The Mountain Roll is deep-fried goodness, with tuna, wasabi, and the chef's special sauce. From the kitchen, my favorite was the Chicken Udon. It was sweet, savory, and tangy all at the same time, and the udon noodles were perfect. I'm highlighting my favorites here, but everything we tried was good. Can't wait to go back for more.
Drew

Saki made its impression first by finding a well-thought-out balance which should easily delight the steak-and-chicken crowd as well as provide a more challenging experience to anyone looking to step outside their comfort zone. A perfect example of this would be the Super Hot Roll, which had, oddly enough, a small slice of jalapeño on top of each portion. While sushi is an area ripe for experimentation, I will admit I was initially cautious about "Japanese Tex-Mex," but after a taste it made total sense and worked on several levels. This trend of familiar-meets-adventure continued throughout the meal with udon noodles, a hearty and well-seasoned dish which tends to be a rarity in this area, followed by delicious pot stickers (gyoza) and a tempura rock shrimp that was made to perfection. Even the desserts followed this pattern, starting with a fried Oreo that you would expect to find at a state fair followed by green tea ice cream which was out of this world. This combination should help place Saki at the top of your list for meals with large groups, as you'll certainly find something to fit almost anyone's palate.
Allison

I thoroughly enjoyed the Hibachi Steak, Chicken, and Salmon, as well as the fried rice. The meats and accompanying vegetables were tender and delicious. The sauces were nice complements without overpowering the other flavors. The fried ice cream, warm fried Oreos, and the cool, refreshing green tea ice cream provided a scrumptious ending to our dining experience.
Jake

The first thing that struck me upon entering Saki is the large sushi bar dominating the center of the dining room. To get to the dining room, you first had to pass through a noren, a Japanese room divider that's part door, part curtain, and a striking touch that goes beyond your usual bamboo water features. In the South we drink a lot of sweet tea, but if you ask for Hot Tea at Saki you're treated to another special touch: a pretty teapot full of green tea and a matching cup. (Similarly, sake is served in small carafe with a matching cup.) As we ate the first courses, behind the bar the sushi chef was meticulously preparing a gigantic wooden boat full of sushi. That was the most beautiful part of the meal and the part that disappeared the fastest. The details really make Saki stand out.
Elly

I am always on the lookout for new cuisine in the area. Although I had heard about Saki in Jackson numerous times, this was my first time there, and I must say I was thoroughly impressed. Saki provided a good mix of appetizers and main dishes, both hot and cold, followed by some of the most interesting desserts I've ever had. I had never experienced Fried Oreos or Green Tea Ice Cream. Since I am a dessert lover, those two things definitely hit the spot. My favorite dish was the udon noodles, and the sushi was a close second. Not only was the food delicious, I did not have to drive an hour to get it, but instead got to enjoy the picturesque fields and a short, calm ride to enjoy a delectable meal with friends. That's a winner in my book!
Manager Sean Li 
Saki manager Xiang (Sean) Li grew up around the restaurant business. While in school, he learned the ropes by helping his father with his Chinese food restaurant. In addition to spending more than a decade learning through hands-on experience, Sean received a Bachelor's degree in Business Management from the University of Georgia. Sean found his true calling, though, working at his cousin's sushi restaurant, where he discovered that he thrives on the creativity associated with preparing sushi. "I like to do different things," he says.
This interest in diversity manifests itself on Saki's menu, which offers all sorts of imaginatively named choices. Most popular with customers are cooked sushi rolls, including Highway 75, South Side, Volcano, and Super Crunch. Sean's personal favorite menu items are nigiri sushi (sliced raw fish with a molded ball of rice underneath) and sashimi (sliced raw fish served without rice).
Sean praises his partner, Jason Zhao, who serves as Saki's primary sushi chef: "We have a good sushi chef. Each chef has his own personality in making sushi rolls." With Jason lending his creativity and patience to Saki's sushi menu items and the sushi bar, Sean oversees the preparation of the other dishes and manages the business side of the establishment.
Sean says that Saki is doing well in Jackson. "This was supposed to be our second location," he says. Unfortunately, the first Saki, which was located in Hampton, burned earlier this year, just two weeks after the Jackson location opened. Sean says that many of the restaurant's regular customers from Hampton and Griffin have followed them to Jackson and that they are getting new regulars from the Jackson area.
Saki Japanese Sushi & Steakhouse is a family-owned business that prides itself on loyalty from staff and customers. Sean's wife, Sarah, is a server; sushi chef Jason and Sean are brothers-in-law. Many staff members have worked with Saki for a long time, even coming from Hampton to work at the restaurant in Jackson. Undeterred by the Hampton fire, Sean, Jason, and their team have big plans for the future. They would like to reopen in Hampton and possibly even add a Griffin location. Local fans of Japanese food will surely be rooting for their success.
136 West 3rd Street
Jackson, Ga. 30233
770.504.3066
"Saki Japanese Steak and Sushi" on Facebook
---
---
food restaurants in print restaurant review sushi local restaurant
---