Soul Train

Jan 12, 2016 02:00PM, Published by Jake Gentry, Categories: Arts+Entertainment, Lifestyle, In Print, Today
---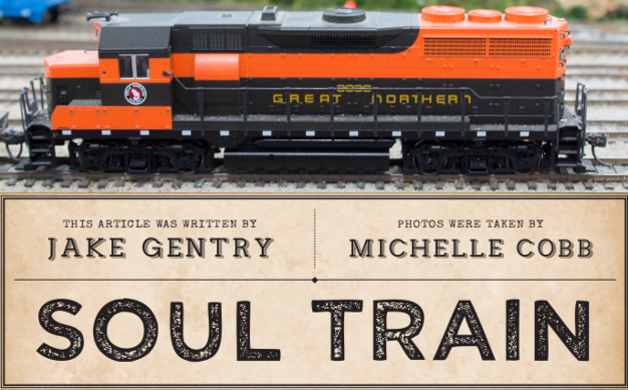 ---
Gallery: Soul Train - more photos [15 Images] Click any image to expand.
---
---
By Jake Gentry
Photos by Michelle Cobb
The days are getting shorter. As cold weather sends us indoors, we may search for a hobby to fill our free time. Local model railroaders Larry Kynast and Dan Hinel have found an avocation that does much more than just occupy them through the mind-numbing winter months—it can provide creative fulfillment through a lifetime of changes.
Model railroading might seem like a throwback. Urban sprawl means fewer new rail lines are being built, and the average person in the U.S. doesn't often ride a passenger train anymore. Even the phrase "model railroading" may conjure up images of a Lionel train set running in a small circle or a cheap model train struggling around the waiting area of a kitschy chain restaurant. The model railroad layouts created by Larry and Dan replace these images with a more technical, inspiring, and beautiful vision for what a hobby can be.
Larry Kynast, a retired Veterans Administration biomedical engineer, takes action when confronted with a challenge. His work for the VA was part humanitarian effort and part engineering feat. He worked closely with medical professionals and veterans to find solutions to help disabled veterans accomplish everyday tasks. That's why, when Larry was diagnosed with Lou Gehrig's disease, or ALS, he refused to dwell on the diagnosis and started changing his lifestyle to accommodate the changes he knew were coming.
ALS is a neurodegenerative disease in which the neurons that let the brain control the muscles deteriorate. As they do, muscles become unresponsive and atrophy; this results in loss of control of parts of one's body. Eventually a person with ALS relies on a wheelchair to get around. Larry knew all of this, and he began taking action to ensure a better future. First, he made sure his house was completely wheelchair accessible.
Knowing what lay ahead, Larry also realized he would need a way to keep his mind from stewing on the situation. Medical professionals suggest that hobbies are useful, especially when a disability makes mobility more difficult. Larry's friend Cliff Barber, himself a model railroad enthusiast, suggested model railroading. Larry liked the idea, but needed somewhere to put his setup. As he had done so often in the past, he looked at the problem with an engineering mindset and found a solution. It dawned on him that his garage had plenty of space. In addition to the horizontal space, which was already in use, his garage also had lots of vertical space.
Larry constructed a system that would lift his whole model train layout off the floor and up to the ceiling at the push of a button. With his years of industrial experience and in anticipation of his future needs, Larry created a system that could not only be raised out of the way, but could also be lowered to wheelchair height. He also considered affordability. Though Larry's rigging system has a capacity of hundreds of pounds, it was mostly made with widely available garage door parts. His personal system acts as a working prototype for anyone interested in building one of their own, and he has even created a smaller version to lift objects into the attic for storage.
Creating a model railroading setup like Larry's is not easy. He directed a lifetime's worth of experience toward solving a problem, not to mention the time he's poured into the hobby itself. His layout is simple and beautiful, yet engaging. A model railroad like Larry's requires constant tweaking and small fixes; perfecting it is a pursuit that could last as long as the hobby itself.
Another model railroad enthusiast, Dan Hinel, proves that a hobby doesn't have to stay simple or small to be coherent and perfectly manageable. In the control center, which is part remote, part rail line map, and part dispatch interface, three extended-display monitors reveal what's happening on the tracks. From here, Dan or a guest dispatcher can see the status of trains, control signals, switch tracks, and much more. The triple-screen display can show the entire rail map at once, so making changes is as simple as finding the object you'd like to interact with and clicking on it. A huge map and an array of monitors make the setup feel like a sci-fi cockpit, but nothing could prepare a first-time visitor for what sits just around the corner from Dan's desk.
Standing near Dan's control center, through a doorway you see an adjoining room with a model railroad layout. The decorated part of the setup is about two feet tall from treetops to plywood base. Holding the platforms are sturdy painted wooden struts. At first, it looks like this is the entire layout that all the fuss on the computer is about. It certainly does seem like a lot of work; it's a beautifully decorated room-sized layout on well-built platforms. As you walk into this room, you see another entire room's worth of railroad connected to this one, again, perfectly well-built, beautifully decorated, and wired into the control center. The next room over, however, runs the entire length of the house, and even this long room is full of sturdy and beautiful wired railroad platforms.
When I fully comprehended the scale of this model railroad, I was speechless. From corner to corner, Dan's layout is meticulously painted, decorated, and detailed. About 30 small scenes are set up for visitors to admire. Hikers look for their lost friend on their way down to a coal plant (and a tiny backpack on the edge of a nearby cliff reveals his fate). A group of fly fishermen stand in a clear river, casting their lines. Three bears rummage through garbage cans just out of sight of a group of beachgoers. The scenery is incredibly consistent. Dan uses commercially available modeling materials like foam foliage and finely-ground gravel and improvises as needed. Sheer rock faces are made with pieces of slate flooring, and some structures are made of leftover parts from other model kits. Dan planned and built by hand the entire setup: from the circuit boards, logic blocks, and wiring to the LED signals, models, and scenery. He even programmed the software in the control center.
It takes about thirty minutes for a train to navigate Dan's layout, and that's without stops. Visiting railroad enthusiasts are given a card system to follow. Each operator gets a set of orders, a controller for a train, and a headset to communicate with the dispatcher at the control panel. The visitor then sends the train from station to station, railyard to railyard, picking up and dropping off cards, cars, and cargo. Dan truly enjoys making this experience available to fellow hobbyists, and that's one reason he pursues model railroading as passionately as he does.
Larry Kynast and Dan Hinel prove that a hobby can be much more than entertainment for a season. It can be a creative outlet, an opportunity to spend time with others with similar interests, and even a way to provide meaningful solutions that make a difference in the world.

---
---
Model Train Soul Train Larry Kynast Dan Hinel Danny Hinel Hobbies Hobby Modeling In print
---