KD 8.1 Book Review: Postmark Bayou Chene

Feb 04, 2016 01:00AM, Published by Jake Gentry, Categories: Arts+Entertainment, In Print, Community, Today
---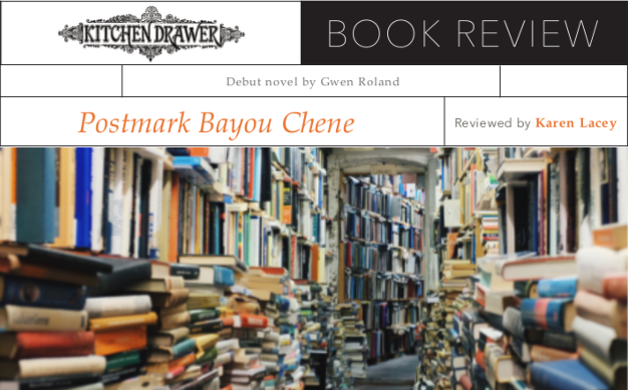 ---
---
By Karen Lacey
 Gwen Roland's debut novel, Postmark Bayou Chene, is set in 1907 in the heart of the Atchafalaya Basin. Published in November 2015, it follows young adults Loyce Snellgrove, Lafayette "Fate" Landry, and Valzine Broussard as they navigate between revelations about the past and tensions in the present. Gwen Roland is the author of Atchafalaya Houseboat: My Years in the Louisiana Swamp. She continues to write about agriculture and self-sufficient lifestyles from her homestead in Pike County, Georgia.
Gwen Roland trolled the channels of her childhood bayou and landed us a whopper of a novel in Postmark Bayou Chene. She seduces her reader through every human sense. I wanted to rush forward to follow the strands of the story, yet simultaneously slow down to allow Roland's lush language its due, a struggle that represents the best of all possible reading worlds. My job here is to review it, a luxury I have elected to enjoy by applying to the narrative a figure that emerges early and persists throughout: the braid. It appears both in Loyce's repeated act of hair braiding and as a structural device, the narrative braid. Primarily visual, we must yet allow this pattern its other sensual properties. For just as a braid is worked through separating and joining together strands of material, relying upon the relationship between material and hints of spatial absence for its pattern, so music relies on sound and silence. The characters at the heart of Postmark—Fate, Loyce, and Val—all friends from childhood, make music for their community. Like a Baroque fugue (a musical braid), the novel opens by picking up each strand of voice and intertwining the music of their monologues. Eventually these three independent lines invite other voices, other stories, as each character's perspective enlarges and builds upon others'.
The narrative braid begins in springtime at dawn, as the first voice, Fate, invites us to relive a significant moment: an unmoored boat floats into view with, tied to it, a nearly dead dog. Soon a second character, Loyce, and a third, Val, introduce themselves, but not, as we might expect, to continue the story; rather, they narrate their versions of the same event. What, the reader may ask, is so significant about this event that we must learn about it three times? No error or unsteady hand at work here: From its inception, Roland establishes the narrative braid, separating the strands and weaving the work together, the treatment of its seminal moment emphasizing that structure by its repetitions. These voices represent an initiating braid of monologues preparing the reader for the artistry that follows. Not only do we learn through the trio's speech about the novel's opening event, the dog Drifter's advent into the community (with its backstory, now an absence, the beginning of a mystery, to be revealed later); but we hear the rich varietal tones of Bayou speech flowing forth with the rich history of that time and space.
The color and tones of these voices, these instruments of storytelling, immerse us in the unmistakable authenticity of lived linguistic experience: Roland's sure and practiced ear leads us. Having captured dialect, she must also help us differentiate among the voices. Important for any writer of stories, this capacity too bespeaks her mastery; for while each character is unmistakably Louisianan, each bears the quirks that signify difference. Fate diverges from his story even by the second paragraph, the storyline about the unmoored skiff becoming itself unmoored, almost allowing it to eddy off. He catches himself, calling us back abruptly with, "Back to that empty skiff…here it comes looking like an alligator gone blind." Val's speech, more "Frenchified," bespeaks a wider world: "More and more water come pouring in from that Red River, yas, and the Mississippi already too. Mon père, he can tell about that." Val's speech gathers from upriver and downriver, and vaunts his wandering ways. The two male voices embrace that of the woman, Loyce. Readers follow their gaze as they hover over Loyce, who is blind, concerned lest she misstep or require assistance. We are already immersed in the act of narrative braiding in the opening chapter when Loyce says, "Oh, I knew something was up when I heard Fate's bailing change tunes when I was at the top of the stairs. I'd stopped to hitch up the knot at the end of my braid." Here the figural braid emerges for the first time as image. We might think of the three voices that constitute the opening chapter as playing riffs or variations on a theme, observing a rhythm true both to their telling and their manner of speech. But however we think of it, the work is engaged in braiding.
The narrative braid develops more heft as it gathers its colorful array of secondary characters, additional strands for its weave. Loyce's father, Adam, picks up the narration in the second chapter. After him, a line of successive narrators follows, each picking up bigger, longer chunks of story—first Roseanne Barclay, whom Adam takes in and hires, and whose husband may or may not be coming for her; then my personal favorite, Cairo Beauty, a woman pregnant and dogged by a somewhat checkered past, who settles down with her husband, Sam; and MaryAnn, whose penchant for retaliating against her husband, York, fosters high and explosive drama. And the line continues as the community is populated. Loyce's repeated braiding signifies well beyond its apparent innocence. The braid continues to pick up all these strands of relation and gather them into its weave—until it is severed.
 That a visual image, Loyce's braid, helps launch the story smacks of irony; for this narrative finally reveals its mysteries only in the unraveling and finally the cutting of its braid. Roland's use of silences, separations, lapses, distances, absences, and moments of inattention is integral to the rhythm and pattern of her braid, blindness being the most prominent example. Most readers take sight for granted, but Loyce, having never known sight, takes her blindness so; and that feisty attitude masks a lack of vision not merely physical: The beloved character is as flawed as her ability to braid, although she might slap her thigh to hear it! For tucked within the story of Drifter the dog's arrival, Loyce's initial monologue notes her ability to identify the item Val drops as the mailbag. Her other heightened senses recognize its scent, redolent of old leather, and its heft, as it thuds heavily. 
That mailbag signifies because it contains a letter whose import, even when read aloud to her, Loyce does not comprehend. Her blindness to the import of that letter contributes to her misreading and to ours. The novel purports to deliver the letter, but then releases it into the stream of conscious activity. The reader's eye otherwise engaged, the novel simply allows it to eddy off into the whorl of the unconscious, and we readers are complicit in this release. In a post office bustling with activity, one mail delivery pales and fades out as merely one occurrence among many—a mention, a query, soon lost in a flood of voices and emotion. The moment is easily missed. But the mysterious letter that arrives in the text's first moments from so long ago will finally restore valuable familial knowledge after a long silence. In the immediate aftermath of its arrival, when Loyce and we are blind to its import, Fate disappears upriver. A source of consternation, his absence represents a gap that Val and Loyce feel particularly, yet cannot understand. 
Cairo Beauty saves Loyce from the necessary repetition of hair braiding by cutting Loyce's braid midway through the narrative. That braid's heft rivals the mailbag's, for in the space thereby created, CB unwittingly celebrates a general melee unleashed as the narrative moves toward closure. In the process, we must negotiate the deeper, muddier waters of explosions, accidents, kidnapping, birth, and other epiphanies. We explore an uncharted part of the bayou the community believes to be uninhabited. We get a sense of bayou as bridge, rather than separation between land and water, and of what it takes for communities to wrest a living from such spaces. Loyce braids repeatedly because her braids keep unraveling and require tucking, weaving, and care, and just so the narrative; but it, like Loyce, finds fulfillment when the braid is released. For the braid's severing recalls Fate cutting the drowning dog's tether to the runaway skiff, an act that tethers us to the early narrative; similarly, it anticipates the ending, when two of the central characters depart from Bayou Chene, dog in tow. Gwen Roland here delivers a narrative that shivers with energy, a rollicking story, deeply Southern, whose telling is superb. Read it and be enthralled!
A co-owner/partner in A Novel Experience, Bookstore on the Square in Zebulon, Karen Lacey recently retired as Associate Professor of English from Penfield College of Mercer University. She lives in Williamson with her husband, Tom, and assorted dogs, cats, donkeys, and cows.
---
---
Gwen Roland Postmark Bayou Chene Book Review
---