See Georgia's Copy of the Declaration of Independence!

Feb 08, 2016 01:00PM, Published by Jake Gentry, Categories: Community, Today
---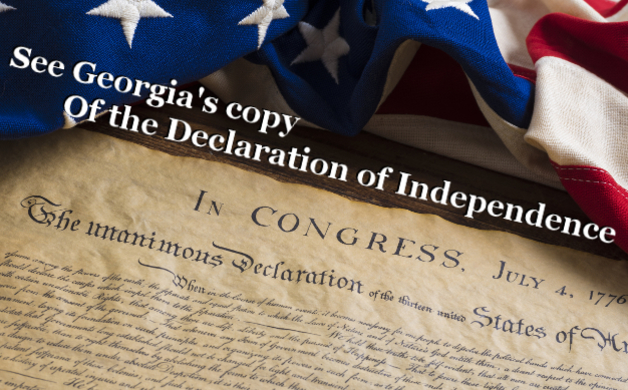 ---
---
Friday, February 12, the Georgia Archives are hosting a special event in honor of Georgia Day! From 8:30 AM to 5:00 PM Georgia's copy of the Declaration of Independence and the Royal Charter that made Georgia a colony in 1733 will both be on display to commemorate Georgia's birth as a state.
On January 18, 1777, the Continental Congress met in Baltimore, Maryland and ordered that copies of the Declaration of Independence be printed and sent to each of the 13 states.  The States were directed to make the Declaration a part of their official records. Georgia's copy was officially entered into the records on March 2, 1777.
Today, the Declaration is protected with Georgia's other "birth documents": the Royal Charter that created the colony in 1733, and Georgia's 1788 ratification of the U.S. Constitution, the document that made Georgia a state.  All are kept in a high security vault where a constant temperature and humidity are maintained to ensure their long-term survival.
This is a rare occasion, because these documents can't withstand display on a regular basis. Don't miss your chance! Visit the Georgia Archives at 5800 Jonesboro Road in Morrow, GA on Friday the 12th. For more information visit www.georgiaarchives.org or call 678-364-3710.
---
---
georgia copy of the declaration of independence Declaration of Independence Patriotism
---