Entrepreneur Focus: Cramer & Peavy Attorneys at Law

Mar 01, 2016 01:00PM, Published by Jake Gentry, Categories: In Print, Community, Today
---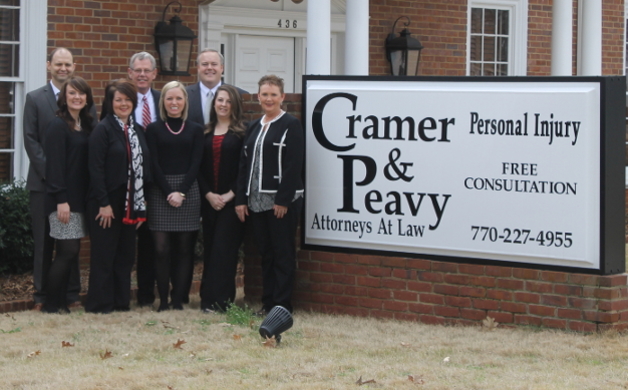 ---
---
The law firm of Cramer & Peavy has served residents of Spalding and surrounding counties for over 30 years. The law is constantly evolving and can change both suddenly and dramatically. By focusing their practice on the area of personal injury law, the attorneys and professional staff members at Cramer & Peavy can effectively guide their clients through the complex and ever-changing legal world. Handling a wide variety of legal issues involving individuals injured in automobile collisions and tractor-trailer wrecks, including insurance matters and wrongful death claims, they take the time to keep up to date on all the legal nuances and to identify the specific laws and regulations that apply.

 In addition to having a thorough understanding of personal injury law, the legal team members at Cramer & Peavy know Spalding and surrounding counties very well. This enables them to have first-hand knowledge of the available resources in place for individuals who are hurt through no fault of their own. When the unexpected happens and someone is injured, choosing a law firm that is based miles away puts a client at a distinct disadvantage. Tim Cramer and James Peavy are both longtime residents of Spalding County and have unique knowledge of the best resources in your local area. Just the other day, for example, a young woman with no health insurance needed an operation after being hurt in a bad automobile collision. After hiring Cramer & Peavy, she received excellent medical care and her claim was resolved promptly and professionally.
Unlike other law firms that represent corporations or insurance companies, Cramer & Peavy has dedicated its efforts solely toward helping individuals who have been injured through no fault of their own. Tim Cramer and James Peavy are an effective team with a single purpose: to serve the best interests of their clients. Tim's time as a State Court judge not only made him a well-known figure in the legal community, it also gave him the experience necessary to provide prompt service and achieve the best possible results. James' previous experience as an insurance attorney granted him a rare perspective of exactly how the system works, granting him the ability to leverage his insider's knowledge and experience to his clients' advantage. Regardless of who takes your case at Cramer & Peavy, rest assured that they will be dedicated to getting you the best results possible.                        
436 South Hill Street Griffin, Georgia 30224
(770) 227- 4955
---
---
---