Taste Burger Excellence in McDonough!

Mar 15, 2016 03:00PM, Published by Jake Gentry, Categories: Food+Drink, Lifestyle, Community, Today
---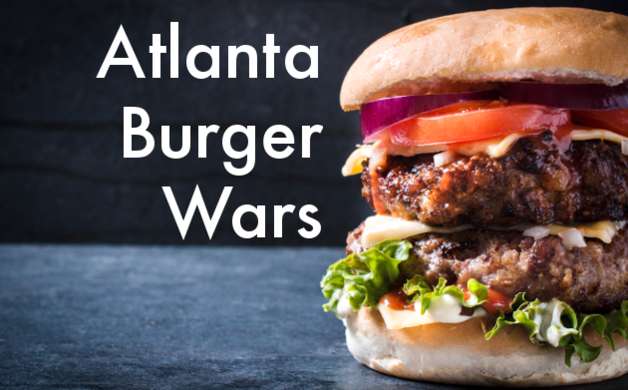 ---
---
If you're going to get excited about any food at all, you could do a lot worse than big, juicy hamburgers. Now, getting your hands on a quality burger can be tough outside of a big city. Sure, local restaurants are great, but "the old standby" can get tired fast. If you're looking for a truly world-class burger experience but you're not looking to drive all the way to Atlanta to get it, rejoice! Atlanta Burger Wars is an event that takes place in McDonough, Georgia, and it's the premier contest for Atlanta-area burger lovers, grillmasters, and high-profile hamburger-loving professional chefs.
Atlanta Burger Wars began in 2015 as a stand-in for charity event Battle of the Burgers. Battle of the Burgers benefitted Embrace, a charity that has since been folded into a larger organization. Battle of the Burgers was not going to be held in 2015, so Atlanta's dedicated community of home cooks, restauranteurs, and burger lovers came together to form a new competition, Atlanta Burger Wars. The charitable nature of the original burger competition remains, and all proceeds from Atlanta Burger Wars go to the McDonough Arts and Kensley Grace charities.
The competition draws teams and individuals from all across the state, and it is judged by professional judges. A people's choice vote is also part of the fun, and you can have a taste of these delicious burgers and decide for yourself which one deserves the trophy. Speaking of awards, the grand prize winners (both the people's choice burger and the judges' choice) are automatically qualified to enter the World Burger Competition in the World Food Championships!
If it's not enough that the event will be your chance to taste the absolute best burgers Atlanta has to offer, how about this: you could be on TV! Food Network is covering the event, and filming is already underway in the kitchens of some Atlanta-area teams.
There's no reason to miss the Atlanta Burger Wars at Heritage Park in Mcdonough on April 30, 2016. For more information or to reserve your tickets, visit www.atlantaburgerwars.com
---
---
Atlanta burger competition atlanta burger wars
---