Spalding Regional now Wellstar Spalding Regional Hospital!

Apr 07, 2016 09:53AM, Published by Jake Gentry, Categories: Community
---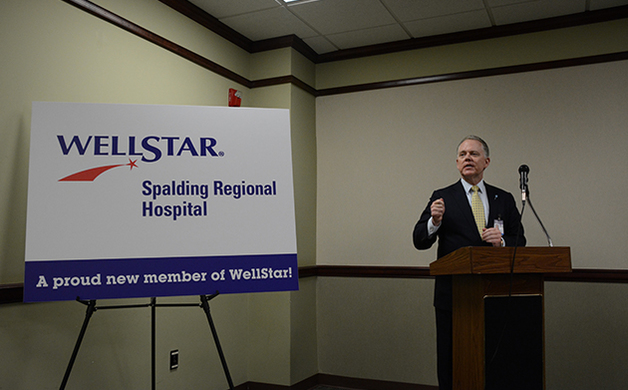 ---
---
On April 1, 2016, Spalding Regional hospital became part of the Wellstar Health System, the largest health system in the state and one of the largest not-for-profit health systems in the nation! 
Spalding Regional is one part of Wellstar's recent acquisition of Tenet Healthcare's five Georgia-based hospitals. The new 11 hospital system will expand upon its proven clinical care models and patient safety programs that have resulted in increased quality and improved access to healthcare to new communities.
"As WellStar continues on the journey to deliver world-class healthcare our physicians, nurses and team members put the patient and family first," said Candice Saunders, president & CEO of WellStar Health System. "With an expanded footprint, we will leverage best practices to make a difference in the health of our communities by delivering the right care, at the right time in the right place".
The unveiling event that took place April 1 at Spalding Regional included a look at the hospital's new logos, as well as some comments on the transition by Wellstar and hospital leadership. Wellstar's representatives were particularly complimentary of the effort taken by everyone at Spalding Regional in the 10-month preparation for the change, and especially the night before. The transition was only made more smooth with the help of Spalding Regional's leadership and the cultural fit that Wellstar found in the Griffin hospital.
---
---
Spalding Regional spalding wellstar hospital sylvan grove
---