Roads, Rails and Rivers: a Symposium on Travel at the Georgia Archives

Apr 18, 2016 03:00PM, Published by Jake Gentry, Categories: Lifestyle, Community, Today
---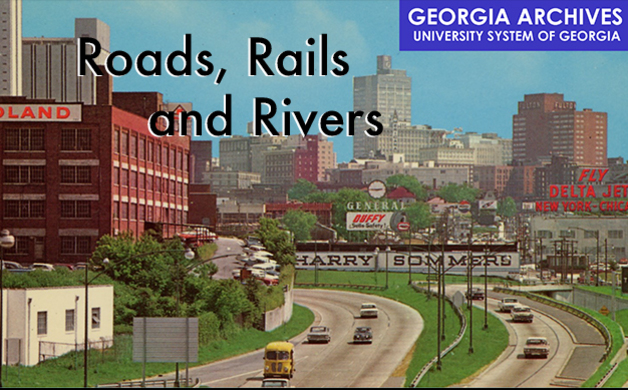 ---
---
This Saturday, April 23, 2016, the Georgia Archives in Morrow will host the symposium Roads, Rails and Rivers: The History of Transportation in Georgia. They're also revealing a new exhibit on transportation in the exhibit space just off the lobby, and a traveling exhibit for the 100th anniversary of the Georgia DOT. The symposium is loaded with information about the history of transportation in Georgia, and topics range from historic trade travel, to travel's impact on historic resources and how Georgia's transportation system has made the state into what it is today.
For those interested, below is the itinerary for the whole day: 
8:30 Coffee and refreshments
8:55 Welcome, Christopher Davidson, Georgia Archives
9:00-9:50 'Just a Snake Stretched Out across the Path': Travel and Trade in Georgia from the Mississippian Era to 1900 - James Owen, University of Georgia
10:00-10:50 Atlanta's Historic Streetcar Systems - Patrick Sullivan and Wm. Matthew Tankersley, New South Associates
11:00-11:50 A Century of Pavement Politics: GDOT, Road Building, and the Creation of Modern Georgia, 1916-2016 - Ashton Ellett, University of Georgia
11:50-1:00 Lunch (Pizza for a cash donation) / Screening of Down the Dixie Highway (Room 114)
1:00-1:50 Pave the Way: Atlanta and the Politics of Mobility - Edward Hatfield, Kennesaw State University
2:00-2:50 The Odd Couple: Historic Preservation and Transportation - A Review of GDOT's Historic Preservation Products; Sandy Lawrence, Cultural Resources Section Manager, Georgia Department of Transportation
3:00 Tour of the Georgia Archives (Meet in Room 114; pre-registration required)
The program is free and open to the public but pre-registration is required for the tour that begins at 3:00pm. To register for the tour, please contact Becky Sherman (678-364-3745) or email Becky.Sherman@usg.edu.
About the Georgia Archives:
The Georgia Archives is a unit of the Board of Regents of the University System of Georgia and identifies, collects, manages, preserves, and publicizes records and information of Georgia and its people and assists state and local government agencies with their records management. This work is done within the framework of the USG's mission to create a more highly educated Georgia.
Photo from the Georgia Archives
---
---
history georgia archives learning transportation history usg symposium
---