Meeting Lucy

May 05, 2016 03:30PM, Published by Jake Gentry, Categories: In Print, Community, Today
---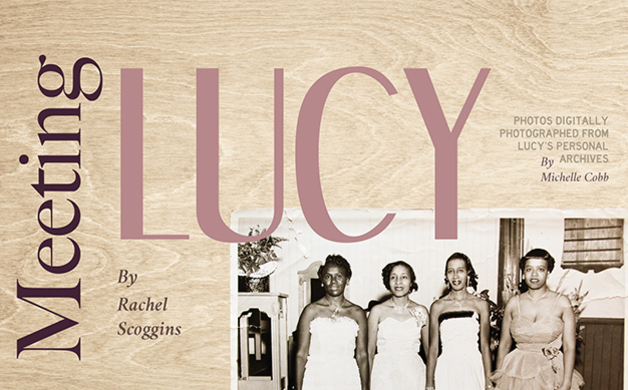 ---
---
By Rachel Scoggins
Lucy Thomas has the scoop on a lot of Griffin's history. Talking with her means taking a stroll through local history via humorous and charming anecdotes and sudden digressions connected by threads of family or friends. All the while, Lucy digs into her numerous boxes filled with pictures, mementos, and newspaper clippings to accompany each and every story.
She's like her own local African-American history museum.
Lucy Thomas, 75, was born in Pike County but was raised in Griffin after she moved to the town when she was two. She graduated from Fairmont High School (the local black high school before integration) in 1960, and then went to West Georgia College in Carrollton. She used to work for DFACS as a caseworker, but after going to a home on a case and having a gun pointed at her, she quit. Her first priority was her own five children, so she moved on to a safer job. She eventually became social services director for a local nursing home.
Lucy has five children, including local music icon Vinnie Thomas, who was featured in a tribute in Volume 7, Issue 2 of Kitchen Drawer Illustrated after his death in 2015. She also has nine grandchildren and three great-grandchildren.
Lucy's family is packed with interesting and significant Griffinites. According to Lucy, her aunt, Lula Bell McClendon, was Spalding County's first African-American female police officer. Lula Bell began as a teacher at Moore Elementary School during segregation in the 1950s. When someone suggested she get into law enforcement, she made history by doing just that. Lula Bell mostly worked in the schools, but she also became an advocate for African-Americans in the Griffin area. "She did not mince words," Lucy recalled. "She was a very strong woman." Lucy also remembers another powerful voice for local African-Americans, well-known community leader Mrs. Rozzie Conley: "She flat-out told people what she wanted for the blacks and what they needed."
Lula Bell's husband, John R. McClendon, was also well known in the community. He spent years as a band director at Fairmont High School. Before that, he served his country in World War II as a band director for the U.S. Army.
Lucy's father, Robert Lee Dickerson, was an entrepreneur. He owned a barbershop on Slaton's Alley, near the old Eighth Street Church and the Griffin Post Office. There were two other barbershops and a beauty shop in that same area at the time. The dry cleaning business owned by Raymond Head, Jr., the first African-American mayor of Griffin, was just around the corner. Lucy's mother, Louise Matilda Walton Dickerson, was from Talbotton, where there's a museum about her family. Louise died at the age of 36 from cancer, and Lucy's father had to hold down multiple jobs to support his five kids. He worked as a butcher along with being a barber.
"He continued to cut hair until he was 92," Lucy said. "He had a stroke. If it hadn't been for the stroke, he'd still have been cutting hair." He died at the age of 98.
One branch of Lucy's family came over from Ireland, around the year 1700. The head of the family, Christian Davis, was a plantation owner who owned land and slaves in Spalding, Pike, Butts, and Lamar counties. Lucy's great-great-great grandfather, Henry Davis, was Christian's son. But since he was a mixed-race child, Christian made his own son a slave.
Christian Davis constructed a cemetery for all his descendants, where he included everyone regardless of color. Buried in the cemetery are white, black, and Native American descendants of Christian's. The cemetery is located on Highway 19 near the Blue Flame Gas Company. 
In addition to her Irish heritage, Lucy's family also has Viking and Native American ancestry. Her great-grandmother was full-blooded Cherokee, and her grandfather was half Cherokee and half African-American. One of her great-aunts even had red hair.
Some of her family members used to have to carry cards around identifying them as black. "When I was a little girl, my dad had to carry a card saying he was black because people would think he was a white man at a black house," she said. "When he was seeing my mother, they tried to run him out because they thought he was a white man and said he couldn't marry a black woman." 
Members of Lucy's family fought in the major wars of the 20th century. Her uncle, John Wesley Dickerson, Jr., fought in World War I. Another uncle, Homer Walton, served in World War II. Her nephew, Kelley Jackson, fought in Vietnam. Lucy's cousin Anthony Robert "Tootsie Ball" Banks served and was wounded in Vietnam. Another family member, Roddy Willis, was also wounded in combat for our country. 
Lucy can share anecdotes about her cousin, Leamond Hood, being friends with Nelson Mandela. She also remembers when the Hawkes Library was built and black people weren't allowed inside—despite their tax dollars helping to pay for it. She mentions in passing Frances Calloway, a woman who was one of only two black LPNs at the Spalding County Hospital in the 1950s. And she knows about lost and forgotten Griffin places, like The Mule Hole. "Ladies didn't go there," she shared. "It was a bad place. If you had a daddy, he wouldn't let you go there. It was a place where men went to pick up women to spend the night with."
 Lucy has stories about everything. Each time she pulls a picture or a keepsake from one of her boxes, there's another story about another fascinating family member or Griffin resident. Talking with her is an entertaining, enlightening, and fascinating experience through a personal, firsthand account of Griffin's history.
---
---
Lucy Thomas griffin history african-american history
---