The Georgia Trust for Historical Preservation Hosting Expedition Through Barnesville

May 23, 2016 02:00PM, Published by Jake Gentry, Categories: Lifestyle, Community, Today
---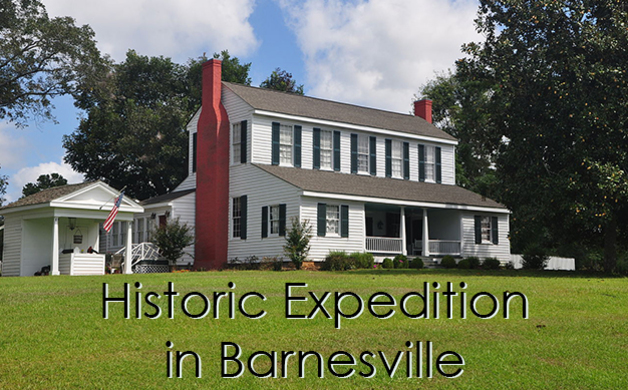 ---
---
Eleven private homes and several local historic sites in Barnesville will be open for tours during The Georgia Trust Expedition: Buggy Through Barnesville, Saturday, June 11.
Guests will have the opportunity to tour some of Barnesville's most historic homes and properties, many of which were built by the barons of the buggy industry at the turn of the 20th century, during a day-long, self-guided tour of homes. Chairing the event is Barnesville resident Pat Edwards, a Georgia Trust Emeritus Trustee and former Board Chair.
After a brief orientation in the morning at the Lamar County Schools Fine Arts Center, guests will explore historic elegant mansions and charming houses, including the Collier House (873 Thomaston Street), a stately Neoclassical style home that was built in 1917 for the founder of Carter's, a major American manufacturer of children's apparel; the Claxton House (537 Thomaston Street), a beautifully restored Shingle style home featuring original stained glass windows and hardware; and the Gachet House (707 Thomaston Street), an 1825 homestead that is listed in the National Register of Historic Places and has been visited by three U.S. presidents.
Other houses include:
·      Kennedy House, 217 Zebulon Street
·      Walter B. Smith House, 530 Thomaston Street
·      Lambdin-Pitts House, 643 Greenwood Street
·      Means House, 725 Thomaston Street
·      Murphy-Bush House, 870 Thomaston Street
·      Hatten House, 536 Thomaston Street
·      Bunn House, 410 Community House Road
·      Minton House, 474 Brent Road
Guests will enjoy lunch from their choice of participating downtown restaurants with a $10 lunch voucher that is included in the ticket price. While downtown, guests can explore the town's thriving restaurants and antique shops, including one housed in the old B. Lloyd's Candy Factory, and the Old Jail Museum & Archives which houses snapshots of Barnesville throughout history.
Guests can also explore two of the area's oldest churches: First Presbyterian Church and First Baptist Church, where guests can enjoy a special organ concert. Special guided tours of Gordon State College's historic buildings will also be held.
Guests will spend the rest of the afternoon exploring two 1920s vernacular farmhouses (Bunn House and Minton House) and original outbuildings in the Redbone community before heading to a special closing reception, with drinks and light hors d'ouerves, at the historic Barnesville Depot, a Dutch Colonial Revival style building that was saved from demolition by the Barnesville-Lamar County Historical Society and now serves as the home of Lamar Arts.
The Georgia Trust Barnesville Expedition is $50 for Georgia Trust members and $60 for non-members and includes a lunch voucher and the closing reception. Tour-only tickets that do not include a lunch voucher or the closing reception are also available for $25. Walk-up tickets may be purchased the morning of the event at the Lamar County Schools Fine Arts Center in Barnesville from 8:30 a.m. - 10:30 a.m. For more information or to register, visit www.GeorgiaTrust.org or call 404-885-7812.
Proceeds benefit the Trust's mission to work for the preservation and revitalization of Georgia's diverse historic resources and advocate their appreciation, protection and use.
About Georgia Trust Expeditions
Georgia Trust Expeditions invite members and non-members to explore a Georgia town located off the beaten path. These day-long, self guided tours are designed to reflect a town's unique history and development by including a variety of historic sites, from vernacular homesteads to historic industrial sites to grand homes, as well as historic landscapes and natural features. Expeditions educate participants about Georgia's small town heritage while celebrating ongoing preservation and revitalization efforts.
About the Georgia Trust for Historic Preservation
Founded in 1973, the Georgia Trust for Historic Preservation works for the preservation and revitalization of Georgia's diverse historic resources and advocates their appreciation, protection and use.
As one of the country's leading statewide, nonprofit preservation organizations, the Trust generates community revitalization by finding buyers for endangered properties acquired by its Revolving Fund and raises awareness of other endangered historic resources through an annual listing of Georgia's "Places in Peril." The Trust recognizes preservation projects and individuals with its annual Preservation Awards and awards students and young professionals with academic scholarships, the Neel Reid Prize and Liz Lyon Fellowship. The Trust offers a variety of educational programs for adults and children, provides technical assistance to property owners and historic communities, advocates for funding, tax incentives and other laws aiding preservation efforts, and manages two house museums in Atlanta (Rhodes Hall) and Macon (Hay House). To learn more, visit www.georgiatrust.org.
---
---
barnesville places in peril georgia historic trust
---